There was plenty of activity inside the bubble at the Baptist Health Training Facility at Nova Southeastern University last week.
Young football enthusiasts got the chance to have some fun, do some exercise and learn the fundamentals of the game, with the whole thing capped with a nice surprise — the appearance of Dolphins wide receiver **Jakeem Grant**.
The third-year NFL veteran out of Texas Tech, answered questions from the campers before signing autographs and taking selfies.
"I really enjoyed it, just to see the smiles on their faces and just to get around the kids and just show them that you can make it at this level," Grant said. "All you have to do is put the hard work and dedication in. It's just fun for them to see somebody that's their height already in the NFL. That also puts smiles on their faces."
This was the third day of this Junior Dolphins summer camp, and there are two more scheduled over the next month — July 8-11 at the practice facility and July 15-18 at Doral Legacy Park.
The four-day camps is open to all boys and girls of all skill levels between the ages of 7-14. The camps allow athletes to learn the fundamentals of the game in a safe, non-contact flag football environment.
Dolphins alumni and players also are in attendance throughout the camp to help coach the campers — former Dolphins running back Lorenzo Hampton was on hand Wednesday.
Registration to the camps includes two tickets to a Miami Dolphins preseason game, Junior Dolphins apparel, prizes, camper photos and a chance to purchase Dolphins game tickets at a discounted rate.
The Dolphins also will have a girls flag football one-day camp at the Davie training facility July 13.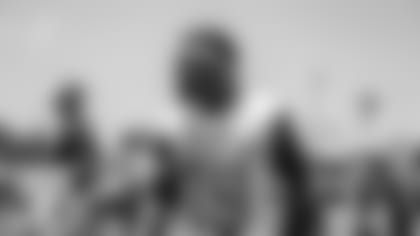 During his Q&A with the campers, Grant indicated he didn't have the chance to attend a football camp as a youngster.
"I didn't go to one when I was a kid, but I would have loved to go just to see, get to talk to an NFL guy, just to see what it takes to get to the NFL and things of nature," Grant said. "Man, it's great just being on the opposite side of coming in and seeing all the kids running up to you and saying, 'Man, you're my favorite player' or, 'You're this and that.' That just makes me want to just continue a great player and a great person.
"I love doing stuff like this, especially camps and getting around the kids. Just like to see the smiles on their faces, that just brings joy to my heart."
The summer camps are just a small part of what the Dolphins do to grow the sport in South Florida, along with equipment donations and visits to practice by high school teams, an annual coaches clinic, and more.
"The Dolphins are always doing something that involves the kids, whether bringing them out to practice or donating as much as they can to them," Grant said. "That speaks volumes of this organization. And every time we have those type of events I'm willing to join, I'm willing to go out there and show them that I would love to do that and just give back and just show them that we care and we're here for them."