The Dolphins selected quarterback Skylar Thompson in the seventh round (247th overall) of the 2022 NFL Draft. Here are five things to know about the former Kansas State Wildcat.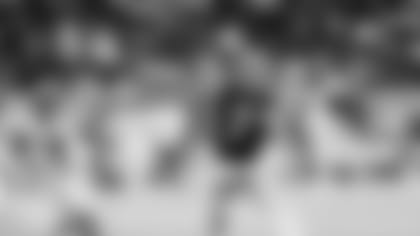 1. Winningest Quarterback In K-State History
Thompson started more games and posted more wins than any quarterback in school history during his collegiate career. He had 40 starts and 24 wins over parts of five seasons and became the only player in school history with 6,000 passing yards and 1,000 rushing yards in a career. Thompson had six career touchdown drives in the fourth quarter to either tie or take the lead, which was the most by a Kansas State quarterback since 1990.
2. Biggest Games = Biggest Performances
The Dolphins' newest quarterback enjoyed stepping up in the biggest games. He led Kansas State to back-to-back wins over top five ranked Oklahoma teams in both 2019 and 2020.
In 2019, Thompson went toe-to-toe with Jalen Hurts, leading Kansas State to a 48-41 victory. He did a lot of damage on the ground, rushing for four touchdowns in the win over No. 5 Oklahoma.
The following year, Thompson led Kansas State to another big win over Oklahoma, who was ranked No. 3. He threw for 334 yards and one touchdown and rushed for three more touchdowns, giving the Wildcats a 38-35 victory.
Thompson saved one of the best games of his collegiate career for the last one as he went 21-of-28 for 259 yards, three touchdowns and no interceptions in a 42-20 win over LSU in the Texas Bowl. It helped him wrap up a season where he posted the best completion percentage (69.5) in school history. His efforts earned him the Texas Bowl MVP award and a nice cowboy hat.
4. Four-Time Team Captain
A common theme among Dolphins draft picks this season has been how they were leaders for their college programs and Thompson is no different. He was a four-year captain at Kansas State and was a respected leader in the locker room. During a three-game losing streak in 2021, Thompson addressed how his leadership role fits within the football program and a few days later, the Wildcats began a four-game winning streak.
5. Wildcats Can Get Along With Dogs
We haven't had a chance to ask Thompson yet about his favorite things but a quick look on social media seems to indicate that dogs can still be a Wildcat's best friend.