The vibration of a silent alarm begins to stir Spencer Paysinger. Mornings typically start before 6 a.m., but today, he decided to sleep in for a little bit longer. He grabs his phone to stop the vibration before checking for missed messages sent from his wife, Blair, back in Los Angeles. After spending the next 15, or so, minutes scrolling through Instagram and Twitter, he slides out of bed and allows the sunshine from Fort Lauderdale to seep into the room. Following his standard morning ritual, the sounds of Teddy Pendergrass can be heard from room 586.
"I've been in a 70-80's soul music kick lately," said Spencer.
After checking his notes, and running through a couple of lines on his iPad, Spencer grabs the pre-ironed clothes currently folded over his lounge chair and heads down to the second floor for yogurt and tea. He pulls out his notebook and readies himself to be introduced. He is about to have his moment. One that was nine years in the making.
"One guy that I am about to bring up, is someone I'm super proud of," said Kaleb Thornhill, director of Player Engagement for the Miami Dolphins. "He always pushed himself to be more, and he set a high standard for himself. He flew in to town yesterday, stayed up to watch the Laker game and now he's ready to give you guys some wisdom."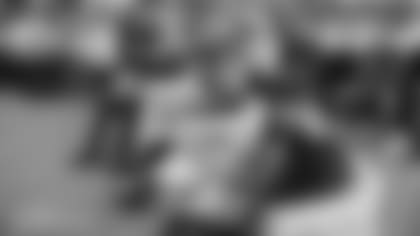 Kaleb met Spencer when he signed with the Dolphins during the 2015 NFL season, after spending the previous four years as a member of the New York Giants. Although an accomplished linebacker from the University of Oregon, Spencer made a name for himself not only for his play on special teams, but for his eagerness to help others away from the field.
"He spent extra time in the meeting rooms, and when you put him out on the field defensively, he was going to go out and do his job," said Kaleb. "But he always spent time with the younger guys. He did not have an I got it personality. He was selfless."
The allure of the professional athlete is a strong one. Most players would rather retire a year too late, than to retire a year early. Most guys simply cannot let it go.
Spencer was a different breed.
"Going into the league as an undrafted guy, barely making the team, I set a goal for myself to retire by 30," said Spencer. "I wanted to get out of this game at 30 because, for me, I never subscribed to the idea that football was a career. Football is a job. Football is something that can help you get to the next part of your life. You can't play, tackle, and run for 40 years and expect to retire in any decent shape or form."
The appropriate next step was joining the Dolphins Business Combine, a program created by Kaleb in the summer of 2017. Like his father, mother, and older brother, Kaleb received a scholarship to attend Michigan State University. Kaleb was a linebacker with aspirations of making it to the NFL, but realized early that playing for a team was not in the cards.
Throughout the years, Kaleb noticed that there was not a strong enough support system to help athletes transition out of football and into different careers. After failing to make it to the pros, he saw how lost his teammates were after solely focusing on a singular vision for most of their lives.
"What do you do after that NFL door is closed?" Kaleb asked himself. "How do you find that next passion project that inspires you to give the same energy you gave to football, to it?"
Kaleb's curiosity compelled him to stay at Michigan State to attend grad school. There, he created a start-up program aimed to help build paths for student-athletes outside of football.
While the coaches focused on the physical part of being a college athlete, Kaleb would focus on the mental. While the administration wanted to make sure the student-athlete is ready to play a game on Saturday, Kaleb focused on making sure the student-athlete is ready to play the game of life.
"I was sick of seeing my teammates fail," said Kaleb. "God gave me this opportunity to help others bust through the doors. I'm going to do everything in my power to make sure guys understand that when one door closes, it allows you the opportunity to go through another."
After spending a few years as an operations intern for the Detroit Lions, Kaleb accepted a position as director of Player Engagement with the Miami Dolphins in Feb. 2010. His first initiative was to create a new and improved version of the student-athlete startup. Through a partnership with Dolphins team owner Stephen Ross, Kaleb created a week long seminar centered around the different interests of the players including: real estate, finance, playwriting, marketing, fashion and the art of negotiating. Kaleb's office formed partnerships with different colleges and professionals who would not only give presentations about their professions, but also make themselves available to players seeking to gain additional advice and guidance one-on-one.
"What I hope to help with is when these guys are no longer playing, how they can win in life after football," Stephen remarked. "It's great to put together this business combine to enlighten and show what the opportunities are when they are no longer playing. When their playing days are over, they can enter the business field and be successful."
Kaleb was unsure of the real impact the program had on the players, but Spencer's journey post-retirement proved the program was a success.
As a member of the Miami Dolphins, Spencer was front and center for the first two business combines that Kaleb put together in Manhattan. Spencer had been working on a screenplay with a few friends since 2016, but decided to attend with the hopes of learning more about business beyond football.
"The best part of these seminars is that we are given a space to create an enterprise that has nothing to do with football," said Spencer. "I along with teammates Ndamukong Suh, Derrick Morgan, Justin Pugh, Marshall Newhouse and a few other players created this dating/social club app and won the Dolphins version of Shark Tank. I loved just pulling my focus away from football, and finding new passions."
After seven years in the NFL, Spencer walked away from the game.
Fast forward to 2020, Spencer has multiple successful business ventures that keep him pretty occupied. He invested in Hilltop Coffee + Kitchen, an urban coffee shop with two locations in Inglewood, California. He is a budding writer and producer most notably for the hit CW show All American. A story that mirrors Spencer's own life as a young teen attending Beverly Hills High School, while living in South Central, Los Angeles. He also mentor's youth in the south Los Angeles area; using his own cache to help open doors and provide opportunities that were previously unattainable. Because of his success, and alumni status as a former Dolphin, Kaleb asked Spencer to come speak to the young players at the 2020 Dolphins Business Combine.
"For me, Spencer's story means everything," said Kaleb. "As a player, Spencer spoke about All American during one of the business combines in Manhattan. To have a player execute his dream, and come back to speak to other players is priceless. It shows that what we are doing is working."
Wide receivers Allen Hurns and Trevor Davis were among the 38 players attending the 2020 combine. A huge leap from the first iteration that only boasted 16 players.
"I feel like with a lot of football players, especially when you're young, football is all you know," Allen remarked. "Spencer understood that when you retire, you are no longer a football player. When the checks aren't flowing in, you have to find something else to do. That really resonated with me, especially since I am going into my seventh year in the NFL. He gave me a different perspective."
"It was great to talk to a person that shares, somewhat, the same feeling I do, where he figured out something outside of football that he is good and passionate about," said Trevor. "Sometimes in football you aren't the one that just loves football and nothing else. If I can go out there and make a substantial amount of money, not playing football and banging my body…I most likely would."
"As a professional athlete, it is hard to know who you can trust," said Spencer. "When I signed with the Dolphins, the first person I met was Kaleb. It got to the point where I would randomly just pop into his office to say what's up, and he would tell me every detail about a frustrating day."
Kaleb is in a unique position. As director of Player Engagement, Kaleb is in charge of the well-being of the Dolphin players. He helps new signees and free agents become acclimated with the organization, and the city of Miami. He has a comforting and personable administrative style that allows his players to feel comfortable.
He makes a point to go the extra mile for his guys.
"I only joined the team during the last four weeks of the season so I did not have a lot of time outside of learning a new playbook," said Trevor. "But I knew Kaleb better than most people on the team because he actually took me to the side and got to know my love for real estate. He told me that I needed to come to this combine, and I trusted him because he has been there for me every step of the way. I feel like I have known him for a long time, but really I only met him in the last four weeks of the season."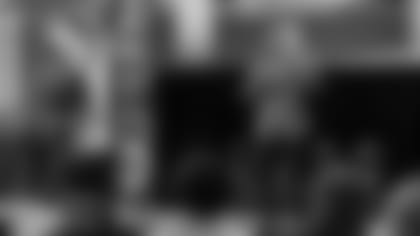 In a room filled with millionaires, you would be hard pressed to find someone that stands out more than Kaleb. In one moment, he can be seen laughing and joking with the players. In the next, he's commanding the attention of the group, providing insight on the next phase of the seminar. The players not only respect him, but genuinely feel like he's got their back no matter what.
"As a professional football player, you are constantly around fake people that only tell you what you want to hear," Allen said. "But Kaleb is genuine, man. He always pushed us to be more than just an athlete. As athletes, we are looked at as role models and it sucks at times when we are in the media about things we do wrong. Kaleb expands our mind set and makes it so that there won't be such a hard transition out of the game."
Football is simply a game. The NFL is simply a company. The allure of professional sports, overshadows the fact that these are simply humans with extraordinary careers. Kaleb witnessed first-hand how lost you can become after your fantasy is fractured. Unlike the coaches in the gym pushing your body to its limits, Kaleb created a space to push the limits of your imagination.
"It is all about playing the game of life, after your career ends," said Kaleb. "These guys are living their dreams, but while they live that dream, they forget to keep dreaming."
"I just want my players to dream again."