Members of South Florida media were treated to a buffet of introspective thoughts from three of the Dolphins bubbliest personalities. Byron Jones – a prized free agent acquisition this offseason – talked about a young, hungry team that's working tirelessly to get better. Tua Tagovailoa – the fifth pick in April's draft – detailed the respect and trust he has for his coaches. Davon Godchaux reiterated the importance of "we over me" and the selfless, team-first mentality required to be an Miami Dolphins under Brian Flores.
Here are the highlights from a busy Thursday of media availabilities.
August Urgency
A truncated NFL offseason has elevated the urgency of every August day. Coach Flores repeats that message any chance he gets and, for the three players that spoke to the media on Thursday, the point is resonating.
Byron Jones signed on the opening day of free agency back in March. At the time, he told us on the Drive Time Podcast that he viewed coming to Miami as an opportunity to help lead a young squad and provide the team with a presence both on the field and in the locker room. He reinforced that believe in his Thursday media availability.
"This is a young roster," Jones said. "There's no going around that, but that's exciting. These guys are hungry. They're hungry to build a name for themselves. They're hungry to build a special team here and you see it every day, and 'Coach Flo' (Head Coach Brian Flores) has been great with his communication – definitely during these times where things are very different."
One of the youngest members of the team is rookie quarterback Tua Tagovailoa. The 22-year-old southpaw, who played under three different offensive coordinators at Alabama, discussed the adjustment of making the leap from college to the professional ranks.
"No matter what offense you're stepping into, it's always going to be a process of learning and I think that's where I'm at," Tagovailoa said. "I'm still in the process of getting to understand (Offensive Coordinator) Chan's (Gailey) offense."
On the other side of the ball, Davon Godchaux talked about the importance of playing as one, singular unit opposed to 11 individuals.
"You've just got to have everybody on the same page," Godchaux said. "I think once you do that as a defense, you're going to get sacks, you're going to get the numbers you want. You're going to get the TFLs. You're going to do all of that, but you have to do it as a team. It's 11 guys on the field as a defense. I think once you do that, you can do pretty much anything you want – like I said the first time – but you can't have guys out there being selfish. 'Oh, I'm going to jump this gap when I should be in this gap,' to try to make a play. It's not going to work like that."
Finkle is Einhorn, Tagovailoa is Fitzpatrick
First impressions are everything. Ryan Fitzpatrick and his Norseman beard, tangents derived from a Harvard education and thorough replies to the media have endeared the 15-year veteran quarterback to the South Florida media.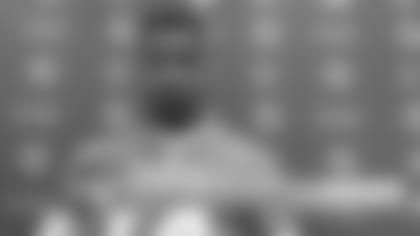 Tagovailoa made a wise choice when he arrived to his first training camp press conference wearing an appearance jersey with the No. 14 across the front – not the red practice jersey, but the top you'll see Fitzpatrick donning in photoshoots this season.
Nick Saban, on the latest edition of the Drive Time podcast, talked about Tagovailoa's ability to cultivate and nurture relationships that thrive. That trait was on display as the rookie quarterback talked about getting to know Fitzpatrick.
"To start it off with 'Fitz' – (he is a) very, very down-to-earth person," Tagovailoa said. "Very humble. I got to meet his family about two days ago and it was pretty funny because everyone while we were on FaceTime, everyone's just scattered around the house. So he introduces me to his kids and then he introduces me to his wife and he's like, 'This is it. This is everyone and this is my family,' and then (laughter), lo and behold he forgets two of them. It's like, this man really has a family. He's really been in the league for so long. To be behind a professional like that, to me it's kind of mind-boggling how down-to-earth he is. It's one of those things where it's, this guy gets it."
Tagovailoa didn't hold back when detailing the value of having the knowledge and experience of Fitzpatrick in the quarterback room. He also discussed how great it has to also have a Hall of Famer in the room in Dolphins legend Dan Marino.
"The first day I got into the building, Dan was in our meeting and I got to talk to Dan," Tagovailoa said. "He's also a really down-to-earth guy – someone that you can just chat with. For someone who pretty much is the talk of the town with Dan, he's super humble. He doesn't hold his head high or walk around here like he's the man – which he is, but he's super humble."
Relationships are everything
A core tenet of Flores' program is the ability to communicate. Effective communication starts with relationship building, a habit the Dolphins players and coaches are already in the process of establishing.
"(Coach Gerald Alexander) is a really good teacher," Jones said. "Him and 'Coach Chuck' (Coaching Assistant Charles Burks) together as the secondary coaches, they do a really good job at making sure the defensive backs understand what defense we're in and where our help is and understanding what our leverage is, how the entire defense works together in our favor, where the rush is coming from, looking at quarterback tendencies. Both coaches – they're really implementing these important lessons and foundational lessons on us very early, and I think it's going to pay dividends in the season."
Player-coach relationships go hand-in-hand with player-to-player interaction. Jones isn't the only cornerback on the Dolphins roster with a trip to the Pro Bowl on his resume. Jones was asked about pairing with Xavien Howard and how the two can make one another better.
"We both excel at playing man coverage," Jones said. "I think he excels at attacking the ball better than me, so that's something I'm learning from him. Like any skillset you work on it on a daily basis. When there's a special teams period, I go with 'Chuck' (Charles Burks). We go off to the side and we work seeing the ball in all the way, and then we work on high-pointing the ball as the ball is in the air, looking back, looking over the opposite shoulder. We make the drills uncomfortable so that when it happens in the game, it's natural at that point, so it's just a skillset. It's a skillset like anything else – eyes, hands, feet."
Jones went on to discuss the team's defensive approach and how the personnel on the roster is built for the style of play Coach Flores and Josh Boyer, the defensive coordinator, want to deploy.
"Our defensive style, it seems like we're more man, which is fun," Jones said. "We have the corners for it. We have the secondary for it. I'm used to it. I'm used to being out there guarding receivers, running around with tight ends, slot receivers and X's and Z's; so it's nothing different, per se. It's just a different roster, a different system. It's exciting but definitely new."
With plenty of change on the Dolphins roster, Godchaux talked about the additions to his position group and how it can free up other players for more opportunities to make plays.
"Shaq Lawson and Emmanuel Ogbah – both of those guys can rush the passer," Godchaux said. "(They) guys can set the edge, they're very big, very strong, very physical guys; so with me and Christian (Wilkins) inside and to add some other guys to it, I think we're just going to start off being a physical defensive line. We want to rush the passer. We want to stop the run first, but I think when you add those two guys, you're looking at two guys that can really set the edge and really can play on third down, too."
The relationships on the defensive line are gelling early in camp; the same is true on the offensive side as Tagovailoa discusses the importance of establishing relationships.
"The main focus – is just being able to get into my playbook, being able to – like I said – build relationships with the guys on the team and just focus on what we've got to do inside of the building," Tagovailoa said. "Just like almost every athlete has said, fans are good and fans can … so when we're doing good, we're all we've got as a team. The fans are going to say whatever. That's all that outside noise, and really, we've just got to pay attention to what we're trying to do and accomplish as a team here in the Dolphins organization."
Dolphins coaches from the players' perspectives
Balance is important. Gailey spoke about finding balance on offense with the run and the pass, but that crucial trait applies to mental makeup as well. Jones touched on the intense, demanding nature of Coach Flores.
"His intensity when he speaks to us, it's apparent right away," Jones said. "It's very exciting to see that in person instead of just on a Zoom meeting, so it's something that I'm looking forward to trying to build on this and going in the right direction."
Tagovailoa described his early impressions of new offensive coordinator Chan Gailey.
"Now from a perspective of personality with who Chan is and whatnot, I mean Chan is phenomenal," Tagovailoa said. "Really great guy, down-to-earth. When it's time to work he's out there, we go to work. It's a very friendly environment with him and the other quarterbacks as well. I definitely believe that 'Coach Flo' (Head Coach Brian Flores), (Offensive Coordinator) Chan (Gailey), (Quarterbacks Coach) Robby (Brown) – all those guys that are going to be making the decisions – they're going to put the team in the best position they think is possible; so if that means supporting someone or not, that's what it's going to be."
Tagovailoa comprehensively praised the staff for the tutelage he's already received in the early stages of his rookie year. He opened up about his background and culture and how the respect he learned in his family life can be applied to listening to his coaches and being receptive to that coaching.
"Respect is the biggest thing and in football, respect is almost demanded from the head coach, from your OC (offensive coordinator); so it's one of those things where you grow up not knowing how to talk back to an elder when they talk to you about doing something," Tagovailoa said. "You learn how to take advice. You learn how to – when you get chewed out, you learn how to eat it, is what I'm trying to say. So I definitely think it's helped shape me to the person that I am as well in that regard with being respectful."
Commemorating Don Shula
An addition to the Miami Dolphins 2020 uniform was announced Thursday as the team will honor the NFL's all-time winningest head coach, Don Shula, with a patch that reads simply:
The number 347 is, of course, a reference to the number of games Coach Shula won over a 32-year career (25 of those seasons with Miami) as a head coach in the NFL. Andy Cohen has the story.
Recent roster changes
Chris Grier and Brian Flores continue to churn the roster ahead of training camp with two newcomers and two players on the way.
The Dolphins added a pair of cornerbacks in Breon Borders and Deatrick Nichols, and waived safety Steven Parker and tight end Bryce Sterk.
Borders, who was added on Wednesday night, joins the Dolphins after playing 12 games in 2019 – one for Washington and 11 with one start for Jacksonville. He totaled seven tackles (six solo) and one fumble recovery. Borders also appeared in one game with Jacksonville in 2018. He also spent time with Houston (2018), Buffalo (2017-18) and Oakland (2017). Borders originally entered the NFL as an undrafted college free agent with the Raiders on May 5, 2017.
Nichols played two games for Arizona in 2018 and spent the 2019 offseason with the Cardinals. He did not record any statistics. Nichols played for the Houston Roughnecks earlier this year and led the XFL with three interceptions before the remainder of the season was canceled. He originally entered the NFL as an undrafted college free agent with Arizona on May 11, 2018. A Miami native, Nichols played collegiately at South Florida and attended Miami Central High School.
Parker played in 14 games with four starts for the Dolphins last year after he was claimed off waivers on Sept. 1, 2019. He totaled 19 tackles (14 solo), two interceptions and three passes defensed. Parker originally entered the NFL as an undrafted college free agent with the L.A. Rams on May 15, 2018 and spent the 2018 season on the Rams' practice squad. 
Sterk signed with Miami as an undrafted college free agent on April 29, 2020. He was a two-year starter (2018-19) at defensive end for Montana State before moving to tight end with the Dolphins. In college, Sterk started 28 games for the Bobcats and totaled 126 tackles (81 solo), 23.5 sacks, five passes defensed and one fumble recovery.