Running back Kenyan Drake has been recognized for his strong performance in the 35-9 victory against the Denver Broncos as he was announced Tuesday as one of the three nominees for the FedEx Ground Player of the Week.
Drake rushed 23 times for 120 yards against the Broncos, setting career highs in both categories. He scored on a 42-yard run in the third quarter, his third run of 40 yards or longer this season.
The other nominees are Alfred Morris of the Dallas Cowboys and Jamaal Williams of the Green Bay Packers.
Voting for this week's winners is open until Thursday at 3 p.m. ET at http://NFL.com/FedEx. Fans can also vote on Twitter using #AirandGround and the nominee's last name.
A weekly $2,000 donation will be made in the name of both of the FedEx Air & Ground winners to the USO through FedEx Cares. The donation will be used to support USO programs that keep service members connected to family, home and country as they depart the military and find a new path in civilian life.
Dolphins quarterback Jay Cutler earned the FedEx Air Player of the Week award for Week 9 for his performance against the Oakland Raiders.
Helping hand: The Dolphins visited Hollywood Hills High on Tuesday morning to surprise the football team with gear and on-field equipment. The Dolphins contingent included players Eric Smith, Raekwon McMillan, Isaiah Ford and Malcolm Lewis, alum Troy Drayton, and Senior Vice President of Communications and Community Affairs Jason Jenkins. Hollywood Hills High coach Brandon Graham tweeted about the visit: What an honor and a blessing to have the @MiamiDolphins take time to speak to and share words of wisdom with our team today. Thank you for giving back and sharing these lifetime memories. #Spartanmentality
Shoes for charity: Dolphins players, as well as players throughout the league, wore specially designed cleats this past weekend to highlight causes or organizations important to them, and now comes the next step in the NFL's My Cause, My Cleats campaign. Fans now can bid on the specially designed shots by going to nflauction.nfl.com. Proceeds from the auction go to the particular organization reflected on the shoes. The auction goes on until Dec. 21.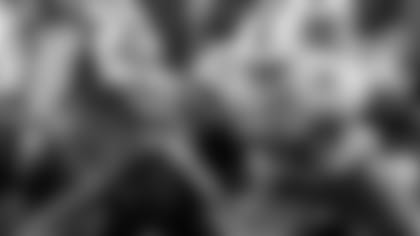 Take on Tunsil: The Dolphins have had high expectations for offensive lineman Laremy Tunsil ever since they made him the 13th overall selection in the 2016 NFL draft, and Head Coach Adam Gase says Tunsil continues to make steady progress. "I think he has played better," Gase said. "His practice habits keep getting better each week. I think he's understanding the bigger picture, which is really for a young player, you're looking for that improvement week in and week out. He is one of those guys where you can really see what we have as far as talent-wise. We just need to keep bringing him along. He needs to keep maturing as a player. I think he's heading in that direction. The sooner that he gets to a level to where we consistently see a dominant player, that's really what we're striving to do. I know he's trying to do the same thing. I've seen a different look in his eye the last three or four weeks of kind of light bulbs going off as far as understanding everything as a whole. It's not always easy. You get into that trend of, 'I'm supposed to block this guy,' instead of conceptually thinking, and I think it's really making sense to him more as the season is going on."
Personnel move: The Dolphins have made a move on their practice squad, releasing wide receiver Kolby Listenbee. A first-year player from TCU, Listenbee had joined the Dolphins practice squad Oct. 3. The move left eight players on the practice squad, two short of the 10-player limit. The current practice squad consists of QB Brandon Doughty, WR Malcolm Lewis, RB Brandon Radcliff, T Sean Hickey, WR Drew Morgan, TE Thomas Duarte, WR Rashawn Scott and DT Gabe Wright.