With the summer solstice approaching it's time to put the offseason in the rearview and focus on the best part of the calendar – football season!
The 2020 schedule presents some exciting matchups for the new-look Dolphins. With Seattle and Kansas City scheduled to visit Hard Rock Stadium in weeks 4 and 13, Miami welcomes arguably the two best quarterbacks in football to South Florida in Russell Wilson and Patrick Mahomes. Each of the previous four Super Bowl participants are on the slate with the annual Patriots series, Kansas City and L.A. Rams making the trip to Miami, and a trip out west to take on last season's runner-up in San Francisco.
In this series, we'll take a look at what's changed with each of Miami's 2020 opponents from last season, advanced metrics from popular publications, and a full roster breakdown of each of Miami's 13 opponents.
We'll break it down into four parts proceeding in chronological order. Today, we shift our focus to the beginning of fall with the October opponents: the Seattle Seahawks, San Francisco 49ers, Denver Broncos and Los Angeles Chargers.
Part II: Seahawks, 49ers, Broncos, Chargers
2019 Record: 11-5 (NFC Divisional Round Exit)
2019 Offensive Rank: 9th
2019 Defensive Rank: 23rd
Key Veteran Additions: TE Greg Olsen, CB Quinton Dunbar, OT Cedric Ogbuehi, WR Phillip Dorsett, C B.J. Finney
2020 First-Round Draft Pick: LB Jordyn Brooks
ESPN Continuity Ranking: 26th in NFL, 68.8% snaps returning
Seattle joined the blue bloods of the NFL in 2012 when Russell Wilson took over. Since then, the Seahawks have been a picture of consistency with seven playoff appearances in the quarterback's eight years with the club. The defense has undergone plenty of turnover in recent years, but Wilson's perpetual Houdini act keeps Pete Carroll's squad in contention every year, every game. Wilson's four fourth-quarter comebacks in 2019 were the most in football.
Wilson's penchant for making plays off-script and relentlessly attacking vertically with pristine ball placement fits Seattle's style to perfection. A physical run-heavy attack, paired with Carroll's patented Cover 3 system on defense, affords Wilson opportunities to seize close games where his star shines brightest. Wilson owns the NFL's second-highest all-time passing rating and routinely ranks near the pinnacle with downfield throws – top three in passing yardage on throws 20-plus-yards downfield each of the last three years.
The complementary run game that boasted the NFL's third most-balanced attack (48.2% rush attempts) is spearheaded by Chris Carson. Among backs with at least 300 snaps in 2019, Carson's 3.63 yards after contact average ranked fourth in football.
Carson and fellow backs Rashad Penny, Carlos Hyde, Travis Homer and rookie DeeJay Dallas run behind one of the biggest offensive lines in the NFL. Perennial Pro-Bowl tackle Duane Brown is back for his fourth year with the team (13th in the NFL). He led all Seahawks linemen in PFF's run-blocking grade and surrendered just two sacks all year.
Seattle has a handful of potential replacements for the departure of 60 percent of last year's starters. Among them, free agent signings Brandon Shell and Cedric Ogbuehi and rookie Damien Lewis -- the 69th pick in the 2020 NFL Draft.
Wilson provides the arm for Seattle's vertical attack while a pair of young, explosive receivers finish off the big plays. Tyler Lockett and rookie D.K. Metcalf both finished in the top 15 in deep receiving yards (passes thrown 20-plus yards) last year. Lockett rounded his game into a more complete threat in 2019 with career highs in targets (110), receptions (82) and yards (1,057). Metcalf was an instant success. The 2019 third-round pick put together a 900-yard, seven touchdown rookie campaign at a clip of 9.0 yards per target. Veteran tight end Greg Olsen gives Seattle a prominent presence between the numbers in the passing game and as an inline blocker for all the heavy personnel Offensive Coordinator Brian Schottenheimer calls.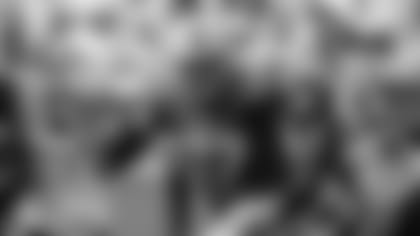 Linebacker Bobby Wagner has long been the linchpin of the Seattle defense. Over the last three years Wagner has graded as PFF's top linebacker twice, missed only 12 tackles cumulatively and played 3,001 snaps. Wagner's long-time running mate, K.J. Wright, returned to form after his first significant injury in 2018. He recorded 132 tackles, three interceptions and 11 passes defensed.
Ideally, Seattle wants to generate a pass rush with the front four. Quinton Jefferson led the way among returning Seahawks (Jadeveon Clowney 2019's leader) with 44 quarterback pressures. Jarran Reed contributed with 26 of his own, but his true strength lies in the run game. The same is true of Poona Ford who piled up 29 run stops (tackles within two yards of the line of scrimmage) out of his 33 tackles.
The defensive secondary is where Pete Carroll's mastery shines. Seattle – once the home of the Legion of Boom – has done well to draft and develop its post-LOB defensive backfield. Last year's top contributor, however, was an in-season trade acquisition in Quandre Diggs. Diggs intercepted three passes and served as the catalyst in Seattle's Cover 3. Shaquill Griffin earned the highest PFF grade among Seattle cornerbacks.
Seattle returns to Miami for the first time since 2012. The last four meetings between these teams have come down to the fourth quarter where the Miami humidity can provide the home team with a boost over the visitors from the Pacific Northwest, particularly in early October.
Jesse Davis and Gary Jennings are the only former Seahawks on the Dolphins roster. Linden Stephens is the only former Dolphin currently with Seattle.
2019 Record: 13-3 (NFC Champions)
2019 Offensive Rank: 2nd
2019 Defensive Rank: 8th
Key Veteran Additions: OT Trent Williams, WR Travis Benjamin
2020 First-Round Draft Picks: DL Javon Kinlaw, WR Brandon Aiyuk
ESPN Continuity Ranking: 4th in NFL, 82.6% snaps returning
After a pair of challenging seasons faced with adversity, everything clicked in 2019 for Kyle Shanahan's 49ers. One of the NFL's premier offensive minds utilized two back sets, constant pre-snap motion, and a phenomenal dual-purpose tight end to dominate on the scoreboard. The defense did its part with an unrelenting front four capable of generating constant pressure without committing blitzers.
The engineer of Shanahan's zone-heavy run scheme that creates passing windows with misdirection and perpetual shifting is Jimmy Garappolo, who is entering his fourth year by the bay. In 2019, Garappolo once again eclipsed eight yards per pass while setting career-highs in every major statistical category.
The San Francisco backfield is an enigma. The two largest contracts belong to fullback Kyle Juszczyk and Jerrick McKinnon – the latter missing all of 2018 and 2019 with injuries. Matt Breida is now in Miami but the depth remains endless. Raheem Mostert averaged 5.6 yards per carry with 10 total touchdowns while Tevin Coleman chipped in with 544 rushing yards and seven total touchdowns. Nobody ran more 21-personnel (2 RBs, 1 TE, 2 WRs) than San Francisco's 28 percent clip, per Sharp Football Stats.
The catalyst for both the running and passing game is tight end George Kittle, who takes more pride in finishing blocks through the whistle than his All-Pro receiving production. The Niners ran the ball more than passes attempted and led the NFC with 2,305 yards and 23 rushing touchdowns last year. Kittle graded as PFF's 5th-best run blocking tight end and No. 1 overall at his position by a wide margin.
Wide receiver Deebo Samuel suffered a foot injury that could sideline the 2019 Rookie of the Year candidate for the first chunk of the season. Filling that void, along with the departure of Emmanuel Sanders, is first-round pick Brandon Aiyuk. The former Arizona State Sun Devil excels both in the vertical game and creating yardage after the catch – both staples under Shanahan.
The 49ers offensive line replaced a legend with another perennial All-Pro. Joe Staley retired after a brilliant 13-year career, and now former Washington left tackle Trent Williams steps in to lock down Garappolo's blind side. Michael Person is gone after playing 88 percent of San Francisco's offensive snaps last year, but Ben Garland's emergence at center – in Weston Richburg's absence – gives Shanahan options to round out another dominant front five.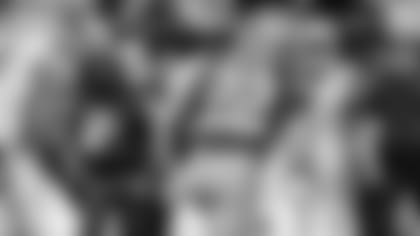 The front four on the other side is among football's best position groups. The second overall pick in the 2019 NFL draft, Nick Bosa made an immediate impact en route to Defensive Rookie of the Year honors. His nine sacks, 16 tackles for loss and 80 quarterback pressures set the table for a fearsome foursome. DeForest Buckner is gone from that group and in his place is the twitched up, explosive South Carolina product Javon Kinlaw, who San Francisco drafted with the pick acquired in the Buckner trade.
The star power doesn't slow down at linebacker. Fred Warner is a three-down player that can affect multiple passing lanes on a given play, diagnose and finish off run plays and provide an occasional pass rush. He played 96 percent of the 49ers defensive snaps last season. Rookie Dre Greenlaw piled up 92 tackles in 11 starts for the 49ers.
Richard Sherman joined the enemy moving from Seattle to San Francisco in 2018. He enjoyed perhaps the best year of his career in 2019 earning PFF's fourth-highest cornerback grade while yielding only 52.9 percent of targets completed. Slot corner K'Wuan Williams finished 13th among all cornerback grades with a passer rating against of 77.8. Safety Jimmie Ward had a breakout season. He made 11 run stops with just three missed tackles and allowed only 13 completions on 23 attempts in his coverage area.
The 49ers bring back the majority of last year's 13-3 team that held a 10-point fourth quarter lead in the Super Bowl. The biggest challenge for this uber talented team will be starting at square one and climbing the mountain again.
The Dolphins roster has two former 49ers – running back Matt Breida and safety Adrian Colbert. Center Jake Brendel played for Miami for three years, Raheem Mostert played one game for Miami in 2015 and Jaryd Jones-Smith was in camp with the Dolphins last year.
2019 Record: 7-9 (No playoffs)
2019 Offensive Rank: 28th
2019 Defensive Rank: 10th
Key Veteran Additions: DT Jurrell Casey, CB A.J. Bouye, RB Melvin Gordon, OL Graham Glasgow, TE Nick Vannett
2020 First-Round Draft Pick: WR Jerry Jeudy
ESPN Continuity Ranking: 13th in NFL, 75.7% snaps returning
Few teams, if any, added more household names during the 2019 offseason than Denver. In Vic Fangio's second year in charge the Broncos loaded up around sophomore quarterback Drew Lock. Entering the lineup in December, Lock helped Denver improve by 5.5 points per game in starts by the rookie.
Lock is a strong-armed passer with confidence to thread tight windows. The idea for the 2020 Broncos offense is to create more layups and easy throws via a bolstered receiving corps. Jerry Jeudy is one of the more polished route runners coming out of college recently, while a bevy of 2020 NFL Scouting Combine interview subjects listed Penn State's K.J. Hamler (Denver's second-round pick) as the toughest opponent they faced in their respective college careers.
The two rookies join 2019 breakout star Courtland Sutton to make for a formidable arsenal out wide. Sutton caught 72 passes for 1,112 yards and six touchdowns averaging 9.67 yards per target. Inside, another second-year player could see a considerable jump in production with tight end Noah Fant. Lock, Jeudy, Hamler, Sutton and Fant gives the Broncos five players at either quarterback or pass-catching positions selected in the first two rounds over the previous three drafts.
Continuing the theme of bolstering the weapons at Lock's disposal, Denver added to a backfield that made history in 2019. Phillip Lindsey became the first undrafted player to rush for 1,000 yards in back-to-back seasons and now forms one of the NFL's most formidable one-two punches with Melvin Gordon, who joined the team this offseason. Both backs excel at reading blocks, pressing the hole and bending the carry back against the grain.
On paper, the Broncos offensive line is much improved in 2020. Ja'Wuan James is back after being hurt last year, Graham Glasgow was signed to start inside and Lloyd Cushenberry's quick development could give Denver long-term answers at all three interior positions. Dalton Risner started all 16 games of his rookie year at left guard last year. Like Glasgow, Risner's position flexibility gives the Broncos options, but Denver figures to open camp with Garrett Bolles, Risner, Cushenberry, Glasgow and James on the first team.
The Broncos entered the offseason with a lot of uncertainty on the defensive line due to expiring contracts. Shelby Harris was re-signed. He made 27 run stops in 2019. And PFF's best run defending interior lineman, Mike Purcell, signed a second-round tender. Denver said goodbye to Derek Wolfe but added a longtime star in Jurrell Casey for only a seventh-round pick. Casey's 357 quarterback pressures over the last seven seasons have helped him get to five career Pro Bowls.
When Von Miller and Bradley Chubb played full, healthy seasons together in 2018 the pair combined for 26.5 sacks. Miller pairs first-step explosiveness with a refined rush arsenal while Chubb's size and athleticism combination pops off the tape. Inside, the Broncos call upon veteran Todd Davis and third-year pro Alexander Johnson. The pair accounted for 154 tackles and 72 run stops a year ago.
The departure of Chris Harris Jr. and the acquisition of A.J. Bouye signals a transition towards Fangio's preferred zone system. Bouye has 14 career interceptions and one pro-bowl on his resume.
Justin Simmons and Kareem Jackson make up one of the deadliest safety duos in football. Simmons was PFF's top-graded safety with 28 run stops, four interceptions, 53.2 percent completions allowed and a goose egg in the touchdowns-allowed column. Jackson graded ninth among all safeties excelling against both the run and pass.
John Elway pursued the 2020 offseason aggressively. This is arguably the deepest Denver roster since the annual deep postseason runs under Peyton Manning. Now, it's up to second-year quarterback Drew Lock to make that next step and Vic Fangio to integrate all these new parts into his system. The Broncos are one of the league's more intriguing teams in 2020.
Miami's roster features no ex-Broncos while former Dolphins first-round pick Ja'Wuan James is with Denver. The Broncos also have long snapper Wes Farnsworth on the team, who spent the 2019 training camp with the Dolphins.
2019 Record: 5-11 (No playoffs)
2019 Offensive Rank: 21st
2019 Defensive Rank: 14th
Key Veteran Additions: CB Chris Harris Jr., DT Linval Joseph, OG Trai Turner, LB Nick Vigil
2020 First-Round Draft Picks: QB Justin Herbert, LB Kenneth Murray
ESPN Continuity Ranking: 16th in NFL, 73.6% snaps returning
It's the end of an era in Chargers football. Philip Rivers, after starting 224 consecutive games for San Diego/Los Angeles, gives way to Tyrod Taylor and the sixth-overall pick in this year's draft, Justin Herbert. Head Coach Anthony Lynn was transparent in his desire to get more athletic at quarterback as the Chargers can now incorporate more elements into the offense based on the position's ability to move.
The Chargers have been adamant about Taylor's position as QB1 heading into training camp. Lynn was with Taylor in Buffalo as the offensive coordinator in 2016 and could dust off the zone read portion of his playbook. When it's Herbert's time to take the controls, the Chargers could follow those Bills team's philosophies and lean on the run while utilizing play action from under center. Herbert is big, strong and athletic with a howitzer of a right arm.
Change is constant on the offensive side as L.A. says goodbye to Melvin Gordon and elevates Austin Ekeler to the primary back. Ekeler's receiving ability is rivaled by few in the league – he caught 92 passes for 993 yards and eight touchdowns to go along with 557 yards and three touchdowns on the ground.
Keenan Allen returns as the top target in the passing game and he also has a claim as arguably the best route-runner in football. Allen averages 8.4 yards per target over a seven-year career with three consecutive trips to the Pro Bowl. Mike Williams complements Allen's style with size and leaping ability on the perimeter while tight end Hunter Henry is among the most-feared seam busters in the league.
The offensive line was a point of emphasis for the Chargers this offseason. Injuries piled up in 2019 resulting in 244 QB pressures allowed. Acquiring Trai Turner inside gives the remade offense its tone-setter with a physical mentality and the mean streak to play through the whistle. At tackle the Chargers acquired nine-year veteran Bryan Bulaga in hopes of solidifying the right side. Both of 2020's top snap-takers at tackle – Trenton Scott and Sam Tevi – are back to compete for left tackle reps.
Defensively the Chargers are led by a pair of dynamic pass rushers in Joey Bosa and Melvin Ingram. The duo combined for 119 pressures, 20 sacks and 81 run stops last season. Uchenna Nwosu gives L.A. a formidable third rusher while Justin Jones and Jerry Tillery have the power, active hands and developmental profiles to become impact rushers inside. The addition of Linval Joseph makes the Chargers bigger and tougher to run on in the interior.
Drue Tranquill earned the admiration of film junkies during his rookie season for his ability to turn, run and cover against the matchup nightmares at tight end in the NFL. His running mate at linebacker, Thomas Davis, has amassed better than 1,200 tackles over his tremendous career. After 12 years in Carolina, Davis came west in 2019 and gave the Chargers 805 snaps. First-round pick Kenneth Murray gives Los Angeles its modern-day linebacker by way of his elite athletic ability and keen instincts for the position.
Derwin James missed 11 games last year and the Chargers sorely missed his presence. He moves all over Gus Bradley's defense and earned All-Pro honors in 2018. That rookie season resulted in four sacks, 21 quarterback pressures, 91 tackles, 47 run stops, three interceptions and six pass breakups. Nassir Adderley compliments James' style with premiere athletic ability and range on the back end. He played in only four games as a rookie but should compete for a starting job this season.
Chris Harris Jr. stays in division and gives L.A. another lockdown man-cover corner. Desmond King and Casey Hayward round out arguably the league's best cornerback unit. Hayward graded seventh among all corners according to Pro Football Focus, permitting a completion rate of only 56.3 percent.
The offense underwent considerable transition while a strong defensive unit beefed up in the offseason. If the Chargers can effectively run the ball and generate pressure without requiring extra rushers, the formula is there to win a lot of football games. The development of Herbert bears watching as Taylor has a chance to flourish in Lynn's system.
None of the Dolphins current roster played for the Chargers and Mike Pouncey is the only former Fin on Los Angeles' roster.