With the summer solstice in the rearview mirror, it's time to put the offseason in the rearview and focus on the best part of the calendar – football season!
The 2020 schedule presents some exciting matchups for the new look Dolphins. With Seattle and Kansas City scheduled to visit Hard Rock Stadium in weeks 4 and 13, Miami welcomes arguably the two best quarterbacks in football to South Florida in Russell Wilson and Patrick Mahomes. Each of the previous four Super Bowl participants are on the slate with the annual Patriots series, Kansas City and the Los Angeles Rams making the trip to Miami, and a trip out west to take on last season's runner up in San Francisco.
In this series, we'll take a look at what's changed with each of Miami's 2020 opponents from last season, advanced metrics from popular publications, and a full roster breakdown of each of Miami's 13 opponents.
We'll break it down into four parts proceeding in chronological order. Today, we shift our focus to the beginning of fall with the November opponents: Los Angeles Rams, Arizona Cardinals and New York Jets.
Part III: November Opponents (Rams, Cardinals, Jets)
2019 Record: 9-7 (No playoffs)
2019 Offensive Rank: 11th
2019 Defensive Rank: 17th
Key Veteran Additions: LB Leonard Floyd, DT A'Shawn Robinson
2020 First-Round Draft Pick: None (RB Cam Akers selected 52nd overall)
ESPN Continuity Ranking: 24th in NFL, 70.5% snaps returning
Few coaches have enjoyed instant success at the level of Sean McVay with the Rams. With two division titles and an appearance in the Super Bowl, last year's winning record at 9-7 was considered a disappointment. Under McVay and General Manager Les Snead, the Rams play for keeps. The Rams have been very aggressive since McVay's 2018 arrival and pivoted its operating procedure this offseason with a more frugal approach. Snead has packed the roster full of talent and found clever ways to recoup draft capital this past April, something he'll have to do in 2021 if the Rams are to restock the cupboard once more.
The organization's biggest investment since Snead's time in charge came by way of quarterback Jared Goff. For the right to draft the face of the franchise, the Rams parted with a pair of first-round picks, two second-round picks and two third-round picks back in 2016. Vindication came in the form of a conference title during Goff's best year as a pro in 2018. He was promptly rewarded with a new contract as Los Angeles moves onto the challenge of finding talent outside of blockbuster trades.
For the Rams to return to form as NFC Champions, Goff has to play at a high level, with a lot of that production stemming from play action passing. Goff led the NFL each of the last two years in passing yardage on play action. In 2018, Goff's 115.0 passer rating on play action ranked seventh among qualifying passers. Last year, Goff's play-action passer rating dropped to 85.9 – 24th among qualifying passers.
Todd Gurley's presence might've had something to do with the drop in play-action production. Gurley is in Atlanta now as the Rams shift towards 2020 second-round pick Cam Akers and 2019 third-rounder Darrell Henderson. Per Pro Football Focus, Akers forced 76 missed tackles in 2019 at Florida State, tied for seventh-most in college football.
Cooper Kupp and Robert Woods form a deadly, complementary receiving duo. Kupp notched his first career 1,000-yard receiving season despite a torn ACL in December. Of his 1,161 yards last season, 861 came from the slot – tops in the NFL. McVay's offense is generally designed to create slot production. A lot of condensed formations and "nasty" splits (aligned inside the numbers) allowed Woods to generate the 15th-most yards in the NFL from the slot. In total, Woods put together his second consecutive 1,000-yard season as the Rams top target (139) in 2019. Josh Reynolds is the favorite to win the other starting spot in McVay's 11-personnel-heavy offense; rookie Van Jefferson is also in the fold.
The tight end position features another dynamic duo. Tyler Higbee was PFF's third-highest graded receiving tight end in 2019 while Gerald Everett checked in at No. 9. The pair accounted for 1,142 receiving yards last season.
The majority of the offense is back including all five starters on the offensive line. The veteran of the group, 38-year-old Andrew Whitworth, and Austin Blythe are the only projected starters who played more than 56 percent of the 2019 snaps. Whitworth allowed only one sack on 710 pass blocking reps while Blythe surrendered two on 649 reps.
On defense, everything starts with Aaron Donald. Since entering the league in 2014, Donald has finished as PFF's No. 1 interior defensive linemen every year sans his rookie season (second behind J.J. Watt in 2014). Donald has logged a remarkable 499 quarterback pressures and 252 run stops over his brilliant six-year career. A'Shawn Robinson comes over from Detroit to give L.A. arguably the NFL's best front-three in odd fronts.
A position of constant turnover recently for the Rams is linebacker. Off the edge, new Defensive Coordinator Brandon Staley will call upon free agent Leonard Floyd, rookie Terrell Lewis and incumbent Samson Ebukam as his primary edge rushers. Floyd matched his career high with 39 quarterback pressures last year while Ebukam notched a career-high five sacks in 2019.
Jalen Ramsey came over in a mid-season trade last October. In his four-year career, Ramsey has put the clamps on opposing receivers to the tune of a 76.3 passer rating against. He's a cornerstone player that can disrupt the league's best receivers at the line, defend the run and generate takeaways. The incumbent corner with the most snaps for L.A. in 2019 is Troy Hill. On 327 coverage snaps, opposing quarterbacks were limited to a 54.7 passer rating when targeting Hill. The big camp question comes in the slot, where the Rams will have to replace longtime starter Nickell Robey-Coleman. David Long is next in line to join Ramsey and Hill in the starting lineup, but the trio combined for only 157 slot snaps last year.
The safety jobs are written down in pen. John Johnson was lost for the season after the Rams sixth game and the defense never recovered. His first two years in the league, Johnson made 59 run stops and intercepted six passes. Taylor Rapp is a versatile, intelligent player with elite change-of-direction skills (evident by his 6.82 3-cone time at the 2019 NFL Scouting Combine). Rapp had 35 run stops and just six missed tackles last season.
It's a different looking Rams squad in 2020 as the organization looks for different avenues to round out the roster. Snead has done a terrific job in the draft while McVay is among the NFL's best offensive minds. Rekindling the run game and identifying a complement to Donald off the edge would go a long way towards getting L.A. back to the postseason.
Dolphins safety Steven Parker is the only player on either roster to have previously played for the opposition.
2019 Record: 5-10-1 (No playoffs)
2019 Offensive Rank: 17th
2019 Defensive Rank: 28th
Key Veteran Additions: WR DeAndre Hopkins, LB Devon Kennard, DT Jordan Phillips, LB De'Vondre Campbell
2020 First-Round Draft Pick: LB Isaiah Simmons
ESPN Continuity Ranking: T-18th in NFL, 73.4% snaps returning
An influx of young, electric quarterbacks has the NFL in great long-term shape at the most marketable position in sports. Patrick Mahomes and Lamar Jackson both won MVPs in Year 2 – both at age 23. Kyler Murray is entering his second year and his age 23 season in the desert. League MVP is a lofty expectation for anybody, but Murray's traits don't stray too far from the reigning Most Valuable Players core skill sets.
Murray turned Arizona into appointment viewing during his rookie season. An innate ability to expedite every process of playing quarterback leads to highlight-reel magic on a routine basis. Murray's baseball background contributes to his ability to use multiple pitches – fastballs to thread the window, touch passes layered majestically and high-arching deep balls – from any arm angle. His escape ability and feel for the rush has defenses perpetually in a bind.
The parallels between Mahomes' and Jackson's second year and Murray's sophomore season are vast. Like Kansas City and Baltimore, Arizona aggressively pursued upgrades to accelerate Murray's rise to stardom. DeAndre Hopkins has as much a right as anybody for the claim of best receiver in football. Three consecutive All-Pro designations with 31 touchdowns and 4,115 yards over that span is rivaled only by a few. Hopkins gives Murray a go-to target that can run defenses out of man coverage, beat double teams and command the attention of the opposition on every play.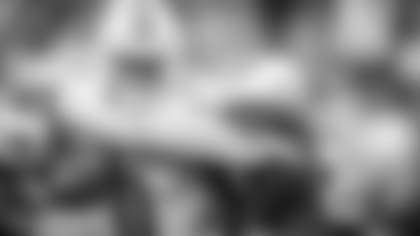 The weapons don't stop with Hopkins. Larry Fitzgerald is in the stratosphere of Jerry Rice and Randy Moss and, like his fellow Receiver Mount Rushmore residents, Fitzgerald continues to produce into his mid-30's. Aptly nicknamed "Larry Legend," Fitzgerald transitioned inside to the slot in 2015 with utter ease. Fitzgerald gained the ninth-most yards in the NFL from the slot in 2019. Third-year receiver Christian Kirk gives Kliff Kingsbury a versatile piece that can get vertical, win in the short game and take the ball horizontally on handoffs, jet-sweeps and in the screen game.
Barring an incumbent losing a camp battle, the Cardinals will return 80 percent of last year's opening day lineup on the offensive line. Eight-year veteran (all with the Steelers) Marcus Gilbert signed with Arizona in the offseason; he should compete with third-round pick Josh Jones. Justin Pugh and J.R. Sweezy both exceeded 95 percent of the offensive snaps in 2019 while Mason Cole returns from an injury to re-establish his position at center. D.J. Humphries allowed just three total quarterback hits last year and cashed in with a big extension as Murray's long-term blindside protector.
Kenyan Drake pairs with Murray to comprise perhaps the fastest quarterback-running back tandem in football. Drake rushed for 643 yards and eight touchdowns in eight games with the Cardinals. Chase Edmonds and rookie Eno Benjamin will compete for touches behind Drake.
Chandler Jones is as reliable as they come for pass rushers. Since arriving in Arizona in 2016, Jones leads the NFL with 60 sacks. He hasn't missed a game over that span and fills out the four-year resume with 67 tackles for loss and 17 forced fumbles. General Manager Steve Keim did well to add interior pass-rush prowess to complement Jones via Jordan Phillips. Phillips recorded a career-high 10 sacks last year with Buffalo and had the same number of pressures (26) as fellow interior lineman Corey Peters.
Isaiah Simmons was arguably the most electrifying player in the 2020 NFL Draft. He played all over the Clemson defense with impactful plays in all facets of the game and on the biggest stages. He's listed as a linebacker, but Simmons can rush the passer, or turn and run step-for-step in coverage with the track stars of the league. De'Vondre Campbell's arrival (previously with Atlanta) dramatically improves the defense's overall speed.
Patrick Peterson had a streak of eight consecutive years with over 1,000 snaps played snapped last year, but remains among the most feared cover corners in football. He has 26 career interceptions and a passer rating allowed of only 83.3. Byron Murphy started all 16 games as a rookie as a perimeter corner filling in for the injured Robert Alford.
Former college rivals team up to form an exciting, young safety duo for the Cardinals. Budda Baker (University of Washington) led all safeties with 120 tackles (47 run stops) and generated pressure on 12 of 59 pass rush reps. Jalen Thompson (Washington State University) played 368 of his 607 defensive snaps at free safety. His range, ball skills and instincts help Baker play free of restrictions.
The Cardinals are a team on the rise and it stems largely from the expectations of the second-year quarterback. Murray was seventh in the league in deep passing yards (944) and second in rushing yards (544) among quarterbacks behind Lamar Jackson. If his ascent continues, and the Cardinals defense plays to its talent, Arizona can compete in the difficult NFC West.
The Week 9 game between Miami and Arizona will feature a few reunions. Josh Rosen was drafted by the Cardinals while Ryan Lewis and Nate Brooks began their careers there as an undrafted free agent. Phillips, Drake and Jalen Davis all began their careers in Miami.
2019 Record: 7-9 (No playoffs)
2019 Offensive Rank: 31st
2019 Defensive Rank: 16th
Key Veteran Additions: OT George Fant, WR Breshad Perriman, OG Greg Van Roten, CB Pierre Desir, C Connor McGovern, RB Frank Gore, LB Patrick Onwuasor
2020 First-Round Draft Pick: OT Mekhi Becton
ESPN Continuity Ranking: T-20th in NFL, 72.3% snaps returning
It's Year 3 for the former third overall pick. Sam Darnold has the benefit of continuity for the first time in his pro career as Adam Gase enters Year 2 in his second head-coaching stop. For the Jets to erase a nine-year playoff drought, the critical head coach-quarterback relationship needs to flourish in 2020. Darnold is known for his ability to extend and turn a losing play into a winning one, while Gase's expertise is in creating favorable matchups for his best skill players.
Darnold missed three games in 2019, going 7-6 in his 13 starts. The numbers between the quarterback's rookie and second seasons come with a lot of similarities. The difference, the Jets hope, in 2020, is the surrounding cast brought in to support Darnold.
Last year, New York lured in a big fish via running back Le'Veon Bell. The all-purpose All-Pro formerly of the Steelers returned from a holdout year in 2018 with 1,250 yards from scrimmage and four touchdowns last season. Bell is one of the game's best route runners at his position and uses that same wiggle and patience to make potential tacklers miss – he tied for 16th in missed tackles forced last year after finishing fourth in 2017 the same category.
The focus of the offseason was along the offensive line after the Jets surrendered 52 sacks a year ago. Mekhi Becton gives New York the draft's rarest blend of size and athleticism. At 360 pounds and with a 5.10 time in the 40-yard dash, Becton became the heaviest player to run a sub-5.2 time at the combine since 2006. He allowed five sacks in his Louisville career and only 12 total quarterback pressures in 2019. His film is chocked full of punishing blocks that draws fans out of their seats.
The bookend tackle opposite Becton will feature a similar profile regardless of who wins the job. The competitors: free agent acquisition from Seattle George Fant and 2019 third-round pick Chuma Edoga. Both move exceptionally well and feature massive wingspans. Edoga allowed only six pressures in his final four games of 2019 while Fant served as the Seahawks swing tackle and sixth-man in heavy personnel (six linemen).
The interior of the Jets line was also remade in the offseason. Left guard Alex Lewis is the only incumbent of the group. Connor McGovern is the favorite to take over at center while Greg Van Roten was signed to play right guard. Van Roten was not beaten for a sack from Week 2 onward with Carolina last year (he didn't play from Week 13-17) while McGovern surrendered only one sack all season with Denver.
Darnold's weaponry was also overhauled in the offseason. Leading receiver Robbie Anderson left in free agency and Breshad Perriman was signed to improve upon the loss of the Jets' best vertical threat – Anderson was 20th in deep receiving (passes thrown 20-plus yards) with 329 yards and Perriman was 17th with 335 in 2019. Denzel Mims, a rookie second-round pick from Baylor, blew up the combine. He ranked in the 94th percentile or better in the 10-yard split, 40-yard dash, three-cone drill and broad jump among receivers. Tight ends Chris Herndon and Ryan Griffin give the Jets a multi-purpose attack from 12-personnel (two tight ends).
Gregg Williams' defense was one of the league's best units last season. Ranked seventh in the NFL in overall defense last year, the Jets brought pressure at the fourth-highest clip in football to complement the second-ranked run stopping unit. Tackles Steve McClendon and Folorunso Fatukasi both graded in the top 10 in run defense with a combined 38 run stops. Henry Anderson sets a hard edge, which creates plenty of opportunities for linebackers to compile counting stats. The second-overall pick in 2019, Quinnen Williams, pairs devastating hands and power with a crafty pass-rush arsenal.
Despite playing a combined two games in 2019, New York can make a case for the best off-ball linebacker duo in the league. C.J. Mosley made an immediate impact in his first game with a pick-six, then missed the next four games before heading to injured reserve after an injury in Week 6. Avery Williamson's training camp injury kept him on the shelf all year, but he made 120 tackles in 2018 for the Jets.
Brian Poole gave the Jets a long-term solution inside as the slot cornerback. He held opposing quarterbacks to a 72.2 passer rating when targeting his assignment in coverage. On the outside, the Jets will look to newcomer Pierre Desir and incumbent Bless Austin. Desir's ball production is his calling card with four interceptions and 18 pass breakups the last two seasons in Indianapolis. Austin, a sixth-round pick in 2019, was a boon for the Jets down the stretch with three pass breakups, nine run stops and a passer rating against of only 92.4 in six games.
Jamal Adams and Marcus Maye were selected in the first and second rounds of the 2017 NFL Draft. Adams is widely regarded as one of the league's best safeties. His instincts and preparation habits allow him to find the ball and make game-changing plays. He graded as PFF's fourth-ranked safety with seven sacks, 25 quarterback pressures, 36 run stops, an interception and two forced fumbles. Maye graded 24th, allowing a completion rate on balls targeted for his man of just 45 percent. He also had six pass breakups. Rookie Ashtyn Davis adds track speed and ball skills to the safety room.
The Jets need the offensive line to gel early, Le'Veon Bell to return to his All-Pro form and Sam Darnold to take the next step in his third year. The defense returns most of the pieces that contributed to a smothering run stopping unit with reinforcements on the way.
James Burgess, David Fales, Frank Gore and Neville Hewitt are on the Jets roster after previously playing in Miami. Ryan Fitzpatrick and Jesse Davis are former Jets on the Dolphins roster.