Wide receiver **Albert Wilson** was back at practice Thursday when the Dolphins opened training camp, and he described the occasion as a "blessing."
Wilson did not take part in team drills, but just being able to practice for the first time since he sustained a hip injury last October was a very big deal.
"It's a blessing," he said. "It was kind of a roller coaster. I didn't have any setbacks, but it's been a long time since I've been able to do the things I love to. For me to be back out here, it's truly a blessing."
Wilson spent the entire spring rehabbing and spending time with the trainers with the goal of regaining the form that helped become an impact player in the first six games of the 2018 season after joining the team as an unrestricted free agent.
Until the Dolphins decide he's ready for a full work load, Wilson will continue to do what he's asked to do from an exercise and rehabilitation standpoint.
"I feel pretty good just going by our timeline, just doing what we can right now and just working every day to try to get back on the field with the team," Wilson said. "I'm definitely feeling better. I've been working on little things that I haven't been working on before, so I'm definitely getting strong. I feel like I'm getting faster, so I think it's going to be a good thing."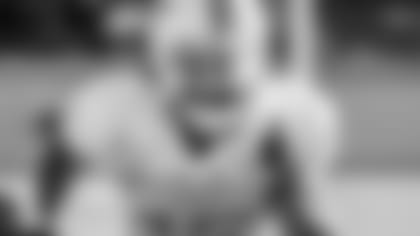 Wilson wasn't about to make predictions as to when he might be ready to practice on a full basis or how many preseason games, if any, he would play. He said he was leaving everything up to the coaches and training staff but will be ready whenever his number is called.
"When he lets me go, I'm ready to go," Wilson said. "We're on a timeline. We're just going to stick to it. We're going to take it day by day and get ready for whatever comes."
Wilson admitted it has been difficult watching his teammates go through full practices, starting last October after his injury through this spring and now the opening of training camp.
But he's got the bigger picture in mind.
"It's kind of tough, but I've been doing it for a long time now," Wilson said. "Just stand on the side, try to learn this playbook like the back of my hand, just cheering guys on, making sure we're there for each other so when it's time we'll be pretty tight, we'll be ready to go."