Three members of the Dolphins organization were invited to attend the 2019 NFL Quarterback Coaching Summit in Atlanta on June 24-25, as part of the league's commitment to strengthening the coaching and personnel development pipeline.
General Manager Chris Grier, Assistant Head Coach/Quarterbacks Coach Jim Caldwell and Wide Receivers Coach Karl Dorrell were among the 42 current and former executives, coaches and players invited to the summit.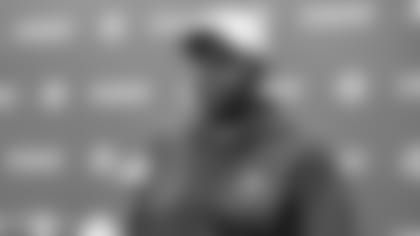 The summit, which was announced Wednesday at the 2019 NFL Spring League Meeting in Key Biscayne, is a partnership between the NFL and the Black College Football Hall of Fame. The summit aims to equip individuals working on the offensive side of the ball with resources, professional development and networking opportunities with NFL club representatives.
"We are excited to work with the NFL on the Quarterback Coaching Summit, as well as open the lines of communication and exchange ideas on fundamentals and techniques required to coach the QB position," said James Harris, Black College Football Hall of Fame Co-Founder and 2012 inductee. "The results should help participating coaches in college football and the NFL prepare for the opportunity to become head coach, offensive coordinator, quarterback coach, or offensive assistant."
The list of attendees also includes former Dolphins quarterback Pat White, now the quarterbacks coach at Alcorn State University; former Dolphins GM Rick Spielman, who is now with the Minnesota Vikings; and former Dolphins running backs coach Jeff Nixon, who is now the co-offensive coordinator and RB coach at Baylor.