MIAMI GARDENS, Fla. – The Miami Dolphins announced their Play Football end of the year award winners in a program designed to celebrate youth football in South Florida. Winners included a high school coach of the year, high school player of the year and team mom of the year.
Winners received tickets to a Dolphins home game, were presented with an award on the field at Hard Rock Stadium and received acknowledgement of their accomplishment in the game program and through the Dolphins' social media platforms.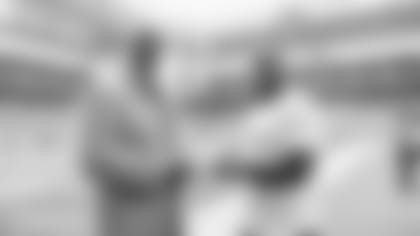 High School Coach of the Week
Eddie Frasier from Dillard High School is the Dolphins 2019 George F. Smith High School Coach of the Year. He led his team to an undefeated season and regional final playoff berth. Frasier is now a nominee for the Don Shula NFL High School Coach of the Year Award, which honors high school football coaches that demonstrate the integrity, achievement, and leadership exemplified by the winningest coach in NFL history, Don Shula. The winner will be announced at the 2020 Pro Bowl in Orlando.
High School Player of the Week
Derek Wingo from St. Thomas Aquinas High School. The four-star All- American outside linebacker led the Raiders with 42 tackles, 12 tackles for loss and 10 sacks. He is the only player from Broward or Palm Beach counties to be selected to play in the All-American Bowl. Wingo is currently verbally committed to the Florida Gators.
Montoya Jackson from the Miami Shores Spartan 13U of the Miami Xtreme Youth Football League. Jackson is the only team mom for the Miami Shores Spartans. She does a fantastic job making sure all of the players stay hydrated throughout the game and also assists the coaches with maintaining an orderly sideline. Jackson also provides the players and coaches with halftime snacks and postgame refreshments. She always goes above and beyond for all the kids in the Miami Shores program and that is why her team believes Jackson is so special.
The Junior Dolphins program encourages youth players and coaches to teach, learn and play football in a fun and safe environment. The Junior Dolphins program is designed to give kids access to learn the fundamentals of football using the NFL's top resources. To grow the game, the Junior Dolphins program will work to educate coaches, parents and youth on the health and safety of football with a strong emphasis on character development. Junior Dolphins is building the next generation of Dolphins Fans.