MIAMI GARDENS, Fla. – The Miami Dolphins and Baptist Health South Florida yesterday surprised the Pahokee High School football and girls flag football team with equipment to help create a safer and healthier environment for their programs. The donated equipment included Junior Dolphins and Baptist Health branded shirts, a treadmill, a stationary bike, tackling dummies, sleds, cleats and Gatorade product.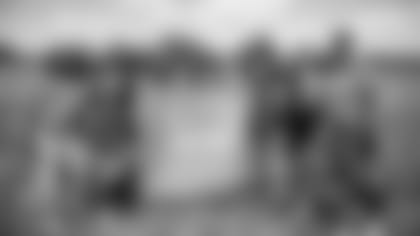 "For me – this is something that dates back to when my father was playing football here – we never had the resources and all the proper equipment to be a successful football team. Still, we defied the odds," said Pahokee High School Head Football Coach Demir Boldin. "I think this donation will even out the playing field for our kids to better prepare them for college, to better prepare them for the game of football safely and it's something that I'm very, very excited about."
"I'm glad the Dolphins gave us the equipment," said junior wide receiver Antonio Kelly. "We needed it and I think it will help us get our technique back."
The team also had the opportunity to hear from Dolphins alum and Youth Programs Ambassador Twan Russell about working together as a team to accomplish their goals. Baptist Health South Florida Certified Athletic Trainer and Physical Therapist Robert Scranton also was on hand for the donation.
This is the first Junior Dolphins Equipment Donation of the year. In 2018, the Dolphins made donations to Miramar High School in May, Pompano Beach High School in July, Booker T. Washington in August, Spanish River High School, Key West High School, Marathon High School and Coral Shores High School in September and Glades Central Community High School in November.
The Junior Dolphins program encourages youth players and coaches to teach, learn and play football in a fun and safe environment. The Junior Dolphins program is designed to give kids access to learn the fundamentals of football using the NFL's top resources. To grow the game, the Junior Dolphins program will work to educate coaches, parents and youth on the health and safety of football with a strong emphasis on character development. Junior Dolphins is building the next generation of Dolphins Fans.