Miami, FL – The Miami Dolphins announced Marjory Stoneman Douglas High School Assistant Coach Aaron Feis as their George F. Smith High School Coach of the Year. Feis tragically lost his life protecting students during a mass shooting on February 14th. The Dolphins posthumously honored Aaron along with his wife, Melissa, and daughter, Arielle, on the field during their home opener against the Tennessee Titans. The Stoneman Douglas football team also were the Dolphins team of the week and had the opportunity to stand on the sideline during the national anthem.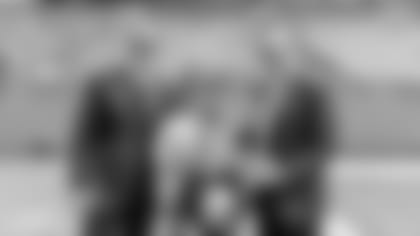 "It's an honor for all of us, really, for Coach Feis to get the Coach of the Year Award. If you knew him, you would appreciate that he got that award, because he really was a great man, mentor, friend and dad," Marjory Stoneman Douglas High School Head Football Coach Willis May said. "What a wonderful day for our kids and our program and we had a blast. We loved it and we can't thank the Miami Dolphins enough for everything they've done for us since February 14th. We want to say thank you and how much we appreciate it and what they've done for our kids, it's amazing."
Feis is now a nominee for the Don Shula NFL High School Coach of the Year Award, which honors high school football coaches that demonstrate the integrity, achievement, and leadership exemplified by the winningest coach in NFL history, Don Shula. The winner will be announced at the 2019 Pro Bowl in Orlando.
This offseason, the Miami Dolphins have continued to support the Stoneman Douglas community and provide solace through sports. Outreach has included financial support to the victims and families of the shooting, visits with five survivors by Dolphins players, alumni and senior leadership, a free football clinic for Parkland youth, inviting seniors of the Stoneman Douglas football team and members of the Feis family to announce selections on day three of the 2018 NFL draft, an invitation for the Stoneman Douglas soccer teams to attend the Peru vs. Croatia match at Hard Rock Stadium, Stoneman Douglas T shirts worn by Dolphins players and staff that were also given to the Stoneman Douglas football team, inviting the Stoneman Douglas football team to a Miami Dolphins practice and attending the Stoneman Douglas football home opener vs. South Broward High School.
The Junior Dolphins program encourages youth players and coaches to learn, teach and play football in a fun and safe environment. The Junior Dolphins program is designed to give kids access to learn the fundamentals of football using the NFL's top resources. To grow the game, the Junior Dolphins program will work to educate coaches, parents and youth on the health and safety of football with a strong emphasis on character development. Junior Dolphins is building the next generation of Dolphins Fans.