Every Monday, we'll go inside the numbers from the previous game. We'll take a look at the snap counts, cumulative team stats for the season and advanced metrics from a variety of analytics sites such as Pro Football Focus, NFL Next Gen Stats and Pro Football Reference.
Dolphins-Bengals
(These statistical rankings do not include the Week 12 Monday and Tuesday games including Washington, Pittsburgh, San Francisco and Buffalo).
The Dolphins are on a run with wins in seven of the last eight games. They're 8-2 in the last 10, 10-4 in the last 14, and 13-8 in the last 21 games. They've won four consecutive games at home and are 24-14 at Hard Rock Stadium since the canopy was added in 2016.
Miami is 8-4 through 12 games for the first time since 2003 and have recorded a takeaway in 18 straight games, the longest active streak in the NFL. The 196 yards gained by the Bengals were the fewest for a Dolphins opponent since 2017, when the Titans gained just 188 yards in Week 5 of that season. Cincinnati's 40 rushing yards were the fewest allowed by Miami since December 11, 2017 when the Patriots rushed for just 25 yards.
Over the last two games, the Dolphins have allowed just 10 combined points. That last happened for Miami when they held the Ravens and Chargers to 10 combined points in November of 2002.
The 25 yards gained by the Bengals in the second half of the game was the lowest second-half total allowed by Miami since at least 2000 and tied for the third-fewest allowed by an NFL team this year.
The Dolphins offense gained 406 yards on offense, its most since the Week 5 win over the 49ers. The 263 yards gained in the second half were the most by the Miami offense in any second half this season and the most since Week 13 of last year (264 against the Eagles).
Sunday marked the first time in team history that the Dolphins started three rookie offensive linemen (Austin Jackson, Solomon Kindley and Robert Hunt) in the same. The triumvirate, along with Ted Karras, Jesse Davis and Ereck Flowers, did not allow a sack for the second time this season.
With 23 first downs in the game Sunday, the Dolphins now have 247 on the season. It's the second-most first downs the Dolphins have posted through the first 12 games of the season since at least 2000. Miami had 263 first downs through 12 games in 2014.
Dolphins Offensive Rankings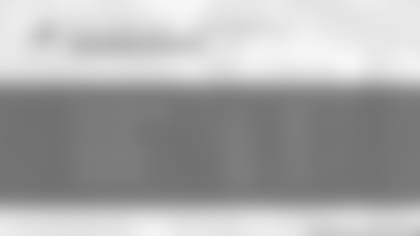 The Dolphins maintained their perch atop Football Outsiders' special teams DVOA (defensive-adjusted value over average) rankings. Miami's 10.2 score edges out Baltimore who are at 10.0.
Jason Sanders could miss his next five field goals and still maintain his spot as the most accurate kicker in Miami Dolphins history – he's 69-of-79 for a career percentage of 87.3. He added four more field goals Sunday, giving him 28 on the season – seventh-most in franchise history. His 111 points are a career high and the 16th-most in team history.
Sanders' 28 successful field goals and 96.6 field goal percentage are second among NFL kickers with at least 20 attempts.
Wide receiver Jakeem Grant added to his league-leading punt return yardage total. His 327 yards are 85 more than the second place return man (Gunner Olszewski with 242). Matt Haack's 42.5 net punting average is ninth in the NFL and his 21 punts downed inside the 20-yard-line are fifth-best.
The Dolphins are tied for the third-fewest penalties committed this season (57) for the third-fewest penalty yardage assessed against them (464).
Dolphins Defensive Rankings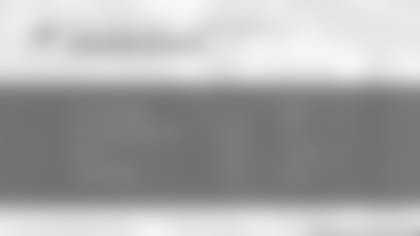 Table inside Article

| Player | Snaps (% of Offensive Snaps) |
| --- | --- |
| QB Tua Tagovailoa | 70 (100%) |
| RB Myles Gaskin | 50 (71%) |
| RB Patrick Laird | 19 (27%) |
| FB Chandler Cox | 12 (17%) |
| WR DeVante Parker | 55 (79%) |
| WR Jakeem Grant | 39 (56%) |
| WR Lynn Bowden Jr. | 31 (44%) |
| WR Mack Hollins | 13 (19%) |
| WR Antonio Callaway | 13 (19%) |
| TE Mike Gesicki | 49 (70%) |
| TE Durham Smythe | 41 (59%) |
| TE Adam Shaheen | 26 (37%) |
| OL Austin Jackson | 70 (100%) |
| OL Ted Karras | 70 (100%) |
| OL Solomon Kindley | 70 (100%) |
| OL Robert Hunt | 70 (100%) |
| OL Jesse Davis | 56 (80%) |
| OL Ereck Flowers | 14 (20%) |
| OL Julie'n Davneport | 2 (3%) |
*advanced metrics are from Pro Football Focus unless otherwise noted
Quarterback Tua Tagovailoa is 4-1 in his first five starts without throwing an interception. He tied the franchise record for most consecutive starts without an interception, regardless of experience (Jay Fiedler, 2000). He's the third NFL quarterback in the Super Bowl era to not throw an interception in his first five starts (minimum 100 attempts), joining Dak Prescott (2016) and Kyle Allen (2018-2019). Nobody has gone without an interception through their first six career starts.
His 26 completions Sunday tied a rookie Dolphins record (Ryan Tannehill 2012) and his 99.4 passer rating is 11th in the NFL and best among rookie signal-callers.
Tagovailoa made the Bengals pay for blitzing. He was 12-for-18 with 127 yards and a touchdown against the blitz. On the season, he's 34-for-59 with 333 passing yards and five touchdowns and a 101.9 passer rating against an extra rusher.
Running back Myles Gaskin ripped off 90 rushing yards at 4.3 yards per attempt. He added 51 receiving yards (39 after the catch) to set the season-high for Miami with 141 yards from scrimmage – also a career-high for Gaskin.
Tight end Mike Gesicki caught nine of 10 targets for 88 yards in Sunday's win. The nine receptions were the most by a Miami tight end since Randy McMichael in 2004. Gesicki's 537 receiving yards are fourth among all tight ends in the NFL and his 13.8 yards per reception ranks third (min. 15 receptions). He caught two of three targets for 37 yards and two first downs against Cincinnati safety Jessie Bates III, the top-graded safety on PFF.
Gesicki's four receiving touchdowns are tied for ninth among NFL tight ends and his nine touchdowns since Week 13 of 2019 are tied for third among his position-mates over that span.
Rookie wide receiver Lynn Bowden caught all four of his pass targets for 41 yards and a pair of first downs. He also added one rush for 11 yards.
Miami found some running room off both edges. With six carries off both ends, Miami posted 51 rushing yards when going wide (8.5 yards per rush). Rookie right tackle Robert Hunt posted a game-high 82.2 run-blocking grade.
The Dolphins allowed only three quarterback pressures in the game as center Ted Karras, tackle Austin Jackson and guards Ereck Flowers and Jesse Davis all pitched pass-protection clean sheets (zero sacks, hits or hurries).
Table inside Article

| Player | Snaps (% of Defensive Snaps) |
| --- | --- |
| DT Christian Wilkins | 44 (85%) |
| DT Raekwon Davis | 28 (54%) |
| DT Zach Sieler | 26 (50%) |
| DE Emmanuel Ogbah | 42 (81%) |
| DE Shaq Lawson | 33 (63%) |
| DE Jason Strowbridge | 2 (4%) |
| LB Kyle Van Noy | 47 (90%) |
| LB Jerome Baker | 43 (83%) |
| LB Andrew Van Ginkel | 22 (42%) |
| LB Calvin Munson | 9 (17%) |
| LB Elandon Roberts | 8 (15%) |
| CB Byron Jones | 52 (100%) |
| CB Nik Needham | 41 (79%) |
| CB Xavien Howard | 30 (58%) |
| CB Noah Igbinoghene | 22 (42%) |
| CB Jamal Perry | 2 (4%) |
| S Bobby McCain | 55 (100%) |
| S Eric Rowe | 41 (79%) |
| S Brandon Jones | 28 (54%) |
*advanced metrics are from Pro Football Focus unless otherwise noted
Linebacker Kyle Van Noy picked up a trio of sacks in the win, a career-high. He also recorded five tackles for loss, the second-most TFLs in a game by any NFL player this season.
Defensive end Emmanuel Ogbah recorded nine pressures and five hits on Bengals quarterbacks. His 53 quarterback pressures are fourth among edge defenders and he's tied for eighth in sacks (8) and quarterback hits (19). Ogbah also added two run stops (run down tackles within two yards of the line of scrimmage) to give him 23 on the season (14th among edge defenders).
Defensive end Shaq Lawson recorded two sacks and three quarterback pressures. He also picked up a pair of run stops and forced an incompletion in coverage.
Cornerback Xavien Howard now has 20 interceptions in his last 34 games. His eight interceptions this season are two shy of the team record (10 by cornerback Dick Westmoreland in 1967). He's tied for 13th in franchise history in career interceptions (safety Brock Marion) and leads the NFL in that category this season.
Howard allowed just 23 receiving yards on five targets and quarterbacks have a passer rating of 48.9 when targeting him this season, the best in the NFL.
Safety Eric Rowe made four more run stops and allowed just 20 yards receiving on four targets. His 22 run stops are ninth-most among safeties and 5.2 yards per target allowed are second-fewest (min 20 targets).
Fellow safety Bobby McCain recorded a pass breakup and three more tackles. On the season, McCain has 38 combined tackles with just one miss. His 2.6 percent missed tackle rate is the lowest among all safeties.
Plenty of eyes were on cornerback Nik Needham and his matchup in the slot with the NFL's second-leading receiver from that position (Tyler Boyd). Needham allowed eight receiving yards on two targets in the game, including an interception and pass breakup.