The Miami Dolphins began their 2022 season by picking up a key divisional win over the New England Patriots at Hard Rock Stadium.  
Here's a look into the team stats, individual metrics, milestones and more that fueled Miami's Week 1 victory on Inside the Numbers, presented by BDO.  
A new era of Miami Dolphins football began on Sunday afternoon with Mike McDaniel at the helm. 
In his NFL head coaching debut, he gave fans plenty to be excited about, becoming the first Dolphins head coach to open the season with a win in his first game since Nick Saban in 2005. McDaniel's imaginative gameplan gave Miami its fourth-straight win over New England and seventh consecutive victory at Hard Rock Stadium, which is Miami's longest home winning streak since the 2001-02 seasons.  
McDaniel also became the second coach in NFL history to beat another coach with at least 321 more wins, as he defeated six-time Super Bowl champion Bill Belichick. That led to another historic moment after the game – McDaniel's first Gatorade shower as a head coach. 
"It was a very, very cool moment against my wishes. They just showered me in Gatorade and made it about me, which I know for a fact it's not," McDaniel said. "But the team celebrated together, and just being happy for the direction that we're going in."
The Dolphins improved to 31-25-1 in season openers with the 20-7 triumph.  
In addition to McDaniel, another Miami newcomer excelled in his debut – three-time All-Pro wide receiver Tyreek Hill, who was traded to the Dolphins this offseason by the Kansas City Chiefs.  
The Douglas, Georgia, native had a team-high 94 receiving yards, the most in a Dolphins' Week 1 contest by a newcomer. Hill has had success against New England's defense through five career games, where he's registered 32 receptions for 495 yards and five touchdowns.  
While this story is all about numbers, Hill proved they are not everything on Sunday when he did not let his small 5-foot-10, 191-pound frame get in the way of one of the most spectacular catches of the day – a 26-yard reception that he leapt over a New England defender to snag.  
"I used to be a big man in middle school," Hill said. "My main thing is, that's my ball. I've got to go get it."  
But the best offensive play of the game came later that drive when quarterback Tua Tagovailoa found receiver Jaylen Waddle, whose 104 receptions in 2021 broke the NFL rookie record, on fourth-and-7 for a 42-yard touchdown with 24 seconds remaining in the first half.  
Tagovailoa finished his first game in McDaniel's offensive system with 270 yards, one touchdown and a 104.4 passer rating.  
On the other side of the ball, Miami held the Patriots to just seven points and 270 yards while recording three takeaways. Defensive end Emmanuel Ogbah picked up where he left off in his previous two seasons - he was one of three AFC players with nine sacks in both 2020 and 2021 - by bringing down Patriots quarterback Mac Jones.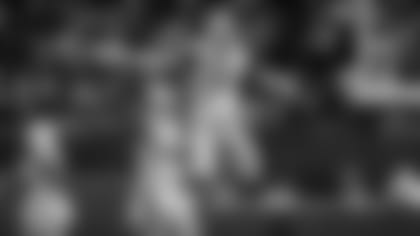 However, the play that kickstarted Miami's defensive effort was a fumble recovery in the second quarter. Safety Brandon Jones disguised a blitz off the edge and stripped Patriots quarterback Mac Jones from behind. Linebacker Melvin Ingram was there to scoop up the football and bring it two yards into the end zone to put Miami up 10-0.  
"When I'm out there, see ball, get ball, baby – that's all it is," Ingram said of his fumble recovery. "Just trying to make a play though."  
The play was Ingram's second career defensive touchdown, as he had a 39-yard fumble return as a member of the Chargers back in 2017.  
Miami had five defensive touchdowns one season ago – tied for second most in the NFL – and had two this preseason. However, their last defensive touchdown in a season opener was in 2005.  
The new-look Dolphins showcased their talents in Week 1 and will look to carry the momentum into MT&T Bank Stadium next Sunday against Lamar Jackson and the Baltimore Ravens.