Zach Thomas became a Hall of Fame semi-finalist for the first time last November, but one of the newest inductees thinks his bust should be in Canton already.
During his induction speech Saturday night, longtime New York Jets center Kevin Mawae gave a ringing endorsement to Thomas, who he faced 16 times during his 16-year NFL career.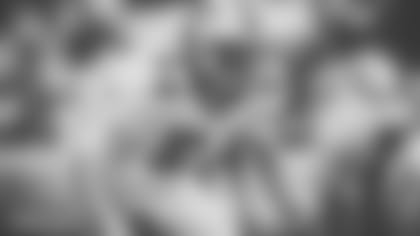 Mawae and Thomas faced each other for the first time in 1996 when Mawae was in his third of four seasons with the Seattle Seahawks, 14 times when Mawae was with the Jets, and one final time in 2006 when Mawae was in his first of four seasons with the Tennessee Titans.
"Zach Thomas was my nemesis," Mawae said about three-quarters into his 27-minute Hall of Fame speech. "My first year with the Jets before my first game we played against each other, (Coach) Bill Parcells told me in front of my entire team, 'If you don't block Thomas, we won't win the game,' and for the next 16 matchups I never forgot that.
"Zach was one of, if not the smartest player I ever faced. He loved the game, had fun when he played and brought the best out of me. When people ask me who's not in the Hall of Fame and that I think should be here, it's an easy one for me: number 54 from the Miami Dolphins."
Thomas, one of the best defensive players in Dolphins history, was an eight-time Pro Bowl selection in his 12 seasons in Miami (1996-2007). He earned first-team All-Pro recognition five times and led the NFL in tackles in 2002 and 2006.
The Dolphins have 10 Hall of Famers, the most recently inducted being Thomas' longtime teammate, Jason Taylor. The others are Coach Don Shula, quarterback Bob Griese, running back Larry Csonka, wide receiver Paul Warfield, guard Larry Little, center Jim Langer, center Dwight Stephenson, quarterback Dan Marino and linebacker Nick Buoniconti, who passed away this week at the age of 78.