Miami Dolphins players and staff are giving back to the community in an effort to increase blood and plasma donations during the COVID-19 pandemic. Hospitals are urgently seeking donations of convalescent plasma (plasma collected from people who have recovered from coronavirus), to treat COVID-19 patients who meet clinical criteria.
"We are using convalescent plasma earlier in treatment in an effort to prevent progression of the infection," said Richard Levine, M.D., infectious disease physician with Doctors Hospital, a part of Baptist Health South Florida. "That's why it's crucial that people who have recovered from the virus become convalescent plasma donors. We are grateful to the Miami Dolphins and OneBlood organizations for their dedication in helping the communities we serve."
Dolphins running back Malcolm Perry and linebacker Andrew Van Ginkel participated in the cause. Perry said it was important for him to get involved when he got the news.
"I was surprised initially but was happy because I was presented with the opportunity to give back and donate plasma and help people in need," said Perry. "Being able to give back to people who weren't fortunate enough to react the same way you did to the virus and give back to the community was important."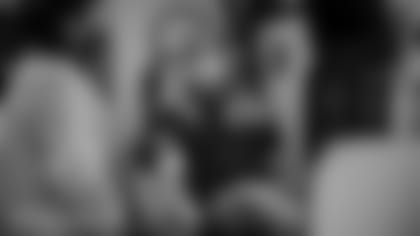 Fellow members of the South Florida community can contribute via OneBlood's website. Once registered online, a OneBlood team member will contact participants within 24-72 hours to schedule a convalescent plasma donation appointment. Appointments are required. Donors will need to be at least 14 days symptom free of the virus and will need to provide a copy of their positive test result confirming a positive COVID-19 diagnosis or a positive serological test for SARS-CoV-2 antibodies.
In addition to convalescent plasma, this cause is in demand year-round. The need for blood does not stop, even during a pandemic. Every day patients are receiving blood transfusions to live. Cancer patients, premature babies, trauma patients and sickle cell patients, just to name a few, require blood transfusions to live so by making blood donation a habit, you help ensure a ready blood supply for the community at all times.