The Dolphins 2023 offseason program has come and gone, concluding this week with an action-packed three days of minicamp. Both the offense and defense took their turns in the driver's seat during practices, and a bevy of players had their highlight-worthy moments, from rookies to accomplished vets. The common theme, however, was a rising level of leadership and command over the Dolphins' scheme across the roster.
When asked to reflect on the team's minicamp and offseason program, head coach Mike McDaniel expressed his pleasure with the players' commitment and growth throughout the process.
"I'm very, very happy, as happy as I could be I think with where we're at right now," he said. "We had a very hard-working offseason last year. I think if we had time travel available and we'd practice against ourselves from last year, extremely confident that this year's version, 2023, would get the best of them… We have a tight team now because of shared sacrifice."
According to McDaniel, quarterback Tua Tagovailoa is one player who has shown noticeable growth as a leader this offseason.
"I think year two, the prerequisite is that he, as the quarterback, he has to have ownership of everything he's doing and what everyone else is doing as the facilitator of the offense, and he's checked that box every day," said McDaniel.
"It's been really cool in a year's time, how he's not only learned the language but is now fluent in it. That opens quarterbacks up to doing some of the components of the job – it's really hard to try to be the leader of an offense and motivate guys and encourage guys when you need to or maybe be hard on guys when you need to, when you're just trying to spit out a play and know your own assignment. So this offseason, hoping that I would see a graduation of sorts and really have every single day."
One of Tagovailoa's favorite targets, Tyreek Hill, also sees a more comfortable and confident teammate.
"I will tell you this, man. Tua has stepped up a lot in his leadership role," Hill said. "I know last year was my first year playing with him, but seeing him this year, he's more vocal with the offense and leading and group chats and stuff like that."
In 2022, Tagovailoa became the youngest NFL quarterback since 1984 (Dan Marino) to lead the NFL in passer rating and helped Miami finish with a top-10 offense (sixth, 364.5 yards per game) for the first time since 1995.
Now in year two of their partnership, McDaniel has seen Tagovailoa mature not just with his decision-making on the field, but the presence he holds amongst his teammates and the standard he sets within the organization.
"I didn't have a complete picture on what type of professional he was," McDaniel said looking back on when he first began as head coach last season. "As we stand right now, I mean this dude is everything you'd look for in a starting quarterback in terms of professionalism, how he attends to his job, how seriously he takes it. He takes pride in making sure he does his job, but more importantly, how he makes others better at their jobs."
On the defensive side of the ball, third-year LB Jaelan Phillips is one player who has stood out throughout the offseason. The former 18th overall pick set a Dolphins rookie record with 8.5 sacks in 2021 and became just the second player in Dolphins history to begin his career with at least seven sacks in each of his first two NFL seasons.
With the offseason program complete, McDaniel believes his play continued on an upward trajectory throughout spring practices.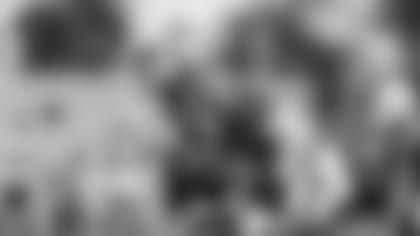 "I've seen him practice at a level that's far superior than any other level of practice that I've seen from him since I've been here," he said. "He's goal-oriented, great, great human being that has his vision set on what he wants to do, and now he's just trying to take care of it each and every day."
As Phillips and his teammates continue to learn defensive coordinator Vic Fangio's system, cornerback Jalen Ramsey has emerged as a vocal leader in his position room and on the team as a whole.
"When we're sitting there and we're watching film, just being able to talk them through certain things," cornerbacks/pass game specialist Sam Madison said when asked about Ramsey's presence in meetings.
Aided with additional familiarity with aspects of Fangio's system from his time in Los Angeles, Ramsey has been a valuable asset as the team becomes accustomed to the new scheme and its terminologies.
"We're getting ready to break it down and be able to break for the day and guess what, he had something to say and addresses everybody," Madison said. "So, you know, he's a leader. He's a guy that loves to communicate and just like you say, he challenges guys. The coaches, the players, everybody's around him. He's an infectious guy and guys gravitate towards him."
With Ramsey, Phillips, and others setting the tone, it's clear that the demands of Fangio's system and the competitiveness between the offense and defense has been mutually beneficial.
"I want punches traded left and right," McDaniel said. "That's the game that we play. And that's how you get better at it, and that's what I'm starting to see – unintended consequence of Vic (Fangio) and his system is the system is so sound and true and coached. The defensive coaching staff has done a phenomenal job giving answers to the test through technique to the players that both sides of the ball are benefitting for sure."
With the conclusion of the offseason program, the players and coaches will now enjoy a few weeks away, and will return in late July for training camp.