The 2023 NFL regular season won't kick off until early September, but the Miami Dolphins are recharged and focused on improving each day during the team's offseason program. There's a shared desire amongst returning players to build off last season's playoff berth and a willingness from the newcomers to do whatever it takes to take the team to new heights.
Wide receiver Chosen Anderson, a Fort Lauderdale native, is ready to make the most of his opportunity with Miami.
"It's definitely a dream come true to be a Dolphin," he said. "Growing up watching the Dolphins, even like always being here driving past the stadium, being fascinated by the stadium. So it's truly like really a dream come true opportunity I truly cherish."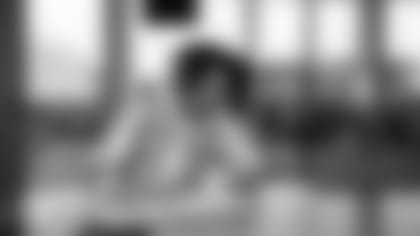 Anderson has played seven NFL seasons, most recently with the Arizona Cardinals and Carolina Panthers, and has tallied 375 receptions for 4,956 yards and 29 touchdowns in his career. While the 30-year-old is long removed from his days playing at South Plantation High School, his childhood memories as a Dolphins fan are as vivid as ever.
"I remember back to the Zach Thomas, Jason Taylor, Ricky Williams days and then I remember when they won games, the Miami Dolphins' song playing across the radio," he said. "Even back when it was like Joe Robbie Stadium, back in those days, I grew up in that era. I really remember too also when they came out with the Wildcat offense … and struck everybody by surprise. I remember like back in those days and Chris Chambers and all that."
While Anderson's personal connection to the organization was undoubtedly a factor in his decision to sign with the team, general manager Chris Grier wanted to make sure it made sense for both sides.
"I told him, 'don't rush through this decision just because it's home. Talk to those other teams that are interested in you and make your decision on what's best for you because we have two dynamic players that are the starters.'
When Anderson was asked about joining one of the more explosive wide receiver rooms in the league, he kept it simple.
"I love it," he said. "You know, I'm a firm believer in you are the company you keep."
Anderson will work under wide receivers coach Wes Welker and is, "thankful to be coached by somebody that played at such a high level."
As safety Jevon Holland enters his third NFL season, the offseason serves as a blank slate and a reminder that the team's success must be earned every single year.
"I would say just focusing on what we've got going on, on the field," he said when asked about how the team can maximize it's time together over the summer. "That's basically it. And then take advantage of meeting times, locking in in meetings. There's like nothing else to it. You've just got to focus up when it's time to focus, don't play around and waste reps."
Now playing with a three-time, first-team All-Pro cornerback in Jalen Ramsey, Holland has even more veteran leadership by his side to help with his continued growth.
"Ramsey's a hell of a player clearly," Holland said. "He's just got so much knowledge that's put me in a position to be able to develop more. He's a great guy. A funny dude. He's very nice for the locker room."
In addition to Ramsey, safety DeShon Elliott has also joined the defensive backs room and is reunited with his former teammate at Texas, safety Brandon Jones. Elliott's signing gives Miami another pair of college teammates in the defensive backs room in addition to Holland and safety Verone McKinley III, who were teammates and roommates at Oregon.
Holland hopes that team chemistry will help lead to a competitive yet compatible defensive backs room.
"Everybody's just vibing," Holland said. "We all know each other. We're all good friends. So Verone and DeShon have known each other since like elementary school or something like that. So being able to just function together on the field, moving around, moving different positions should be like seamless. Guys just understanding that they can be interchangeable and everybody's willing and able to move around when they need to be."
While McKinley III (1), Holland (2), Jones (3) and Elliott (4) have a combined 10 years of NFL experience entering the 2023 season, defensive coordinator Vic Fangio is entering his 37th season in the NFL.
"It's exciting to just learn from him," Holland said of working under Fangio. "He's been in the league longer than I've been alive. So it's nice to hear him speak about football, and hear his perspective about defense and philosophy and scheme. I'm learning a lot from him. Just from the simplest thing to the most complex thing, he explains the game in a very knowledgeable manner. So I'm excited to learn and grow underneath him."