MIAMI GARDENS, Fla. – The Miami Dolphins in collaboration with HistoryMiami Museum and the Greater Miami Convention & Visitors Bureau (GMCVB) hosted its third series of the Football UNITES™ Cultural Tours presented by Baptist Health.
The four tours, scheduled from June 24 and concluding July 21, worked to engage diverse groups through an exploration of Miami's historic neighborhoods to improve relationships, foster understanding and provide opportunities to experience the culture of South Florida.
Kicking-off at the HistoryMiami Museum on Thursday, June 24, Football UNITES™ community partners including the AQUA Foundation for Women, SAVE and Special Olympics of Florida joined the Dolphins to tour the Love is Love exhibit as well as  Miami, The Magic City and Tropical Dreams exhibit.
In the following week, Football UNITES™ Cultural Tours visited the City of Miami Black Police Precinct and Courthouse Museum on Tuesday, June 29. The Miami Dolphins were joined by community partners 5000 Role Models of Excellence Project, Be Strong International, Big Brothers Big Sisters Miami Bigs in Blue, Israel in Miami, Mission Continues and the North Miami Beach Police Athletic League (NMBPAL).
On Wednesday, July 14, the organization hosted its third tour of the series to experience the culture of Little Haiti with a guided walk through the neighborhood, the Little Haiti Cultural Center and the Caribbean Marketplace where the group participated in Konpa dance lessons and toured the IPC Art Space. Participants then enjoyed light bites from Haitian restaurant Cuisine Lakay. Football UNITES™ community partners that attend this tour included Big Brothers Big Sisters of Broward Big Pride, Generational Cure, the Kiwanis Club of Little Havana, National Voices for Equality, Education and Enlightenment (NVEEE) and NMBPAL.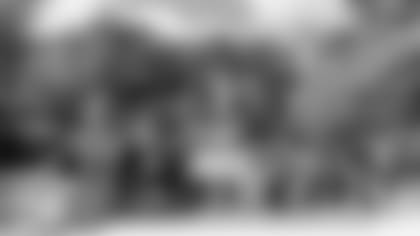 The Dolphins concluded the series with an exploration of the Cuban neighborhood of Little Havana on Wednesday, July 21.
Participants joined the organization in a guided walk that highlighted the historic and cultural significance of Little Havana with stops on Calle Ocho, Los Pinarenos Fruteria, Azucar and Old's Havana Cuban Bar & Cocina. The group also heard from local artist Daniel "Krave" Fila who shared his artwork in the community and highlighted his mural on the "Ladies in White" along the way. Football UNITES™ community partners that attended included the Asian American Advisory Council, Breakthrough Miami, ICGM, Miami Gardens Police Explorers and the National Organization of Black Law Enforcement (NOBLE).
These efforts align with the Miami Dolphins' commitment to leveraging the power of sports and entertainment to inspire a healthier, more educated and united South Florida community. Miami Dolphins Chairman of the Board and Managing General Partner, Stephen Ross, along with Dolphins players created Football UNITES™ presented by Baptist Health as a way to create positive social change throughout the community. The organization believes it is important to be inclusive and aware of the intersections that make up South Florida and will continue to unite groups of individuals from different races, genders, sexual orientations, identities, abilities and faiths around the power of football.