With the 2023 NFL Draft in the rearview mirror and day two of phase two of the Dolphins' offseason program in the books, the building is buzzing with excitement as the team continues its preparations for the 2023 season.
Running back Raheem Mostert and linebacker Jerome Baker spoke with media members Tuesday about their excitement for a new offseason of opportunity.
For Mostert specifically, this offseason provided a big decision to make: stay put in Miami or continue his career elsewhere.
The New Smyrna Beach native's decision to remain in the Sunshine State was based on the future he sees for himself both on and off the field.
"One of the biggest things for me is my family, so I planted my roots here, as you may know, but also I just want to be back in with the team," he said. "As far as we've gone along last year, I'm itching and ready, especially the pieces that we've added during the offseason as well as in the draft. It's a great time to be a Dolphin, and I'm excited to help as much as I possibly can to get to where we need to get to."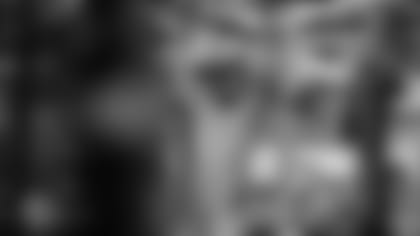 While Mostert led the Dolphins in carries (181), total yards (891), and yards per game (55.7) in 2022, he isn't the only returning contributor to the running backs room. In fact, each running back and fullback that finished last season on the team's 53-man roster is back with the team this season.
"Man, honestly that's the most exciting thing," Mostert said. "I was having talks with 'Studes' (Eric Studesville) about the before free agency, and I was like, 'Hey, man, you know what would be nice, is if we're able to get everybody back in this building, in this room,' because the chemistry is just unmatched in any other place that I've been a part of. There's a lot of guys in this room that really, really want to be great. There's a lot of guys that want to go out there and put their best foot forward. And that just makes you – and I'm speaking in regards to me – makes me want to go out there and play my best and put my best foot forward. So to be able to have Jeff (Wilson), Salvon (Ahmed), Myles (Gaskin), John Lovett and Alec (Ingold); we're all in this thing together. It's definitely exciting and I just can't wait."
With rookies set to make their first appearances at practice in the coming days, Mostert is looking forward to mentoring one of the newest additions to the squad.
"It's just exciting to get a young guy in there, be able to help him out and stuff like that in this offense and just teach them the ways of what it takes to be a pro.," he said when asked about the Dolphins drafting Texas A&M running back Devon Achane 84th overall.
Mostert went undrafted in 2015 but is now set to play his ninth NFL season in 2023. A major reason for that, he says, was the mentorship he received upon entering the league from former NFL running back Darren Sproles.
Now a veteran presence in Dolphins' locker room, Mostert says he's "willing and able" to help Achane in the same way Sproles once helped him.
"I try to do my best to bring that mentorship to not only football but in life in general because everybody goes through different phases of life and everybody has their ups and downs," he said. "But if you have somebody that can at least speak to you or guide you or talk to you in a way that you can relate, and it's all about relatability, then I think that's the most important thing."
On the other side of the ball, the acclimation period continues under new defensive coordinator Vic Fangio. For Baker, the early returns suggest a system that will bring out the best in his game.
"It gives me some freedom to just go out there and just play ball," Baker said. "Sometimes I ask 'what's the rule on this?' And he kind of gives me like, 'it's not really a rule, it's kind of a go play ball.' So things like that for a player, just to have that freedom, I've been playing ball for a long time. So it's one of those things of, I know what I'm doing. It's kind of he gives me the freedom to make a play and I'm excited for that."
Like Mostert will with Achane, Baker is getting used to, and excited to, seeing a new face in linebacker David Long Jr. at practice and in meetings every day.
"Man, he fits right in," Baker said. "His personality, everything he does, he just fits right. I'm excited. He came in and he just strictly just wanted to work and just get each other better. And man, he's been doing that. Communication has been on point."
It's evident the players not only enjoy the work they put in, but who they're working with as well.