That doesn't make this week any less exciting for the 14-year veteran quarterback, particularly when he's staring at making history in the process.
When he leads the Dolphins offense against the Baltimore Ravens at Hard Rock Stadium on Sunday, Fitzpatrick will become the first quarterback in NFL history to make starts for eight different teams.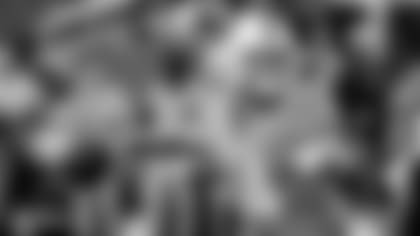 "You know it is (rewarding)," Fitzpatrick said. "It's something that's never been done before. Just in terms of who I am and the career I've had and the different places I've been, this means a lot to me. I think being able to do it here with a younger group where it's going to rely so much on communication and I've got to make sure I'm at my best on every single play, whether it's during the play or before at the line of scrimmage. I'm going to put a lot on myself this week to make sure everything goes smoothly. I think, in terms of me being in this spot and this place right now, I think my career has led me to this and I fit well in the role I'm being asked to play right now."
Fitzpatrick, who previously shared the record of starting games for seven teams, will add the Dolphins to a list that already included the Rams, Bengals, Bills, Titans, Texans, Jets and Buccaneers.
The game against Baltimore will mark Fitzpatrick's seventh opening-day start, the first one coming for the Buffalo Bills in 2011 and the last coming just last season for the Tampa Bay Buccaneers.
In each of those two games, Fitzpatrick threw four touchdown passes with no interceptions.
Fitzpatrick has had great success overall on opening day, with 16 touchdown passes and five interceptions in six starts.
In his first opening-day start with a team, Fitzpatrick has a 4-0 record with 11 touchdown passes and only one pick, with his team average a sturdy 34.3 points per game. Against New Orleans last year, Fitzpatrick passed for 417 yards to lead Tampa Bay to a 48-40 victory at the Mercedes-Benz Superdome and was rewarded for his performance by being named NFC Offensive Player of the Week.
In the opener this coming Sunday, Fitzpatrick will guide an offense tasked with trying to move the ball against the defense that finished No. 1 in fewest yards allowed and No. 2 in fewest points given up.
"They're stout up front," Fitzpatrick said. "They've got a great secondary, a lot of playmakers back there and guys that have done it for a long time. They've got very fast linebackers, guys that make plays. There's not really a weakness on their defense. They're very multiple in what they do, so that makes it tough too on a quarterback. They were No. 1 in the league for a reason last year. They shuffled some guys in and out, but the core of it is the same."
It will be quite a challenge for the Dolphins, no doubt, but Fitzpatrick's teammates on offense are confident in their quarterback.
"He's done this for 10-plus years and been with a multitude of teams," running back Kenyan Drake said. "We're just the latest team that obviously sees that he has the ability to go out there and lead an NFL organization. From me to the linemen to the defense to the coaching staff, obviously we have nothing but the utmost trust and respect for his game and what he brings to this team. I look forward to him going out there and leading the charge."