Miami, FL – The Miami Dolphins announced the Dolphins Cancer Challenge IX (DCC IX) raised $5,237,879 for innovative cancer research at Sylvester Comprehensive Cancer Center, a part of UHealth -- the University of Miami Health System, bringing the event's nine-year total to more than $32.5M.
"The community continues to show tremendous support for the DCC and our friends and family who have survived, continue to battle cancer or have lost a loved one to this disease," University of Miami Executive Vice President of Business and Finance and Chief Operating Officer Jacqueline Travisano said. "We are so proud of everyone, and we are pleased that the funds we have raised to fight cancer stay right here in our South Florida community."
The Miami Dolphins and Dolphins Cancer Challenge supported the NFL's Crucial Catch campaign designed to raise awareness of early detection and risk reduction of cancers at their home game vs. the Washington Redskins. Sylvester Comprehensive Cancer Center served as the presenting sponsor of the Crucial Catch game and all fans who attended the game received cancer awareness arm sleeves upon entry to Hard Rock Stadium.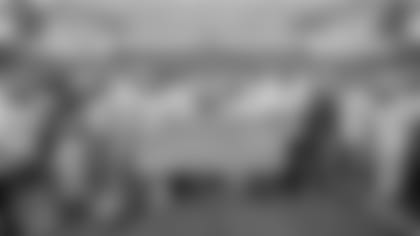 "The incredible partnership that we have built with the Miami Dolphins is approaching its first decade," Sylvester Comprehensive Cancer Center Director Stephen D. Nimer, M.D. said. "As we look to the future, we are grateful for all the support we have had from the Dolphins Cancer Challenge and our incredible community. We have been able to grow critically important research programs at Sylvester and lead cancer prevention and treatment efforts that are changing the way cancer is treated in our country, and around the world. We have been able to innovate and contribute to the health of our community, helping cancer patients live longer, with better quality of life. Our success has led the National Cancer Institute (NCI) to honor Sylvester by awarding us NCI-designation, making us the only NCI-designated cancer center in South Florida. As we start preparing for DCC 10, we are committed to conducting even more cancer research and making more discoveries that save lives."
To celebrate the $5.2M gift from DCC IX, the Miami Dolphins held a halftime presentation to honor the journey of cancer survivors treated at Sylvester. In addition, all 300 cancer survivors who participated in DCC IX were invited to the game and were celebrated on field as well as the doctors who receive critical funding from the money raised.
DCC funds are used to support truly innovative research, helping recruit and retain some of the world's best minds in cancer research and care and investing in cutting-edge technologies to bring the latest in discoveries for detection, diagnosis and treatment to cancer patients in South Florida and beyond. In just nine years, more than $32.5 million dollars has gone to fund research that leads to more effective targeted therapies for each patient's cancer, including:
Precision medicine – discovering, developing and delivering the next generation of precision cancer medicine.
Immunotherapies – investing in the fast-growing field of cancer immunotherapies that boost the patient's own immune system to attack and eradicate cancer cells.
Clinical trials – offering the latest clinical cancer trials to patients, allowing them to receive some of the most promising new therapies targeting the drivers of their particular cancers.
Radiation oncology research – developing new ways to more precisely deliver radiation therapy in a variety of cancers, concentrating the dosage on cancer cells and leaving healthy tissue unaffected.
Cancer diagnostics – investing in the newest technologies and best talent to better understand each individual's cancer and its genetic drivers.
Started in 2010 by the Miami Dolphins as the signature initiative of the Miami Dolphins Foundation's health impact area, the DCC is dedicated to improving people's lives through the financial support of innovative cancer at Sylvester, South Florida's only NCI-designated Cancer Center. With this recent recognition from the National Cancer Institute (NCI), Sylvester is now among the top cancer centers in the United States and joins a highly select group as one of only two NCI-designated cancer centers in the state of Florida, and one of just 71 across the nation. Since its inception, the DCC has raised more than $32.5 million, donating 100 percent of participant-raised funds to Sylvester. DCC 10 is scheduled to take place Feb. 29, 2020 and will include five bike routes throughout South Florida, a run/walk 5K and a Finish Line Festival presented by Moss Construction. These initiatives align with the Miami Dolphins Foundation's commitment towards leveling the playing field through the power of teamwork to inspire a healthier, more educated and united South Florida Community.
For additional information, call (305) 943-6799 or visit www. DolphinsCancerChallenge.com.