MIAMI GARDENS, Fla. – The Miami Dolphins and Baptist Health South Florida yesterday surprised the Stranahan High School football and girls flag football team with equipment to help create a safer and healthier environment for their programs. The donated equipment included Junior Dolphins and Baptist Health branded shirts, medicine balls, tackling dummies, sleds, cleats, backpacks and Gatorade product.
"These guys have been putting in a lot of work since November, so to see what we've been preaching – if you put in work, good things will happen – and to see the Dolphins and Baptist Health come donate these things, that brought it full circle," said Stranahan High School Head Football Coach Travis Harden.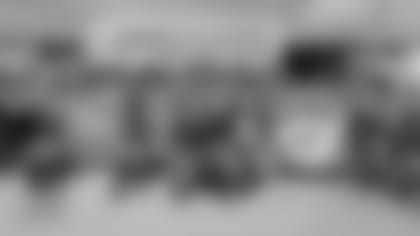 "I never experienced nothing like it before. My favorite team is the Dolphins, so I was happy," said senior cornerback Keyandre Lawrence.
"This was truly a blessing. It helped the kids, it boost them up," said Stranahan High School Girls Flag Football Head Coach Jeffrey Williams. "They're really looking to see who's looking at them, so this really let them know that people care."
"It felt good, because it felt like we were recognized for something and to have the Dolphins out here talking to us, it was really good," said Stranahan High School senior wide receiver and defensive back Ruth Vioce.
The team also had the opportunity to hear from Dolphins alum and Youth Programs Ambassador Twan Russell about the importance of being accountable and responsible.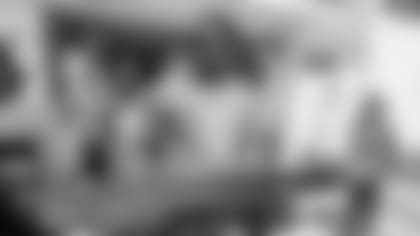 This is the third Junior Dolphins Equipment Donation this year. The Dolphins also made a donation to Pahokee High School and Felix Varela Senior High School in April. In 2018, the Dolphins made donations to Miramar High School in May, Pompano Beach High School in July, Booker T Washington in August, Spanish River High School, Key West High School, Marathon High School and Coral Shores High School in September and Glades Central Community High School in November.
The Junior Dolphins program encourages youth players and coaches to learn, teach and play football in a fun and safe environment. The Junior Dolphins program is designed to give kids access to learn the fundamentals of football using the NFL's top resources. To grow the game, the Junior Dolphins program will work to educate coaches, parents and youth on the health and safety of football with a strong emphasis on character development. Junior Dolphins is building the next generation of Dolphins Fans.
This event is one of the DolphinsHuddlefor100 service projects as part of the NFL's 100th celebration. The NFL has invited fans, players, clubs and employees to join Huddle for 100, an effort to inspire 1 million people to volunteer 100 minutes of their time to make meaningful contributions to their communities. These activities connect to the Miami Dolphins "Teamwork at Work" initiative to level the playing field through the power of teamwork to inspire a healthier, more educated and united South Florida community. For more information on the NFL Huddle and to see volunteer opportunities with the Dolphins, visit **https://www.miamidolphins.com/community/specialteams**.