Every Monday, we'll go inside the numbers from the previous game. We'll take a look at the snap counts, cumulative team stats for the season and advanced metrics from a variety of analytics sites such as Pro Football Focus, NFL Next Gen Stats and Pro Football Reference.
Dolphins-Raiders
(These statistical rankings do not include the Week 16 Monday Night Football game between Buffalo and New England).
For the 23rd time, the Dolphins are winners of at least 10 games in a season. Saturday night in Las Vegas was the 200th road win in the history of the franchise. It's just the third time since 2002 that Miami has been 10-5 or better after 15 games (last in 2016).
Miami is 9-2 over the last 11 games, 10-3 over the last 13 and 15-9 over their last 24 games, dating back to last season.
Clayton Fejedelem's fumble recovery extended Miami's league-best streak of consecutive games with a turnover to 21.
The Dolphins scored 13 points while trailing in the final five minutes of Saturday's game. The last time that happened was on November 20, 2016 at the Los Angeles Rams, when they scored 14 points over the final 4:02 en route to a 14-10 victory.
Dolphins Offensive Rankings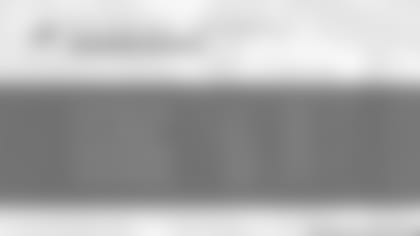 The Dolphins have been one of the NFL's most-disciplined teams under Head Coach Brian Flores. Miami has been flagged 72 times (third-fewest) for 615 yards (tied for fourth-fewest) this season.
Jason Sanders put his second game-winner of the season through the uprights, this time from 45 yards out (50 yards in Week 9 at Arizona) with just one second on the game clock. His 34 made field goals are the second-most in the NFL and the second-most in Dolphins history. His 136 points scored are also second-best in franchise history. His 19 field goals from 40-plus leads the NFL and his eight field goals from 50-plus are second in the league.
Wide receiver Jakeem Grant retains his spot as the league's leading punt return man. His 330 punt return yards are 25 more than New England's Gunner Olszewski, who plays tonight.
Matt Haack's 24 punts downed inside the 20-yard-line is tied for sixth-most in the NFL.
Dolphins Defensive Rankings
Table inside Article

| Player | Snaps (% of Offensive Snaps) |
| --- | --- |
| QB Tua Tagovailoa | 46 (73%) |
| QB Ryan Fitzpatrick | 17 (27%) |
| RB Myles Gaskin | 48 (76%) |
| RB Salvon Ahmed | 15 (24%) |
| WR Lynn Bowden Jr. | 58 (92%) |
| WR Mack Hollins | 49 (78%) |
| WR Isaiah Ford | 33 (52%) |
| WR Jakeem Grant | 19 (30%) |
| WR Malcolm Perry | 1 (2%) |
| TE Mike Gesicki | 45 (71%) |
| TE Durham Smythe | 30 (48%) |
| TE Adam Shaheen | 15 (24%) |
| OL Austin Jackson | 63 (100%) |
| OL Ereck Flowers | 63 (100%) |
| OL Ted Karras | 63 (100%) |
| OL Jesse Davis | 63 (100%) |
| OL Robert Hunt | 63 (100%) |
| OL Julie'n Davenport | 2 (3%) |
*stats courtesy of Pro Football Focus unless otherwise noted
The offense scored 13 points on 13 drop-backs by quarterback Ryan Fitzpatrick in the comeback win. It was the 18th game-winning drive of Fitzpatrick's career and 13th come-from-behind victory.
Fitzpatrick completed all four of his passes when under duress for 67 yards. He was 2-for-3 with 65 yards on passes 20-or-more yards downfield.
Quarterback Tua Tagovailoa continued his successful run throwing against the blitz as he completed 9-of-11 passes against an extra rusher, including his touchdown pass to running back Myles Gaskin. On the season, Tagovailoa has seven touchdown passes and just one interception when the opposition sends a blitz.
Gaskin rushed for 87 yards and gained a Dolphins season-high 167 yards from scrimmage. He averaged 3.36 yards after initial contact as a rusher and 74 of his 82 receiving yards occurred after the catch. He became the first Dolphins running back with multiple receiving touchdowns in a game since Reggie Bush in December of 2012.
Three of wide receiver Isaiah Ford's four receptions moved the chains, including a 17-yard gain on a critical third-and-5 on Miami's game-tying field goal drive, which made it 16-16 in the fourth quarter.
Wide receiver Mack Hollins improved upon his team-best PFF run-blocking grade (78.1). He and tight end Mike Gesicki hit key blocks on Gaskin's 59-yard touchdown catch and run. Hollins also pulled in the third-most improbable completion of the season on Fitzpatrick's no-look, 34-yard heave to set Miami up in field goal range to win the game.
Tight end Mike Gesicki pulled in four passes for 54 yards. He's now fifth among NFL tight ends with 656 receiving yards and his 13.7 yards per reception ranks third among tight ends with at least 35 receptions. With 136 receiving yards in the season finale, Gesicki would surpass Randy McMichael (791) for the most yards in a single season by a Dolphins tight end.
Center Ted Karras and right guard Jesse Davis were charged with one pressure allowed each. Offensive tackles Austin Jackson and Robert Hunt combined for five pressures allowed but no hits on the Miami quarterbacks.
Table inside Article

| Player | Snaps (% of Defensive Snaps) |
| --- | --- |
| DT Raekwon Davis | 53 (83%) |
| DT Christian Wilkins | 47 (73%) |
| DT ZacH Sieler | 30 (47%) |
| DT Benito Jones | 1 (2%) |
| DE Emmanuel Ogbah | 59 (92%) |
| LB Kyle Van Noy | 64 (100%) |
| LB Jerome Baker | 62 (97%) |
| LB Andrew Van Ginkel | 56 (88%) |
| LB Elandon Roberts | 19 (30%) |
| LB Calvin Munson | 6 (9%) |
| LB Kamu Grugier-Hill | 1 (2%) |
| CB Byron Jones | 63 (98%) |
| CB Xavien Howard | 63 (98%) |
| CB Nik Needham | 37 (58%) |
| S Eric Rowe | 64 (100%) |
| S Bobby McCain | 63 (98%) |
| S Brandon Jones | 16 (25%) |
*stats courtesy of Pro Football Focus unless otherwise noted
Cornerback Xavien Howard was targeted four times in the game, allowing just one reception for -1 yard. The performance improved upon his league-best 49.4 completion percentage allowed and dipped the passer rating against Howard to 48.5, also best among NFL cornerbacks. He added two passes defensed to give him 19 this season, tops in the NFL. The last time a Dolphins defender had 19 PDs in a season was Andre Goodman in 2008 and no player has had more since Patrick Surtain in 2000.
Linebacker Jerome Baker made 10 tackles in the game giving him at least 100 tackles for the second consecutive season. Six of Baker's tackles were good for run stops (tackles within two yards of the line of scrimmage).
Linebacker Andrew Van Ginkel became the fifth different Dolphins defender to record multiple sacks in a single game this season. Van Ginkel also had a career-high five quarterback pressures and added three run stops and a batted pass to his stat line.
Defensive end Emmanuel Ogbah was second on the team with three quarterback pressures. That performance gives him 62 on the season, the most in a single season by a Miami Dolphin since Cameron Wake in 2016 (67).
Defensive tackle Christian Wilkins was the highest-graded defender on the Dolphins defense by PFF. He applied two pressures and made two total tackles. Zach Sieler and Raekwon Davis added three combined quarterback pressures and two run stops each.