Linebacker **Jerome Baker** had some big moments during his rookie season in 2018, and based on the early part of training camp this summer he could be poised for even bigger and better this fall.
Without question one of the early stars in training camp, Baker has flashed in clearly visible ways by getting pressure on the quarterback in practice. And he's also taken a step in the intangibles department by being asked to call defensive signals.
"I feel very confident," Baker said after practice Wednesday. "Just like any player in their second year, they feel confident, feel better, just excited to go out there and work."
While it's still way too early to make lineup predictions, it would appear Baker is in store for a significant role on the Dolphins defense.
His ability to learn different positions and absorb information will help him in that regard.
"My strongest point is just understanding football," Baker said. "That's really what I want to pride myself on. I want to have a good idea of what the offense is doing before they do it. That's pretty much what I work on."
"Bake has done a good job," Head Coach Brian Flores said. "He's done a really good job. He's learned the concepts and the defenses to a solid level. He's done multiple positions. Obviously he's fast, he can tackle, he's smart, he's tough. He's got some leadership qualities, and that's starting to develop a little bit."
With a new coaching staff and a new defensive scheme, Baker could find himself being asked to rush the passer more often this season. If the early part of training camp is any indication, he could be a major factor for the pass rush.
"They have different ways for me to get to the quarterback," Baker said. "I'm pretty sure any player, they're happy to have that. It's definitely fun. They definitely have different tools and different things for us to do."
While the scheme has helped Baker produce in practice, Flores was quick to say that Baker's natural ability had a lot to do with it.
"This is a talented guy," Flores said. "He can win a one-on-one pass rush. At the linebacker position, we're going to ask him to do a few things. We're going to ask him to rush, we're going to ask him to cover, we're going to ask him to tackle, play in the run. Depending on what we have called, he may have to win a one-on-one. He may be involved in a scheme. He may have the freedom either/or. That's kind of the thing for players capable of doing that."
Baker is a bit heavier than he was as a rookie this training camp, but he certainly doesn't look like he's lost any of the speed that made him such a good prospect coming out of Ohio State.
He described his rookie season as a "cool learning experience" and now is ready to apply the lessons he learned for even better results.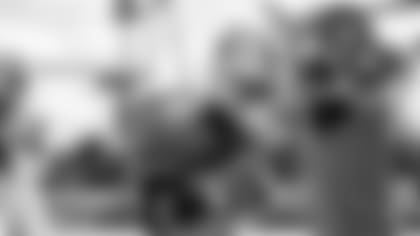 Getting asked to make defensive calls early in training camp was a pretty good indication of what the new coaching staff thinks of him, and he has no intention on letting anybody down.
"To me, it's just an honor," Baker said. "They asked me to do that, so that's what I'm going to do. I'm just going to try to take care of my body. I study as much as I can. I'm just very grateful for it. I definitely don't want to lose that, so I just constantly work on it. I'm definitely grateful.
"I'm just grateful for it all. I just try to come out here and do the best I can do. I really don't like talking. I kind of like leading by example, so that's what I try to do every day."