The Dolphins officially will honor the nation's military members at Hard Rock Stadium Sunday with their Salute to Service game, though in reality the organization's efforts go on year-round.
The organization's Military and Veterans Engagement program is committed to better serving our nation's veterans, active duty service members and their families.
The Dolphins have built and engaged in year-round programming focused on helping them transition to civilian life, all with the idea of honoring, appreciating and uniting active military members and veterans.
To reach a broader range of veterans, the organization has teamed up with three partners who all put their full support behind each event. Those partners are The Mission Continues, Mission United, and the Wounded Warrior Project.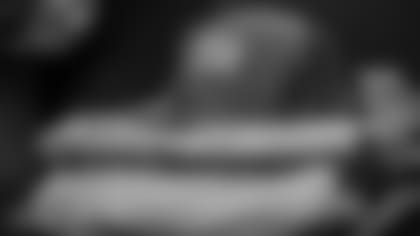 A review of the Dolphins' initiatives throughout 2019 illustrates the organization's level of commitment to honoring and supporting military members and veterans.
In January, the team took part in two overseas military tours. In February, Miami Dolphins Cheerleaders jumped with the U.S. Army's Golden Knights. The Dolphins then participated in Navy Week Miami in April and in Fleet Week in May. June saw the organization host an anchor event with The Mission Continues, where staff members joined veterans and their families to rebuild a park before hosting a RecruitMilitary Job Fair at Hard Rock Stadium.
Moving to July, the Dolphins hosted a Wounded Warrior Expo, expanding it to a third day to include all veterans for a health and wellness fair. There also was a Miami Dolphins Cheerleaders and female veteran networking event.
In October, the organization hosted a veteran baby shower with Mission United and the Miami VA for approximately 30 expecting veterans. November featured a Military Cultural Tour this past Tuesday — that involved players, alumni, staff and cheerleaders — that included visits to the Miami Military Museum and Memorial and the Gold Coast Railroad Museum, as well as a stop at Florida International University to check out the school's new ROTC obstacle course and perform some drills.
Finally, at the Dec. 22 game against the Cincinnati Bengals at Hard Rock Stadium, the Dolphins will mark the 75th anniversary of the Battle of the Bulge by recognizing 15 World War II heroes. There also are plans for another overseas military tour.
In partnership with the Vietnam War Commemoration, the Dolphins are committed to honoring a Vietnam veteran at all regular season home games. Additionally, as done in every regular season game, the Dolphins will recognize a military family by donating tickets, pre-game field passes, and Salute to Service gear in a true VIP day, courtesy of Aquafina. In partnership with City Furniture, the Dolphins recognize one military member during the game, live on the field. That member attends the game in VIP style with tickets, parking and field passes. Finally, the Dolphins donate 100 tickets each game to military members and veterans from various branches and VSOs around South Florida.
For the Dolphins Salute to Service game, there will be a military tailgate, which includes food and non-alcoholic beverages, music, games and giveaways for 100 active duty military and 100 retired military from the community. They will also receive tickets and each branch will hold flags during the national anthem (American Flag, one flag from each military branch, and POW/MIA flag). The national anthem will be performed by the Singing Sergeants from the Air Force. A portion of the proceeds from a 50/50 raffle will be donated to the Dolphins' three veteran service organization partners — Mission Continues, Wounded Warrior Project and Mission United.
Florida is ranked third in the country in veteran population behind California and Texas, though it's expected to surpass Texas soon.
The organization's goals including building stronger relationships with local military groups to support them and creating year-round Salute to Service programming honoring the service and dedication of active military members and veterans.
Embodying the NFL's Salute to Service Mission Statement to honor, empower and connect with the nation's service members, veterans and their families, the Dolphins continue to show their support and appreciation for those who are serving or have served the country.