Ryan Fitzpatrick is having a blast these days, particularly with the Dolphins having won their last two games.
Truth is, Fitzpatrick always has fun when he's around football. That shouldn't exactly come as a surprise considering he's now in his 15th NFL season and still producing a little more than a week away from his 37th birthday.
Fitzpatrick's upbeat attitude has served him well throughout his career, and that certainly applies to this season when his energy has rubbed off on his teammates.
"I think this team needs somebody with some energy, that can go out and lead and try to have some fun, and hopefully that rubs off on other guys," Fitzpatrick told Buffalo reporters in a conference call this week. "(I am) giving guys plenty of chances in the passing game getting us into the right play and doing all of those things that a quarterback needs to do, but first and foremost, the energy and the confidence that these guys need to play with, I'm trying to do as best I can in that regard, and we've really done a nice job the last few weeks in playing off each other and playing with confidence."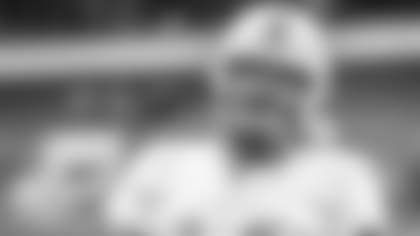 The difference in the Dolphins offense has been obvious since Fitzpatrick was reinserted into the lineup in the fourth quarter of the game against the Washington Redskins on Oct. 13.
The offense hasn't been perfect in those four-plus games, but it has been better and the Dolphins have been competitive in every one of them, getting over the hump the last two weeks against the New York Jets and Indianapolis Colts.
"From that point on, practice has been much better," Fitzpatrick said referring to the Washington game. "Guys have been playing with more energy. There's been a lot more confidence in the building and you could feel the turnaround coming a little bit. I think (there were) a couple of tough plays in the Buffalo game and then a couple of tough plays in the Pittsburgh game, but the Jets win we could feel coming. It was nice to follow that up with another victory in Indy last week."
Head Coach Brian Flores mentioned intangibles this week when he talked about why Fitzpatrick, who will turn 37 on Nov. 24, remains his starting quarterback.
"He's done a really good job," Flores said. "The guys, they feed off his energy. He's been able to move the football. He's made me really tough plays for us — scrambling, getting out of the pocket, making throws, tucking it and taking it to the end zone. He's been productive."
For a young team growing through some growing pains, Fitzpatrick seemed like the perfect fit.
He's been around the NFL a long time and has been involved in pretty much every scenario, including being with teams struggling to get their first victory.
"It's important, it truly is important, to walk in the building with a smile on your face because we put so much time and energy into this game that it's absolutely miserable when you're not winning, and it rubs off on people," Fitzpatrick said. "So that was one thing I learned — whether it was in Buffalo or in Cincinnati after Carson Palmer got hurt and we're sitting there staring at 0-8 — that you have to have a smile on your face and you have to come to work with energy.
"You have to, although there's a lot of different things going on, keep proper perspective on the fact that you're an NFL football player doing this for a living, and just to go out there and have fun. That attitude, especially in the position of quarterback but anywhere on the team, is so important because it resonates with the whole building, whether you're miserable and down or happy and trying to provide some energy. I think that's the most important thing that I've learned over the years."
There's one other thing that has become Fitzpatrick's calling card as an NFL player: his beard.
It's not often writers of an opposing team ask a player about his beard on a conference call — but that's exactly what happened this week.
"It's my NFL personality, so as soon as I retire, I'm shaving that thing off and nobody is ever going to recognize me walking through an airport," Fitzpatrick said. "It really kind of all started in Buffalo. When it was cold, I wanted to see if I could grow facial hair and lo and behold, it just kept growing. I've pretty much had it since 2009 probably. I usually shave it about once a year, but I haven't shaved it in quite some time. This is about as long as it's ever been in my career and part of that is probably living away from my family. My kids never want me to shave it. My wife hates it. I've got a lot of different people I'm trying to please."
Fitzpatrick then was asked whether it's almost like he's not allowed to shave his beard because it has become a thing.
"Yeah," he replied, "it kind of is part of my persona — my NFL persona — I guess."
Fitzpatrick's answers drew some laughter from Buffalo reporters who always enjoyed dealing with him during his time with the Bills, much like the reaction he got when the Dolphins held joint practices in Tampa with the Buccaneers, another one of his former teams.
Fitzpatrick is serious about his profession, but he also knows how to keep it fun.
And that, as much as anything else, is what he hopes his many teammates through the years have taken away from the experience of playing with him.
"I think part of it for me, every stop that I make is, even though it's the NFL, you're still allowed to have fun (and) still allowed to enjoy your job," Fitzpatrick said. "There's a lot of hard work that we put into it. Physically and mentally, it's a grind all season long, but at the same time Sunday is the reward and you're allowed to go out there and play free and have fun. Trying to do your best but not worrying about consequences, just going out there and playing loose, and hopefully that rubs off on guys a little bit."