Football is taking a backseat to the tragic spread of COVID-19 and its impact on our country. Grier started his presser by thanking those that are fighting to prevent the spread of the virus.
"On behalf of the organization thank you to all the first responders and people on the front line in this time of crisis."
Football is a game of adages. The eye in the sky never lies, according to every football coach in existence. Modern advances have given coaches, evaluators and executives alike unlimited access and data points on draftable players.
Still, Chris Grier relies on the transparency of game film.
"The film really tells you what the player is," the Dolphins general manager said. "The Combine and all the other stuff gives you a bit clearer of a picture, but at the end of the day, it's what guys do on film."
That's not to say there's no place for numbers; the Dolphins have an entire department dedicated to finding statistical patterns and predicting future outcomes. Even a player's medical history is subject to review and placed into a model for projecting his long-term durability.
"We do have an analytics department that does injury predictions," Grier said. "Football is a violent sport. We do the best we can. I've been around good players who were never hurt like Jake Long for instance, or a player like Curtis Martin who was always hurt and then basically never missed a game in New England. We do a lot of studies on that. [Head Athletic Trainer[ Kyle Johnston and our doctors and staff have done a lot of work on every player."
Aside from a change in physical location, it's been business as usual for Grier and his staff.
"It hasn't really been too much different," Grier said. "The difference is we haven't been in the same room. We did a lot of work in December starting on the draft with all the picks we had coming into this draft."
Everybody wants to know who the Dolphins will select with the fifth pick in next Thursday's draft, and fans come from all walks of life. Fans ask the Dolphins GM what the plan is at the grocery store, and even in his own home.
"They're a passionate fan base," Grier said. "People at the grocery store are still [asking about the quarterback], the guy spraying for ants over at the house is asking me Dolphins questions the whole time. My wife and kids are worse than [the media]. Every day they pop in my office and ask me who we are taking."
The quarterback position has been the point of intrigue for fans for some time, specifically the two players ranked atop the QB big board by many draft pundits, Justin Herbert and Tua Tagovailoa.
"Tua [Tagovailoa] and [Justin Herbert] are both really good people," Grier said. "They're good players and they've both won. We've spent a lot of time on all the top players, regardless of position."
Grier talked about the value in learning lessons from each move he and his staff have executed up to this point, including last year's quarterback room and the value of a leadership.
"With [Ryan] Fitzpatrick, like we've talked about ad nauseam, what he's done for the locker room," Grier said. "He's a veteran presence, the type of person he is, the impact he's had not just on the younger players but also the veterans. You always look back and try and learn lessons. Going forward, we'll be aggressive in trying to find the right people that fit our program."
Utilizing all of his resources and staffers has been the biggest contributing factor in draft day success, according to the Dolphins GM.
"The area scouts are the ones that know the players the best, spending the most time around the players," Grier said. "Marvin [Allen], national scouts, Adam [Engroff], Matt [Winston], 'Brock' [Ron Brockington], those guys and myself we go to a school for a day and work, where area scouts have been to their area schools three of four times at least. You really have to rely on all of your guys."
Those countless hours on the road for the area scouts has provided positive returns for the Dolphins on Day 3 of the draft and in the undrafted free agent pool in recent years.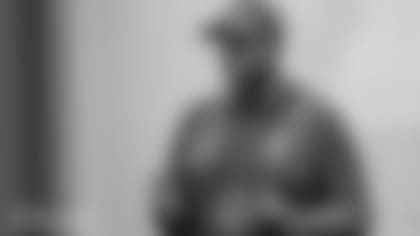 "Our scouts have done a great job as well as our coaching staff," Grier said. "We always talk about the communication. That's really the key. To get those guys on the back end, it's the coaches and scouts on the same page. Relationships you have with agents always helps. I think our track record in terms of playing young players, Brian [Flores] is committed to giving people the opportunity and people earning their shot here, and I think that's an exciting thing for free agents to come here and have a chance to make the roster and play."
Communication is a buzz word Grier believes in strongly. For Grier, that has been the focal point of getting all those working parts on the same page, something he doesn't anticipate will change given the current climate of our nation.
"My set up will mimic the draft room," Grier said. "The communication will be similar with the use of video technology. All of us will be in communication on stuff. We've had some run-throughs of it. Our I.T. department has done a fantastic job. I really don't have any apprehensions about this process. We're ready to go."
Free agency predates the draft on the NFL calendar. Foresight helps teams, like the Dolphins, identify how the draft might unfold and how the team can create flexibility and prepare for potential weak spots of the draft with a strong free agency plan.
"When you do free agency, you always have an eye on some of the strengths and weaknesses of the draft," Grier said. "So, we addressed some places we thought could help us and then use the draft to continue to build the roster out."
The Dolphins were more active in free agency than in years past. The team carefully identified a specific type of player back in March.
"In free agency, we wanted to find the right type of players to fit our program," Grier said. "We didn't want to go older. We've got a lot of guys that were younger – 25 to 28. Guys that have been winners, guys that are great locker room guys, mentors because we have such a young team. We were a little more active than we have been in the past. We wanted a little more volume with guys. We need guys that help these young guys transition, learn and get on board as fast as they can in terms of learning the defense [and] preparing, so having guys that have some familiarity with Brian [Flores] was really important."
The Dolphins have a league-high 14 draft picks, starting with the fifth overall selection next Thursday night. Grier was asked about how many players they feel comfortable with at that selection.
"The joke is around the scouting world, if you're picking 12th there's always 10 you like," Grier said. "We're at five and we feel really good about probably eight or nine players there."