The Baptist Health Training Complex opened in Summer 2021.
Address: 20000 NW 27th Ave, Miami Gardens, FL 33056
Design Architect: Rossetti
Interior Design: Rockwell Group
Construction: MOSS Construction
Tours: With the exception of the practice fields during Training Camp, the Baptist Health Training Complex is closed to the public at this time. Information on tours may become available at a later date.
Training Camp: For information on 2021 Miami Dolphins Training Camp presented by Baptist Health, click here.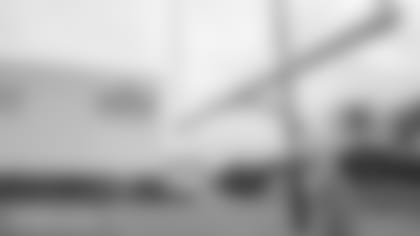 Fast Facts
The Baptist Health Training Complex is 217,200 square feet (125,000-square-foot training facility and 92,200-square-foot feet indoor field) and features the following:
Outdoor practice area with two full natural grass fields and full indoor practice facility
Two-story weight room with a cardio deck
Locker Rooms and a Players Lounge with multiple lounge areas and a barber shop
A state-of-the-art hydrotherapy area
Dedicated recovery area including cryotherapy and isolation tanks
Athletic training room with expansive rehabilitation space
A dining hall and fuel bar
Shaded spectator seating holding up to 2,200 people
Lush landscaping, including close to 16,000 flowers and shrubs, 210 palms and 128 total trees
The Baptist Health Training Complex is equipped with state-of-the-art technology and football systems. The audio-visual systems in the Auditorium, position classrooms, conference rooms, weight room, Field House, and outdoor fields were designed and built by industry leading integrator, Diversified, with support from 8K Solutions for coaching solutions. The facility also features Verizon 5G Ultra Wideband and an Extreme Networks Wi-Fi 6 deployment throughout.
The partnership with Baptist Health was an extension of a decades-long relationship with the Miami Dolphins, with the entity serving as the Official Medical Team of the Miami Dolphins as well as the Official Wellness and Sports Medicine Provider of the Miami Dolphins and the Training Complex. Baptist Health also is a proud partner of the Miami Dolphins Foundation working together on a series of initiatives around the health and safety of South Florida students, coaches, and parents to grow youth football participation in South Florida.