MIAMI GARDENS, Fla. – The Miami Dolphins and Baptist Health South Florida yesterday surprised the Ronald W. Reagan Doral Senior High School football team with equipment to help create a safer and healthier environment for their program. The donated equipment included Junior Dolphins and Baptist Health branded shirts, shoulder pads reconditioned by Riddell, down markers, tackling pads and dummies, a sled, cleats and Gatorade product.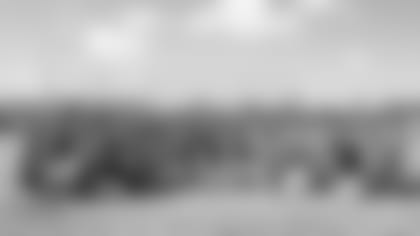 "This is a big confidence boost for our program. There have been some years where we've had low numbers and it seems like we needed something to get us going. What a great thing this was for us and our program and our school," said Ronald W. Reagan Doral Senior High School Head Football Coach John Lopez. "The reconditioned pads is a safety, life issue we thought about right away and that was a great thing they did it for us. The new tackling pads – besides helping us out football-wise – it's a boost every time you go outside and see the pads with the Dolphins logo on it and Baptist Health."
"This was super cool. I didn't expect this at all and I really appreciate them looking out for us," said Ronald W. Reagan Doral Senior High School sophomore center Carlos Cisneros. "I play o-line, so these boards can help us with our driving skills and also the bags to help push and simulate a defense. That will help us a lot."
The team also had the opportunity to hear from Dolphins alum and Youth Programs Ambassador Twan Russell about overcoming adversity.
This is the fourth Junior Dolphins Equipment Donation this year. The Dolphins also made a donation to Pahokee High School, Felix Varela Senior High School and Stranahan High School in April. In 2018, the Dolphins made donations to Miramar High School in May, Pompano Beach High School in July, Booker T Washington in August, Spanish River High School, Key West High School, Marathon High School and Coral Shores High School in September and Glades Central Community High School in November.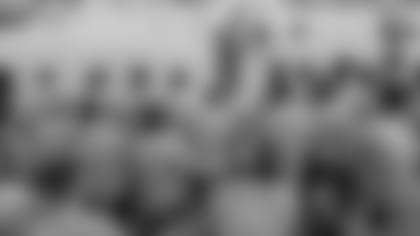 The Junior Dolphins program encourages youth players and coaches to learn, teach and play football in a fun and safe environment. The Junior Dolphins program is designed to give kids access to learn the fundamentals of football using the NFL's top resources. To grow the game, the Junior Dolphins program will work to educate coaches, parents and youth on the health and safety of football with a strong emphasis on character development. Junior Dolphins is building the next generation of Dolphins Fans.
This event is one of the DolphinsHuddlefor100 service projects as part of the NFL's 100th celebration. The NFL has invited fans, players, clubs and employees to join Huddle for 100, an effort to inspire 1 million people to volunteer 100 minutes of their time to make meaningful contributions to their communities. These activities connect to the Miami Dolphins "Teamwork at Work" initiative to level the playing field through the power of teamwork to inspire a healthier, more educated and united South Florida community. For more information on the NFL Huddle and to see volunteer opportunities with the Dolphins, visit **https://www.miamidolphins.com/community/specialteams**.