For anyone who has watched the Dolphins throughout training camp, what Kalen Ballage did in the joint practice with the Tampa Bay Buccaneers on Wednesday should have come as no surprise.
There's a reason, after all, so many folks have been gushing about his work since the team reported to Davie in the final full week of July.
Based on his work, it seemed obvious that Ballage would get a considerably bigger role on offense than he did as a rookie in 2018. But now he just might be become the focal point of the running game in the immediate future with Kenyan Drake sidelined by a lower-leg injury.
Ballage and Drake have split time with the first-team offense throughout training camp, but Ballage got all the work in practice Wednesday and responded with two long touchdowns, one on a running play and the other on a screen.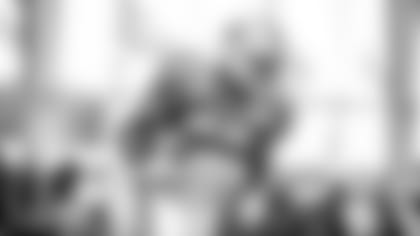 "I'm just out here to have fun and play football and do my job," Ballage said. "I don't really worry about too much else or anything. I'm happy for the opportunity."
Head Coach Brian Flores watched practice at both ends of the Buccaneers' indoor facility at the AdventHealth Training Center because there were drills going on simultaneously, but he indicated he was able to see both of Ballage's touchdowns.
Flores said the long plays were the result of everybody on offense doing their job, and there's no doubt Ballage was the benefit of good blocking.
But there's also no doubt Ballage showed an impressive burst on both plays, first after getting to the outside on his run and later after catching a short screen from quarterback Josh Rosen.
Running backs coach Eric Studesville, who is in his second year with the Dolphins, said that long touchdown didn't come out of nowhere because Ballage already had shown that kind of big-play ability in practice.
In that practice Wednesday, Ballage was part of a first-team offense that included rookie wide receiver Preston Williams and rookie guards Michael Deiter and Shaq Calhoun, as well as the second-year quarterback Rosen.
"I think young guys have to be able to come out here and make plays," Ballage said. "This (isn't) college (anymore). It's not high school. In my opinion, age doesn't really matter. I think you just come out here and if you can ball, you can ball. I think that's a big part of it."