Tight end **Mike Gesicki** is feeling confident as he heads into his second NFL season, just the same way he felt last summer. But there is one clear difference in his approach.
Gesicki now is focusing on the moment — and on the moment only. He's not concerned about goals for the 2019 season or about his role in the offense; the only concern is making steady progress.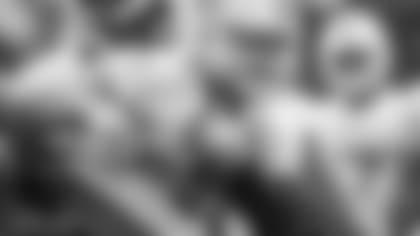 "Every single day, I'm just taking it one day at a time and just trying to improve," Gesicki said after practice Saturday. "I'm not worried about catching balls in practice and making these big plays and all that because at the end of the day, the only thing I'm worried about is just getting better, whether that's in the run game, whether that's blocking somebody, whether that's being physical in my release. Even if I don't get the ball, if I run a good route, that's a check for me right now.
"Right now in training camp, if there's ever a time that you can kind of focus on yourself, it's right now because there's not games that you've got to worry about or prepare for. Right now it's just really hammering down your technique and that kind of stuff."
Gesicki had 22 catches for 202 yards as a rookie after joining the Dolphins as a second-round pick in the 2018 NFL draft.
He showed up for his second professional training camp with about 10 more pounds, something he hopes will help his development.
"Everything was different (this offseason)," Gesicki said. "I didn't have to train for the combine or any of that stuff. A lot of it was just being able to put on good weight, to still be able to come out here and use my advantages, my quickness, my speed and stuff like that and overall I feel like I had a good offseason but all of that stuff is behind me now and I'm just ready to roll.
"I was confident last year and I'm still confident this year. Obviously the experience helps and all that kind of stuff, so I'm just ready to prove what I can do."