**Bobby McCain** joked after practice Monday when he talked about his previous experience as a center fielder.
"I've done it before," McCain said. "Not in football, but other sports."
In his younger days when he played baseball, McCain was literally a center fielder. But, in football, the term is used for a free safety roaming the deep middle of the field.
It's a new position for McCain, who was switched in the offseason from his familiar spot at cornerback.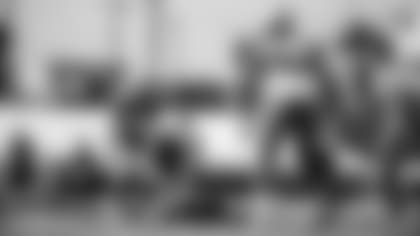 McCain talked Monday about the transition and his comfort level after the offseason program and the first two weeks of training camp.
"You try not to get comfortable, you try to just get better each and every day," he said. "I don't want to see too much as getting comfortable. I just want to try to make things work and try new things in practice, things I haven't done in a game of course. Just getting better every day at it and just working on your craft each and every day and understanding the playbook."
McCain played mostly slot corner in his first three seasons with the Dolphins after joining the team as a fifth-round pick in the 2015 NFL draft, though he lined up outside for most of last season when he made a career-high 13 starts.
He said he enjoyed the freedom that comes with playing free safety.
"I like it, I like it," McCain said. "You can patrol, you can see the ball out, you can see the ball coming from the quarterback and you can make plays at the end of the day."
Assistant coach Tony Oden is in his second season working with McCain, last year in his capacity as defensive backs coach and now in his role as safeties coach.
"He's smart, he's intelligent, he's physical, he has some good athleticism and he's doing well," Oden said. "He's learning it. Who is to say that he's going to be there all of the time? You just don't know. Our guys are all playing different positions. That's one of the things that we want to do is have guys have position flexibility and those kinds of things, and our guys have embraced that. They've learned different roles and they've done a good job with that."
Also listed as a safety was 2018 first-round pick **Minkah Fitzpatrick**, who like McCain has experience playing at cornerback.
Using the two of them on the field at the same time would provide the secondary with an awful lot of playmaking ability in the back end.
"You got guys back there than can go get the football, that can judge the football well and understand that when the ball is in the air that it's not just theirs," McCain said of that possibility. "Being back there, it's definitely different but you gotta be comfortable being uncomfortable. That's just one of the things we're doing and you've got to get the job done at the end of the day."
As camp opened, Jones explained why he thought McCain could make a smooth transition to safety.
"Safety is a defensive back," Jones said. "He's versatile. He can play the slot, he can cover and show his range back there. This is his first time back there. He's a piece in our room that will be able to help us."