I get it that the Dolphins are approaching things in a different way these days. I understand the emphasis is on youth and building to sustain. But have you checked out the playmakers on this offense? Have you noticed that this team may already have one of the more impressive and potent cast of young playmakers in the league?
Moves? Enough to make you look downright silly.
Potential? Off the charts.
What this group, for the most part, doesn't have is a whole lot of experience, and you get the distinct feeling that that's going to change this season. But from a pure talent standpoint, this could very well become the strength of this team.
Looking at this roster, I can easily count seven returning players with enough speed and athletic ability to take something short and turn it into something long.
But it's more than just Wilson and Grant.
It's **Kenyan Drake** entering his fourth season, shedding some pounds and trying to build off some memorable stretches of games over the past three seasons.
It's **Kenny Stills**, the veteran of the group at just 27 years old, coming off three seasons where he combined for 21 touchdowns, averaging about 16 yards a catch. Have heard whispers that he may play some in the slot this season, creating what could be an enticing mismatch against a nickel back. Stills has had a strong camp, punctuated by a 70-yard catch in Saturday's scrimmage.
It's **Kalen Ballage**, who showed us his big play ability on that **75-yard sprint against the Vikings last season**. Yes, he's 231 pounds, but anyone who remembers that run against the Vikings knows what he's capable of doing. I just watched a video of that run again, marveling how he outran the safety to the end zone with such apparent ease.
It's **Mike Gesicki** who was drafted in the second round a season ago and, while he didn't make much of an immediate statement, he could very well thrive in this tight end friendly offense.
It's **DeVante Parker**, who is getting a new opportunity with this coaching staff, and is off to another impressive training camp. Is this the year he doesn't slow down? Is this the year he stays healthy? We see on the practice field just about every day how much he could mean to this offense.
Think about the possibilities. Think about the ways these players can be utilized. No oversized predictions here that they are going to tear up the league, but if you're looking for a strong suit on this offense in the first week or so of training camp, it's hard not to quickly turn to this group of young players and the speed and athletic ability that you simply can't teach.
Albert Wilson could be the key to the entire group. Assuming he returns to 100 percent – and all indications suggest he is on his way – he has the playmaking ability to draw double teams, thus opening things up for the others. Put him and Grant on the outside and you could very well see another down the field high five this season.
"I look around me," said Grant. "And I like what I see. Let's keep it low key for now, but from what I've seen there's a lot of talent on this offense."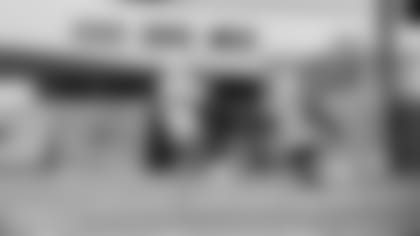 There are some young players with intriguing upsides who can add to this group. Maybe someone like undrafted rookie **Preston Williams**, who was singled out after Sunday's scrimmage by cornerback **Xavien Howard** as a future No. 1 receiver, which is quite a compliment. There is a veteran like recently signed **Allen Hurns** to consider as well. But let's not get too far ahead of ourselves. These seven returning players combine for enough potential firepower to surprise a lot of people and score a lot of points.
"I certainly like the depth we have in that area," said offensive coordinator Chad O'Shea.
We see that depth on that practice field every day. We see the tough catches and the long runs. We see Gesicki going up high for a one-handed end zone catch and we saw Grant putting on those shake-and-bake moves that can leave a defender helplessly flat-footed. We see Wilson out there, working one day and taking the next day off, catching passes, rehabbing his hip, pushing himself harder and harder.
Individually, it's been impressive. Collectively, though, is the real upside of this group.
I understand many of these players come with a question mark, some health related, some having to do with consistency. But the promise of what can be is what training camp is all about and after watching these players over the first week or so of practices, what can be might be awfully impressive.