As the longest-tenured cornerback on the Dolphins roster, **Bobby McCain** understands his role as a leader in the secondary. Actually, he relishes it.
"I can remember when I was a rookie coming in and I was just wide-eyed and I had no clue what was going on," McCain said during an interview on The Audible. "I was just running around, but I had some vets that took me under their wing and taught me some things, taught me how to be responsible and how to take care of my body, taught me the defense. I try to do the same.
"When I told the guys here that came in, all the rooks that come in, I told Jomal (Wiltz), he was like, 'Hey man, I need a little help.' And I was like, 'Don't ever be scared to ask any one of us for help, me, T.J. (McDonald), X (Xavien Howard), any guy who's been here for a minute, especially in the back end, we're going to help you no matter what it is."
McCain, preparing for his fifth season with the Dolphins, has come a long way since joining the team as a fifth-round pick out of Memphis in 2015.
He's coming off a 2018 season during which he started a career-high 13 games and had one interception and a career-best two sacks.
Because of his aggressive style and personality, McCain is a normal fit as a leader in the secondary.
"I focus on being me," he said. "You can't stop me from being me. If that's being a vocal leader, if that's leading through play, no matter what it is, just being yourself, that'll last you a long way. At the end of the day, my mom and my dad taught me a long time ago, just be respectful to people, because people see that. When you're talking to elders, 'Yes sir, no sir, yes ma'am, no ma'am.' It's always taken me a long way and understanding that I've got a responsibility to be accountable to myself and my family and there's young guys looking up to me like, oh man, he's here, so how I do get there? I'm just here to lead the way."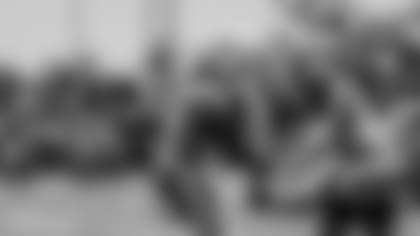 Along with his teammates old and new, McCain has been busy this spring learning a new defensive system after the hiring of Brian Flores as head coach.
It's a challenge that's not new to McCain and one he embraces.
"You've got to go in like you're a rookie," he said. "I go in like I'm a rookie and I work every day just as hard as I can and I try to be better each and every day because I learn something in this defense each and every day. Change is for good, and at the end of the day that's how you've got to take it.
"It's my fifth year. This will be my fourth head coach and my third staff. It's happened to me a couple of times before and you've got to go into it like a you're rookie. Just have your pen and paper ready and understand that each and every year, each and every day you got something to prove. With the new coaching staff, I look at it as an opportunity. That's all it can be."
McCain and his veteran teammates have two more weeks of practice left this spring, the final week of OTAs and the mandatory minicamp next week.
This weekend, McCain is planning on taking part in Fins Weekend by playing a round of golf and he said he was planning on doing some traveling in the weeks between the end of minicamp and the start of training camp — though he emphasized he would be running every day no matter where he ended up.
Before then, there's more work to be done, though McCain likes the progress he has seen since the start of the offseason program.
"It's not where we need to be yet to be a championship football team that we want to be, but you can tell it's getting better each and every day," he said. "At the end of the day, you've just got to keep building and keep working, but you can tell communication, chemistry, everything that works together is getting there and it's getting better and better each and every day."