MIAMI GARDENS, Fla. – The Miami Dolphins and Baptist Health South Florida yesterday surprised the Miami Beach Senior High School football team and girls flag football team with equipment to help create a safer and healthier environment for their programs. The donated equipment included Junior Dolphins and Baptist Health branded shirts, tackling dummies, a sled, weights, uniforms, cleats, backpacks and Gatorade product. Miami Dolphins Chairman of the Board/Managing General Partner Stephen Ross is an alum of the school. 
The team had the opportunity to hear from Miami Dolphins Senior Vice President of Special Projects, Alumni Relations and Advisor to CEO and alum Nat Moore about teamwork. Deputy Chief Rick Clements, Detective Christopher Mitchell, Detective Shantell Mitchell, School Resource Officer Jimmy Gotsis and Public Information Officer Ernesto Rodriguez from the Miami Beach Police Department, a Miami Dolphins FOOTBALL UNITES™ community partner, and Miami Orthopedics & Sports Medicine Institute Physical Therapist Fernando Vega also were on hand for the donation.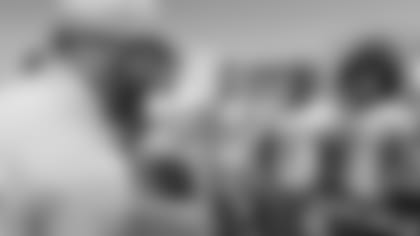 "I'm so excited about what the Dolphins and Baptist Health have done. They're doing some incredible things and this is one of them," Miami Beach Senior High School Head Football Coach Aaron Harris said. "With the tackling dummy, it promotes safer football and tackling."
"It was really a blessing. Especially the sled for o-lineman, they need it the most," Miami Beach Senior High School sophomore defensive player Kamal Jackson said.
"It was nice for them to donate to us; we really need it," Miami Beach Senior High School senior center Ashley Santos said. "Everything Nat said touched us. It's not only you, you have other teammates and you always work as a team no matter what."
This is the seventh Junior Dolphins Equipment Donation this year. The Dolphins also made a donation to Pahokee High School, Felix Varela Senior High School, Stranahan High School and Ronald W. Reagan Doral High School in April and South Broward High School and Santaluces Community High School in May.
The Junior Dolphins program encourages youth players and coaches to teach, learn and play football in a fun and safe environment. The Junior Dolphins program is designed to give kids access to learn the fundamentals of football using the NFL's top resources. To grow the game, the Junior Dolphins program will work to educate coaches, parents and youth on the health and safety of football with a strong emphasis on character development. Junior Dolphins is building the next generation of Dolphins Fans.
This event is one of the DolphinsHuddlefor100 service projects as part of the NFL's 100th celebration. The NFL has invited fans, players, clubs and employees to join Huddle for 100, an effort to inspire 1 million people to volunteer 100 minutes of their time to make meaningful contributions to their communities. These activities connect to the Miami Dolphins "Teamwork at Work" initiative to level the playing field through the power of teamwork to inspire a healthier, more educated and united South Florida community. For more information on the NFL Huddle and to see volunteer opportunities with the Dolphins, visit https://www.miamidolphins.com/community/specialteams.