This year's running back class features a little bit of everything. With a bevy of speedsters, power backs, and the versatile ones in between, here's a look at three of the top backs on the board ahead of Thursday's draft.
Swift is a smooth operator. He's a one-cut slasher that can find daylight in the smallest of creases. His Georgia highlight tape is full of high explosive runs and moments. Whether he's high-hurdling defenders or setting up a missed tackle with exceptional wiggle, Swift is a nightmare in the open field. The ability to drop his pads and run through tackles makes for a complete runner.
The versatile running style pairs nicely with his complete skill set in the passing game. Running swings, screens and flats, his ability to transition from receiver to runner is seamless. He can catch the football away from his frame without the need to throttle down. In pass protection, he's willing to stick his face in the fan and square up free rushers.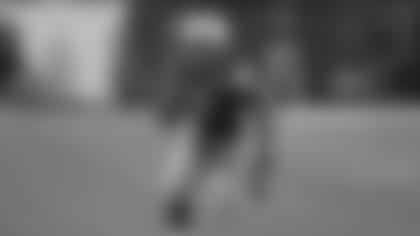 Dobbins defines the three-down back mentality. A rare blend of patience and lateral agility allows him to create missed tackles at a rate that led college football. With a thickly-built lower half, Dobbins can both push the pile and show his taillights to the defense in the open field. He's a natural pass catcher and takes a lot of pride in his pass protection. The compactly built base allows him to anchor against blitzers.
Dobbins brought his A-game in the Buckeyes biggest tests. Against six ranked opponents in 2019 he rushed for 1,049 yards and 11 touchdowns.
Jonathan Taylor, Wisconsin
The Badger offense runs a variety of blocking schemes, and a lot of that stems from Taylor's vision and decision making -- he rarely makes the wrong choice. Taylor is a master of reading the leverage of his blocks, anticipating the flow of the defense, and identifying the proper moments to burrow and move the pile, or to search for open space.
Taylor's college production ranks among the greats. He rushed for 6,174 yards in his three years in Madison including a record 12 games with better than 200 yards. The five players that rank ahead of Taylor compiled their gaudy stats over four seasons – Taylor did it in three.