College football's all-time passing efficiency leader is now a Miami Dolphin.
The southpaw signal caller from Honolulu's Ewa Beach was the fifth pick of Thursday night's 2020 NFL Draft, and the first selection made by the Miami Dolphins.
Tua Tagovailoa, the fifth quarterback in franchise history selected in the first round, brings a decorated resume to South Florida.
The 6-foot, 217-pound quarterback won a national championship, played in another, and went 22-2 as a starter for the Crimson Tide. He threw 87 touchdowns to just 11 interceptions. He passed for 7,442 yards (10.9 yards-per-pass) with a 69.3 completion percentage. Those totals make up a 199.4 career passer efficiency rating, second to none in NCAA history.
Never mind the chart-topping statistics and winning pedigree, its Tagovailoa's character, work ethic and spirit that adored the quarterback to Alabama Head Coach Nick Saban.
"He's a fantastic human," Saban said. "And forget just [Tagovailoa] on the field. It's who he is off the field that I think is probably more impressive." 
After an injury cut Tagovailoa's junior season short, Saban phoned his quarterback in hopes of lifting the perpetually smiling 22-year-old's spirits.
"I called him to cheer him up, [and] he cheers me up," Saban said. "This is a guy that has great spirit. He's very positive about everything he does and the effect he has on other people. I think he's been a great ambassador for college football in terms of the class that he shows and the way he goes about what he does."
Even from a young age, Tagovailoa was impressing coaches and authority figures with his character profile and work habits. The co-host of the Move the Sticks podcast, Bucky Brooks, also served as a camp counselor at Nike's Elite 11 passing camp – a passing camp for the nation's top quarterbacks – where he first met the quarterback.
"His humility is genuine," Brooks said. "His ability to connect with people from all different backgrounds is impressive. When you think about a franchise quarterback and all the things that are thrust upon a franchise quarterback, to be the ultimate leader, to be the spokesperson, I don't know if I've ever seen a kid that's more prepared to handle those responsibilities."
Tagovailoa played in three offensive systems at Alabama under three different coordinators. The 2019 scheme was directed by Steve Sarkisian, who spent the two previous seasons in the NFL, ushering in his NFL-based passing offense to the college ranks.
"It doesn't matter if it's the training room, the locker room, the practice field, the equipment room, the coach's office – that guy is a true leader," Sarkisian said. "Everybody knows the work ethic, the desire and the competitiveness [Tagovailoa] has."
The galvanizing impact and insatiable work habits were evident from a young age. Tagovailoa worked this pre-draft process with former Super Bowl champion Trent Dilfer, who he originally met from his time at Saint Louis High School at Nike's Elite 11.
"This is maybe the best thing I can say about Tua, he's a one-rep guy," Dilfer said. "He can change in one rep. You can ask him to do anything you want and he can change it in one rep. That coachability, that trainability is what made me know, at the time, that he wasn't just going to have a good college career; he's going to have a great college career."
Dilfer worked with Tagovailoa in the lead up to the draft, but the two's relationship spanned back to the high school days of the new Dolphins quarterback.
"I have never seen a kid – since I've been doing this – change more in two weeks," Dilfer said of his lefty protégé. "I told him, 'Hey, Tua, the way you play the position, even though it looks great, doesn't translate to the next level. It lacks discipline. It doesn't benefit the way you move in the pocket. You can't throw in tight spaces. You have to work on this.'"
A 19-year-old Tagovailoa accepted the coaching and made sure those improvements were readily tangible for his Elite 11 coach to see.
"He shared with us in our interview that he would go to football practice and then him and his pops would go to the park and set up the cones that we talked about in Oakland to retrain his instincts and play from under center," Dilfer said. "Notice, he played more under center in the seven-on-seven [this past weekend] than he played in the gun, and obviously that's why we're all so impressed and why he has a legitimate chance to be the MVP of the Elite 11."
That chance became a reality as Tagovailoa took home the Most Valuable Player trophy. A short eight months later, Tagovailoa captured a much more prestigious piece of hardware.
Trailing 13-0 at halftime of the 2018 College Football Playoff National Championship Game, Saban made the switch, calling upon his true freshman quarterback to replace starter Jalen Hurts.
Brain Daboll, Alabama's offensive coordinator, featured a run-heavy offense catered to Hurts and Bama's loaded stable of running backs. Tagovailoa carried the ball 12 times in that half of football, the highest single-game total of his career. It was Tagovailoa's passing prowess, however, that resurrected the Crimson Tide's hopes of winning a second national title in three years.
Tagovailoa tossed a pair of touchdowns in regulation to bring the score to a dead heat, but it was his overtime heroics that began the legend of Tua.
After Georgia kicked a field goal on the opening overtime possession, Tagovailoa was sacked for a loss of 16 yards on first down. The seemingly insurmountable adversity proved to be child's play for the true freshman as he responded with his now signature deep ball and a walk-off winner.
Fellow freshman receiver DeVonta Smith ran a takeoff route from the boundary. Georgia had split safeties 15 yards off the line of scrimmage at the snap, playing to the advantage of the long down-and-distance. Tagovailoa held the safety on the hash mark by looking in his direction, and it gave him a sliver of a window as he launched a perfectly placed, arcing pass 50 yards downfield for the win and college football's ultimate prize.
The end zone angle shows that boundary side safety flip his hips and run towards Smith, but then he follows Tagovailoa's eyes back to the post, giving Tua just what he needed for the dagger against his SEC rival.
Despite not starting a single game as a freshman, Tagovailoa finished the college football season with one of the more memorable throws in the storied history of the sport. In spot duty, Tagovailoa finished the year with 636 yards on 77 passes (63.6 percent completion), 11 touchdowns and two interceptions.
From that moment forward, Alabama fans knew something special was in their possession. But even with the championship-winning mettle, Tagovailoa had to compete against the incumbent starter and his close friend Hurts the following fall camp in Tuscaloosa.
"Tua has an ability to get guys to rally around him differently than anyone I've ever seen," said an anonymous former graduate assistant on the Alabama staff. "One thing that stood out to me was how he handled playing behind Jalen [Hurts]. He didn't complain or sulk, just worked. Even after the three touchdowns in the national championship, he was asked to compete for the job the next season and he never wavered."
Tagovailoa won the camp competition and started the 2018 opener against Louisville. Playing under new offensive coordinator Mike Locksley, Tagovailoa transformed the Crimson Tide offense from its traditional smash-mouth style into a record-breaking vertical aerial display.
"They can stretch you really vertical with that RPO (run-pass option) game, which adds a dimension," Ole Miss head coach Matt Luke said ahead of a 2018 meeting with Tagovailoa and Alabama. "It puts a lot of pressure on you because you know you have to stop the run, but with that added dimension it makes it very, very tough."
Luke continued on about Tagovailoa specifically.
"When it does break down he's able to extend the play, keep his eyes downfield and keep his composure," Luke said. "For a young quarterback, I think that's pretty special."
Tagovailoa started all 15 games in 2018, setting single-season school records in passing yardage and touchdowns. The first blemish to his win-loss record came in the College Football Playoff National Championship Game against Dabo Swinney and the Clemson Tigers. The sophomore quarterback finished the season with a 69.0 completion percentage. He threw for 3,966 yards (11.2 per attempt), 43 touchdowns and six interceptions. 
Heading into the 2019 title game, Swinney – now a two-time national champion head coach – was blown away by the opposing quarterback.
"He's got a little bit of Brett Favre to him, a little bit of Michael Vick in him," Swinney said. "He's got that stuff that, you think you've got him, and he's got eyes in the back of his head. He spins out, and the next thing you know, it's a big play. He is so accurate in the pocket, and he's incredibly accurate on the move."
It's been 15 months since Swinney made those comments. He shared his feelings on Miami's new quarterback earlier this month on ESPN's First Take, and his tune hasn't changed.
"I love Tua," Swinney said. "I'm on record with that. I wouldn't pass up on Tua. I think he is a big-time winner. He's a great person and a great teammate."
Finally, this past season in 2019, Alabama's offense took on Sarkisian's pro-style approach, the closest replica to an NFL scheme that Tagovailoa directed. Operating in a run-first system as a freshman, then transitioning into the vertical game that produced 2018's most accurate downfield thrower (Tagovailoa completed 57 percent of throws 20+ yards according to Sports Info Solutions), the 2019 system evolved under the former Atlanta Falcons play-caller in Sarkisian. 
"I feel like we were more play-by-play," receiver Jerry Jeudy said. "You know, last year we were more like score fast, score fast, big play, score fast. This year, we're taking it slow, play-by-play."
Sarkisian is well-known for his offense steeped in West Coast principles, but the presence of Tagovailoa kept the scheme open for multiple approaches to attacking opposing defenses.
"When you can run the football, you can play-action pass," Sarkisian said. "The play-action pass game is a quarterback's best friend to where defenses are trying to stop the run and now you can create throwing lanes down the field for explosive plays. And then [the quarterback prefers] an efficient passing game, high percentage completion-type passing game where you get the ball in your playmaker's hands in space to go create plays."
After the record-breaking 2018 season, Tagovailoa managed to post better numbers in 2019 across the board. He completed 71.4 percent of his passes and threw for 2,840 yards (11.3 yards per attempt) and 33 touchdowns with only three interceptions.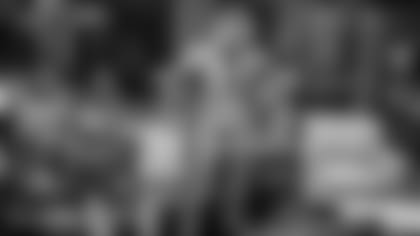 "He has the release, accuracy and touch needed to work all three levels successfully and can become a more disciplined, full-field reader to piece the puzzle together against NFL coverages," said NFL.com's Lance Zierlein. "His escapability not only moves the chains, it creates chunk plays in the air and on the ground. He is a talented dual-threat quarterback with a winning background, explosive production, and loads of experience in high-leverage games."
Tagovailoa's teammates, like the scouts, provide glowing reports on Miami's new signal-caller. Safety Xavier McKinney elaborated on the impact Tua had on his game during his media availability at the 2020 NFL Scouting Combine.
"He's helped me a lot," McKinney said. "We've had talks after practice where he tells me what he sees, because he's looked me off several times. So many times. I got to a point where I started to get frustrated because I'm like, 'I don't know how you're doing this.'"
ESPN's lead college football commentator Kirk Herbstreit referenced a particular moment where he saw the way the Crimson Tide receivers lit up when Tua entered the huddle at an Alabama practice during his freshman season.
"The night before [the national championship game], I was allowed into practice and when Tua came in, you could almost just feel the receivers like, 'here we go.' And I was standing next to Josh Jacobs who wasn't practicing, and after watching Tua go down the field in a two-minute drill Jacobs said, 'he's been doing that all year!'"
Tagovailoa's success that night on college football's biggest stage was the start of a trend of elite production. In his two years as a starter, Tagovailoa earned Pro Football Focus grades better than 90.0, the publication's cutoff for the territory of the elite.
"One of the most interesting things about Tagovailoa, when compared to some of the top quarterback prospects in recent memory, is that we've never really seen him play bad football," said PFF's lead draft analyst Mike Renner. 
In 2019, Tagovailoa was efficient throwing the ball to all three levels of the field. Per PFF, his passer rating ranked third in college football on throws 20-plus yards downfield, fourth on intermediate throws in the 10-19-yard range, and second on passes nine-yards and in. He took the fewest sacks among the 2020 quarterbacks, had the seventh-best adjusted completion percentage with the third-fewest turnover-worthy plays.
In Tagovailoa, the Dolphins are getting a good football player and better person. Now, the highest-rated passer in the 150-year history of college football, will join the Miami Dolphins family.