As we get closer to the start of Miami Dolphins 2023 Training Camp, it's time for another installment of the annual position preview series on MiamiDolphins.com.
Here's a look at the Dolphins cornerbacks:
#4 Kader Kohou
5-10 | 195 | Texas A&M-Commerce '22
Kohou joined the Dolphins as an undrafted college free agent on May 13, 2022 and played in 15 games with 13 starts. He led all undrafted rookies in defensive snaps (852), tackles (72) and passes defensed (10) and was the first undrafted rookie cornerback to start an NFL playoff game since New England's J.C. Jackson on Jan. 20, 2019. Kohou's 72 tackles ranked fifth on the team while his 10 passes defended was second-best. He also logged five tackles for loss, one interception, and one forced fumble. Kohou played collegiately at Texas A&M-Commerce.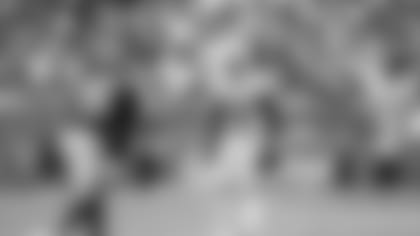 #5 Jalen Ramsey
6-1 | 208 | Florida State '16
Ramsey joined Miami in a trade on March 15, 2023 after playing with Jacksonville (2016-19) and the Los Angeles Rams (2019-22). He is a three-time first-team All-Pro selection (2017, 2020-21) and has been named to six consecutive Pro Bowls (2017-22). Ramsey has played in 108 games with 107 starts and has 452 career tackles (375 solo), two sacks, 19 interceptions, 92 passes defended, seven forced fumbles and two fumble recoveries. He was the fifth overall pick in the 2016 NFL Draft by Jacksonville and played collegiately at Florida State, where he was a consensus All-American in 2015 and won the BCS National Championship in 2013.
#6 Trill Williams
Williams spent the 2022 season on injured reserve and appeared in one game in 2021 for the Dolphins. He originally entered the NFL as an undrafted college free agent with New Orleans in 2021 before coming to Miami on May 17, 2021. Williams was a three-year letterman at Syracuse.
#9 Noah Igbinoghene
Igbinoghene has played in 32 games with five starts in three seasons with Miami. He has 24 career tackles (21 solo), five passes defensed, two fumble recoveries, and one interception. Igbinoghene's first career interception came last season and clinched the Dolphins victory over Pittsburgh on Sunday Night Football. He was a first-round pick (30th overall) by Miami in the 2020 NFL Draft after playing collegiately at Auburn.
#20 Justin Bethel
6-0 | 200 | Presbyterian '12
After playing in all 17 games for Miami last season, Bethel re-signed with the Dolphins on March 24, 2023. He recorded 16 tackles (11 solo), one interception and four passes defended as well as 10 special teams tackles (six solo) last season. Bethel has played in 176 career games with 14 starts over 11 seasons for Arizona (2012-17), Atlanta (2018), Baltimore (2019), New England (2019-21) and Miami (2022). He's a three-time Pro Bowl selection (2013-15) and earned first-team All-Pro honors twice (2013, 2015) on special teams. Bethel originally entered the league as a sixth-round pick (177th overall) by Arizona in the 2012 NFL Draft. He played collegiately at Presbyterian and was recently selected to the Big South Conference Hall of Fame Class of 2024.
#22 Elijah Campbell
5-11 | 195 | Northern Iowa '18
Campbell returns for his third year with Miami after playing in 23 games over his first two seasons with the club. He played in a career-high 16 games in 2022 with seven tackles and one pass defensed. Campbell made his first NFL start last season in the Dolphins playoff-clinching win over the New York Jets in Week 18. He began his professional career as an undrafted free agent in Cleveland (2018) before spending time with the AAF's Birmingham Iron (2019), the New York Jets (2020), and the XFL's D.C. Defenders (2020). Campbell played at Iowa Western and Northern Illinois before finishing his collegiate career at Northern Iowa.
#24 Cam Smith
6-1 | 180 | South Carolina '23
Smith was selected 51st overall by Miami in the second round of the 2023 NFL Draft and was a four-year letterman (2019-22) and two-year starter at South Carolina. He played in 33 games with 19 starts with the Gamecocks and earned second-team All-SEC honors in 2021 and 2022. Smith totaled 91 tackles and six interceptions in his collegiate career and led South Carolina with 14 passes defensed in 2021. He hails from Blythewood, South Carolina, the same hometown as fellow Dolphins cornerback Justin Bethel, and is Miami's first cornerback taken in the second round since Xavien Howard in 2016.
Howard is coming off his third consecutive (fourth career) Pro Bowl season with the Dolphins and is the longest-tenured player on the roster. 2022 marked his third straight season with at least 15 starts, 45 tackles and 12 passes defended. Howard leads the NFL in interceptions (28) since entering the league as a second-round pick (38th overall) by Miami in the 2016 NFL Draft. His 28 interceptions rank sixth-most in franchise history and his 83 career passes defensed are the fourth-most in Dolphins history (since records were tracked in 1991). Howard has played in 87 games with 86 starts in his seven seasons with Miami. He also has two playoff starts with an interception in both games. Howard played collegiately at Baylor.
#27 Keion Crossen
5-10 | 176 | Western Carolina '18
Crossen signed with Miami as an unrestricted free agent on March 17, 2022 and played in 16 games with two starts and 25 tackles (16 solo) last season. He first entered the NFL as a seventh-round pick (243rd overall) by New England in the 2018 NFL Draft and played in 11 games as a rookie with the Super Bowl LII-champion Patriots. Crossen then spent two seasons in Houston (2019-20) and one with the New York Giants (2021). He has played in at least 16 games in four straight seasons and has 76 career tackles (55 solo), one sack, one forced fumble, and one fumble recovery. Crossen played collegiately at Western Carolina.
#34 Tino Ellis
Ellis signed a reserve/future contract with Miami on January 16, 2023 after spending parts of the past three seasons on the team's practice squad. He originally entered the NFL as an undrafted college free agent with New Orleans in 2020 after a four-year collegiate career at Maryland. Ellis most recently saw game action with the USFL's Michigan Panthers in the spring of 2022, playing in nine games and recording 35 tackles (26 solo) and one interception.
#38 Ethan Bonner
Bonner joined the Dolphins as an undrafted college free agent on May 12, 2023 after spending five years (2018-22) at Stanford. He started 10 games in 2022 and tallied 29 tackles (20 solo), three tackles for loss and five passes defended. Bonner finished his career with 50 total tackles (35 solo) in his final two seasons with the Cardinal, where he was teammates with Dolphins rookie tight end Elijah Higgins.
#40 Nik Needham
Needham originally entered the NFL as an undrafted college free agent with Miami on May 9, 2019 and is back for his fifth season with the Dolphins. He's played in 51 career games with 27 starts, totaling 192 tackles (140 solo), three sacks, six interceptions, 25 passes defensed, one forced fumble and one fumble recovery. Needham's 11 passes defensed in 2019 were second-most among all NFL rookies. He played in six games with five starts in 2022 before his season was cut short due to injury. Needham played collegiately at UTEP.
#42 Bryce Thompson
5-11 | 190 | Tennessee '21
Thompson signed with Miami on May 16, 2023 after participating in a tryout at the Dolphins rookie minicamp. He's played in eight NFL games over two seasons (2021-22) for New Orleans, spending time on the team's active roster and practice squad. Thompson originally entered the NFL as an undrafted college free agent with the Saints on May 2, 2021. He most recently played for the Seattle Sea Dragons in the 2023 XFL season this spring, appearing in 10 games with nine starts, totaling 34 tackles (21 solo) and two interceptions. Thompson played collegiately at Tennessee.
The team will hold 10 practices open to fans at the Baptist Health Training Complex in Miami Gardens, beginning July 30. Attendance is free for all practices, but guests must show a mobile ticket for entry. Get tickets here.