The NFL is teaming up with the American Cancer Society for the 11th consecutive season to support the fight against cancer, and the Dolphins are having their "Crucial Catch: Intercept Cancer" events this Sunday at Hard Rock Stadium.
Among the festivities will be the Crucial CatchHalftime Show and a check presentation from the Dolphins Cancer Challenge to Sylvester Comprehensive Cancer Center.
Cancer survivors will be honored on the field and there will be a 50/50 raffle presented by Litecoin to benefit Sylvester. Two celebrities will ride stationary bikes throughout the game to help raise funds for cancer research. Finally, the Living Proof Brunch presented by Harcourt M. and the Virginia W. Sylvester Foundation will welcome and host more than 100 cancer survivors at the game.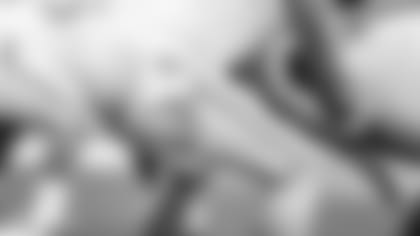 Helping in the fight against cancer has become significant for McMillan, who has joined the board of the DCC.
McMillan participated in the DCC bike ride this past April for the first time, and he spoke before the event on why he felt the need to get involved.
"My grandfather passed away from throat cancer about six, seven years ago," McMillan said. "My mom, she really pointed it out to me that I need to get out there and go support it and make sure that I build more awareness for people back home, not just here in Florida but people back home and make sure they realize that this is a big thing.
"Hopefully we can nip this thing in the bud and finally cure cancer."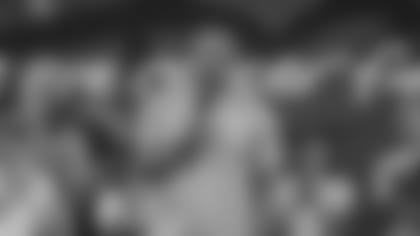 Dolphins Head Coach Brian Flores made it a point to attend the DCC event in April and spoke to the participants, sharing the story of his mother passing away from cancer last spring.
"Seeing this many people and the Sylvester Comprehensive Cancer Center and everything you guys do to fight cancer, it really means the world to me," Flores said. "My mom, she was battling cancer for the last three years and five weeks ago today she passed away. That's why I'm here. I've got a busy schedule. I have a lot to do. We've got draft, players, team meetings, I've got a lot on my plate. But I'm going to make time for this foundation and the things that you guys do.
"I want to say I'm proud of the people who came up today and said they're in remission, that they beat cancer. But I also want to thank the families and the people who support them because I know what that's like. That's tough and that's hard. I want to tell you guys out there who are supporting your family members or friends with cancer that we support you also.
"My mom, before she passed, she said, 'You do everything you can to help people who are dealing with this or anything else.' And that's what we're here for. We're here for service. We're here to serve people. That's what we should be doing. We're going to keep fighting it. Keep running, keep riding, keep biking, walking, whatever you can do, let's do it to help to fight cancer."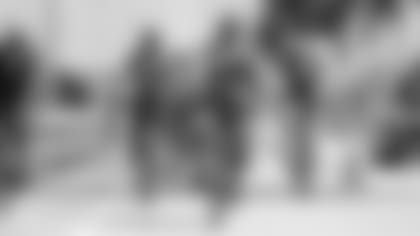 Since its inception in 2010, the DCC has raised $32.5 million for the Sylvester Center.
The NFL's Crucial Catch campaign is taking place this weekend and next weekend. The Crucial Catch games will feature:
Game balls with the Crucial Catch logo
Multi-colored equipment for players including: helmet decals, captains' patches, cleats, wristbands, gloves, sideline caps, sideline towels, quarterback towels and shoelaces.
Multi-colored ribbon pins for coaches and teams
Caps and pins for game officials
On-field multi-colored Crucial Catch stencils
Multi-colored goal post wraps in end zones
Field-wall banners in the color(s) of the cancer awareness movement(s) that each club supports
Game-worn Crucial Catch merchandise and footballs will be autographed and auctioned on NFL Auction. The NFL does not profit from the sale of Crucial Catch merchandise. Charitable contributions are donated to the American Cancer Society to support its CHANGE grant program.
The emphasis of the "Crucial Catch: Intercept Cancer" initiative is to address early detection and risk reduction efforts for multiple cancers.
Since 2009, more than $20 million has been raised and donated to ACS through the partnership. Funds donated through Crucial Catch this season will continue to support the American Cancer Society's Community Health Advocates implementing Nationwide Grants for Empowerment and Equity (CHANGE) Program, a community-based grant program that provides grant opportunities to community health centers to support systems-level change and increased access to low- or no-cost cancer screenings in underserved communities. CHANGE grants are currently being administered in each NFL market to address Breast Health Equity, access to screenings, education, and follow-up care. This work will help reduce the disparity in breast cancer survival among African American women, who die at an almost 40% higher rate of breast cancer.
NFL-issued Crucial Catch game-day apparel will feature a multi-colored logo representing all cancers. NFL teams have the option of supporting early detection and risk-reduction efforts for one or multiple cancers in-stadium and in their communities. In addition, players may wear cleats, shoelaces and wristbands in any color representing the type of cancer awareness they support and/or have been impacted by during their team's Crucial Catch game. Fans can also purchase Crucial Catch apparel on NFLShop.com.