This week's guest on The Fish Tank podcast is former Miami Dolphins wide receiver Brandon Marshall. Marshall spent the 2010 and 2011 seasons in Miami, eclipsing 1,000 receiving yards each year and earning a Pro Bowl bid following the 2011 season. Here are a few "FishBites" from Brandon's time in The Tank with O.J. McDuffie and Seth Levit:
Brandon hauled in 970 passes over the course of his 13-year NFL career, but that didn't prevent him from paying respect to another former Dolphins wide receiver who also happens to co-host The Fish Tank:
"O.J. has the better hands than me. Now, if we're talking about yards after catch, then it might be a little bit of an argument. But better hands, I give it to O.J.."
After three straight 100-catch seasons in Denver, the Broncos traded Brandon to the Dolphins. In Miami, however, he did not feel that he was on the same page as offensive coordinator Dan Henning:
"It was just an awkward relationship. Then I would just explode. I'd be on the practice field. I'm one-on-one with a guy. Chad Henne would go to the other side. And I'm like, 'What the hell did you guys bring me here for? You paid me because I made a living beating one-on-one coverage'."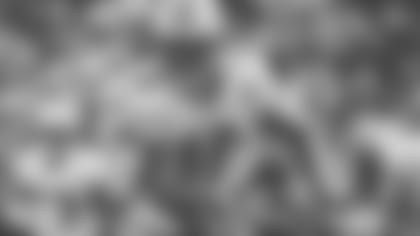 While he had extreme confidence in his abilities, Brandon now believes that he could have been a better teammate during his tenure in Miami:
"I think I was still growing when I left (Miami). No, I don't think I was a good teammate because I think what we are looking for in a professional is the consistency. Can you come to work and be the same guy every single day? For me, on that field I was the same guy every day. You were going to get a monster on that field. I don't give a damn if it was practice or a game; let's go! But off the field was the problem. The Miami Dolphins situation helped me grow up. It helped me face my weaknesses, and I'm a better man for it."
Following the 2011 season, Brandon set a Pro Bowl record with 6 catches for 176 yards and four touchdowns en route to being named the game's MVP:
"I walked into the stadium and I looked up and saw Jerry Rice's name and these MVPs that are engraved in that stadium. I was like, that's what I'm gonna do this year. I didn't know that it was going to happen but in my mind all week I was visualizing being the MVP."
After watching the documentary film, 'Run Ricky Run' Brandon became intrigued by teammate Ricky Williams and his journey:
"It's like how did this guy go from living in a tent to now being this guy that I see every day reading a book in the cold tub and he's just one of the most amazing people I've ever been around?"