This week's guest on The Fish Tank podcast is former Miami Dolphins kicker, Olindo Mare. Born and raised in South Florida, Mare grew up playing soccer before an uninspired performance by his high school kicker led him to try out for the football team. Mare took an indirect path to Syracuse University and after a year with the New York Giants, he landed a spot with his hometown Miami Dolphins in 1996, where he would become one of the team's most successful kickers of all time over the next decade. Here are a few "FishBites" from Olindo's time in The Tank with O.J. McDuffie and Seth Levit:
Olindo was a high school soccer player less than five miles away from the Miami Dolphins Training Facility in Davie. After deciding to try football during his junior year, he was inspired by the success story of Dolphins' kicker, Pete Stoyanovich:
"There was a picture of Pete Stoyanovich. He's sitting on a Corvette and there was an article in the paper and it says, 'Soccer player turns pro.' I was like, 'Son of a gun!' So there's this soccer player sitting on a Corvette kicking footballs down the street from me and I was like, 'how hard can this really be?'"
Self-taught and a late starter, Olindo realizes that many kickers today began perfecting their craft at a young age. As a result, his form was a bit non-traditional:
"My style was kind of ugly. I didn't really like the way I looked kicking the ball. But it worked for me."
After spending the entire 1995 season on the New York Giants' Practice Squad, Olindo went to training camp with the Dolphins and was given a chance to compete with incumbent, Joe Nedney, for the starting job:
"Joe made one of the best decisions and one of the worst decisions. Because, he made a great decision; he went back to college to get his degree. The problem was, he was away from the facility for six months, which (Mike) Westhoff didn't like, and I got better over six months. So, when it came time in preseason that year between Joe and I, it was a struggle because we each got one field goal in preseason, and that was it. He missed his and I made mine."
Dolphins Special Teams Coach, Mike Westhoff was tough on Olindo, but the kicker always knew that his coach had his back:
"(Mike Westhoff) was a true special teams coach and he stuck up for me many of times. One of the times I remember the most was, we got a fumble and I go down there to kick a field goal, and miss the field goal. Of course Zach (Thomas) comes over hot, screaming at me. Meanwhile, everybody knows that if anybody wants to make it, it's this guy. So he's screaming at me on the sideline and I'm only a rookie or whatever, but the next play we score and I kicked off and made the tackle. After I made the tackle, Westhoff said to Zach, 'you want him to kick off and make tackles? Go do your job.'"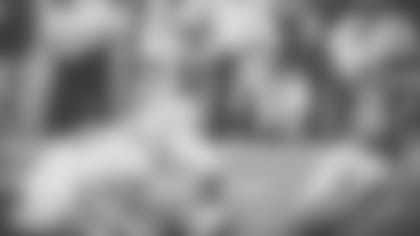 Despite limited high school experience and only two seasons kicking at Syracuse, Olindo played 16 NFL seasons after his year on the Giants' Practice Squad. He credits his work ethic for his longevity and success:
"I made a pact to myself that the day I got cut, nobody was ever going to outwork me. I was never going to get cut because of money and there's not a day that's going to go by when I'm at the field that I'm going to wish I did something more."
Olindo keeps an eye on active NFL players, and definitely has been watching current Dolphins kicker Jason Sanders:
"I've actually texted with a couple times. I congratulated him on breaking my record. That kid's been doing so well. It's not like this is a new thing for him."