This week's guest on The Fish Tank podcast is former Miami Dolphins team photographer, Dave Cross. Originally an artist in the Miami Herald's newsroom, Cross began a part-time hobby photographing Miami Dolphins games in the early 1970s, ultimately taking a position with the team in 1984. Here are a few "FishBites" from Dave's time in The Tank with O.J. McDuffie and Seth Levit:
Dave is a Lou Holtz doppelganger if there has ever been one, resembling the legendary college head coach so much that former Notre Dame players like Tim Ruddy thought that Holtz had followed them from South Bend to Miami:
"He kind of had to look twice to see whether or not Lou was coming in the room. It would shock them a little bit."
It did not take Dave long to figure out that Don Shula's high expectations were not limited to players and coaches:
"It doesn't matter what your job is. You get treated exactly the same; good, bad, or otherwise. And if you screw up, you get yelled at. And even if you didn't screw up, if he thought you screwed up, you still got yelled at. But the cool thing was, the next day it was over."
The flight home from Philadelphia following Don Shula's record-breaking 325th career coaching victory was a celebration for more reasons than one as Dave and his long-time partner, Nancy Kerrigan, were married on the team plane:
"Father Walk said, 'I need a bible. Where can we get a bible? John Offerdahl! He's a pretty religious guy.' So they go back and they say, 'John, we need your bible.' He gives them the bible, but they don't tell him what it's for and later on he said to me, 'you didn't even invite me to the wedding!'"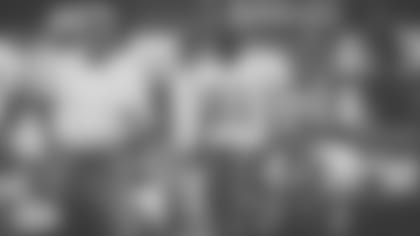 One of Dave's responsibilities each year as Team Photographer was to take pictures of every player and coach for the media guide and other outlets and publications. After a session with Jimmy Johnson and his coaching staff in 1996, Dave realized that his camera had no film in it:
"We're rushing. Everybody's pressuring you, Harvey (Greene) is yelling, and the coaches want to get in and out. You get sidetracked because people are talking and we've got to do this and they're rushing you. Stuff happens. You take one out; forget to put one in."
An avid Harley Davidson rider, Dave Cross helped former Dolphins head coach, Dave Wannstedt, learn to ride his new motorcycle. After one lesson, Cross forgot his keys and had to drive Wannstedt's Harley with the 6' 4" coach on the back.
"My bike is sitting there locked up. His bike isn't locked up. He didn't want to ride double because he didn't have enough experience, so I drove the bike and he sat on back. We're going down State Road 84 and I'm thinking, 'God, if anybody sees us…' The guy with the glasses and the big guy sitting on back!"
In 2013, President Barack Obama invited members of the 1972 Miami Dolphins to the White House, and Dave accompanied the perfect team to capture the moment:
"It was kind of like being on a road trip with the '72 Dolphins. We go out, the busses are there and I'm getting on the bus like every road trip we've ever done, the same routine, but it's the '72 guys. Csonka is getting on the bus and Jim Kiick is getting on. Instead of going to the stadium, we go to the White House. It was just incredible."