This week's guest on The Fish Tank podcast is former Miami Dolphins linebacker, Bryan Cox. Cox had to wait until the fifth round of the 1991 NFL Draft to be selected by the Miami Dolphins, but made an immediate impact on the team. Known for his physical, aggressive style of play, Bryan was both tough and productive, earning three trips to the Pro Bowl during his five seasons in Miami and was later named among the Top 50 players in team history. Here are a few "FishBites" from Bryan's time in The Tank with O.J. McDuffie and Seth Levit:
Recognized for his toughness throughout his entire career, Bryan credits this tenacious mindset to his upbringing in East St. Louis, Ill.:
"The toughness of the city came about because, growing up in the era in which I grew up in, either you had to fight or you had to run and I couldn't run, so I had to learn how to fight."
Bryan developed a close bond with Dolphins iconic Head Coach Don Shula and continues to hold him in the highest regard:
"You never heard his name associated with anything negative. You never heard him associated with any cheating, or anything other than wonderful. Don Shula treated you like a man. He wasn't afraid to have the tough conversations and a lot of times, when I got in trouble, (he would) always cuss me out but he always ended it with, 'I love you and let's get prepared for this week.'"
After five decorated seasons with the Dolphins, Bryan's tenure in Miami came to a close in conjunction with Jimmy Johnson's arrival in 1996:
"Jimmy Johnson never wanted me back in Miami. I told him, 'OK but if you don't bring me back, you don't get Troy Vincent. You don't get Marco Coleman.' He said, 'we'll see about that.'"
Bryan has fond memories of the Dolphins group of veteran linebackers during his rookie season, which included the likes of John Offerdahl, Hugh Green, David Griggs, and Cliff Odom:
"Those guys were teachers. Those guys were true big brothers, only wanting the best for you even though it was going to cost them their job. That's why I have respect for that era so much."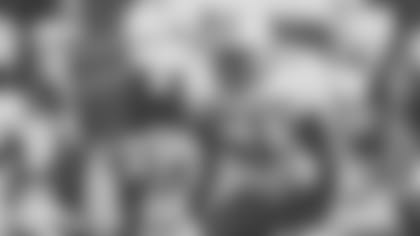 To label Bryan's relationship with the Bills a rivalry would be an understatement as no team or city brought out more raw emotion from him than Buffalo:
"One thing is, I couldn't stand them. I'd go to the Pro Bowl and Jim Kelly would be over there talking like, 'I'm Jim Kelly' and this and that and I'm like, 'Who does that?' During that time I think it was me using those visuals to get me angry."
In a twist of football fate, Bryan's son, Bryan Cox, Jr. is currently a member of the Buffalo Bills' practice squad:
"It's so ironic that now my son is on (Buffalo's) practice squad. My son wasn't even born, or maybe six months (old) when a lot of this stuff occurred so he shouldn't be held accountable for that. From what my son has said, they've treated him nothing but wonderfully since he's been there. I'm just a proud dad. I'm happy for my son. I got to live my dream and experience life the way that was unique and special to me. I want him to be able to feel the same thing with his career."