Football is back, Week 1 is here, and the Miami Dolphins are set to take the field once again on Sunday afternoon when they face off against the Los Angeles Chargers at SoFi Stadium.
Here's what Head Coach Mike McDaniel, Offensive Coordinator Frank Smith, Quarterback Tua Tagovailoa, and several other players had to say throughout the week about the team's growth, their excitement to start the 2023 regular season and the opportunities that lie ahead:
(On the vibe ahead of Sunday's season opener) – "Ultimately, we're really excited to start the season and see where (we are) going to go. The greatest challenge is last year was last year. This year now with all of the offseason, with all of our emphasis, let's go put it to practice. There's no greater challenge than having to go across the country and take on an opponent that's going to be up to the challenge."
(On the team's mentality as they prepare for Week 1)
"I feel good. I think all the guys on our team are really excited to be able to get back out on the field. Some guys come from a different team and this is a new system for them. Some guys have been here for some time and the guys are just really excited to go out there and showcase their skills against a really good team."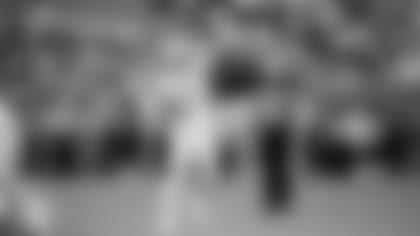 (On his mentality as he returns to the field after missing most of the 2022 season due to injury) – "Took a big mental observation of last season to see where I really needed to be at. I'm really excited. No rust here, just ready to go."
Progress On and Off the Field
(On QB Tua Tagovailoa's improvements as a player and leader) – "I don't want to completely speak for him, but I will say, I just see another year of growth for Tua. Just confidence, understanding the offensive system and the scheme and taking more command and control of the offense. He just grows every year as a leader. You just see the growth constantly. I feel like he's always attacking each day ready to improve and I've been able to see the results."
(On how he's seen QB Tua Tagovailoa mature since their time together at Alabama) – "I'm extremely proud. He's been a great player since I've met him. He's going to continue to be a great player. I'm just proud of him. I've seen a lot of growth, especially in his leadership, throughout the year. Seeing him grow in that form has been tremendous."
(On how the captains are selected) – "So that's something that we do – a player-driven vote that the locker room really comes up with, which is one of the reasons it's such a special honor to each and every one of those guys because it's voted on the most important person of opinion in the building and that's their peers in the locker room."
(On the responsibility that comes with being named one of the team's seven captains) – "What comes with being a captain? I don't know. To me what comes with being a captain, you definitely have to be somewhat of a leader. Even if you're not comfortable vocally. A lot of guys show it in different ways. I'm the kind of guy, I love showing it vocally and I love showing it through action, too. It comes with that. It's a major responsibility, man, because when you're dealing with so many guys so many things are going to come up during the season. As that leader you have to find ways to bring this team together through adversity, through those tough times. I feel like that's what a leader is. And then on Sunday, whenever the game day is, you just make plays."
(On being named a team captain and his growth since entering the league) – "The biggest thing for me, since my rookie year I just came in every day and just put my head down and worked and grinded. Slowly but surely, I don't realize how much my teammates pay attention, but they pay attention. Slowly, but surely, they've just been able to respect me more and more. When you get to see the fruits of your labor and all the work you're putting in actually translate on the field, that only gives you a little bit more credibility and a little more respect amongst your peers. I'm just humbled, really, just to be respected by my guys. You play the game for a lot of different reasons, but the respect of your peers and the guys around the league is up there with all of it."