The Miami Dolphins entered their first homestand of the season last week and came away with a 31-16 victory over the New York Giants.
This Sunday, they'll look to do the same against a winless but hungry Carolina Panthers squad.
Here's what Head Coach Mike McDaniel, quarterback Tua Tagovailoa and several members of the team had to say as they look to stay unbeaten at Hard Rock Stadium this season.
Making Plays on Defense
(On the back end and front end of the defense helping each other against the Giants) – "It was really exciting. I thought the defense had the best week of practice they've had all year and I think it definitely translated. I think the players saw it. Quarterback hits were the most since a certain amount of time that was a while ago. I think that's a testament to team defense for sure. You can't have one without the other. You have explosive plays when the coverage isn't tied to the pass rush, even if you're getting home pretty quick. The idea of our defense really, in general, is that when we're tied together, you force teams to have to execute at the highest level or you make them pay by being a little too aggressive or being too conservative. So I thought that there were the most examples of the vision of what we want to be as a defense last game, which is what you want to see."
(On LB Andrew Van Ginkel's big performance) – "He's been phenomenal. Just the energy he brings, he's finding a way to make a play every game and multiple plays every game. It's been dope to see him come along. I know he's going to continue with it throughout the rest of the season, and I'm excited to see when we look at the end and see where we are at with him. I know he's been diligent in his preparedness for the week and stuff like that. It's been coming to life, so it's been dope."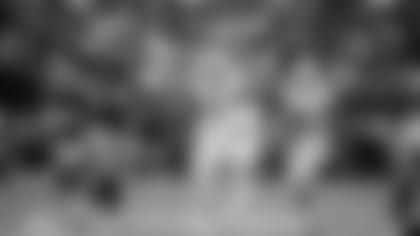 Ready for Week 6
(On maintaining the same standard of preparation when facing a winless opponent) – "They are a really good team. A very young team that plays hard. We've noticed on film – yes, I watch film – that they fly around the ball very well on the defensive side of the ball. They've got a great talented young group of corners. It's going to be a great matchup for us. A lot of people are maybe looking at this like, they're 0-5, but they've got a really good football team."
(On playing a team looking for its first win and the challenge each week presents in the NFL) - "It's the most dangerous opponent you can play, because losing in general in the league, you have to sit on it for a week, and you put a lot of time into it. You can't do anything about it for one week. Well you go to work every day, and then after five games, your point differential in the first half is one point and you haven't won a game yet. That is not fun. So you will do anything, anything to change that. The bottom line is that this is the National Football League, so I know one thing, the Carolina Panthers have everything to gain. They're going to come to Hard Rock (Stadium) and not care about any sort of stat that you guys want to throw out at them. They're going to try to win together as a team to change that feeling."
(On what he's seen from the Panthers this season) – "Yeah, I think there's a lot of things that they do well within their personnels of how they use certain guys. I think they do really well playing together. Teams like this that are 0-5 are not necessarily a reflection of the offense, the defense, their special teams. Merely just being in the NFL, you get into some games that are very close, and then some can just get away just like that. I think they're continuing to find who they are as a team. They play really, really hard, and that's what we know we're going to get, so we have to be prepared for them."
Playing For The Fans
(On the energy Dolphins fans give the team) – "It's amazing playing at home in terms of how the fans bring the energy for sure, packed out every time. You know they're going to be yelling. It's honestly one of those things you get used to the fans screaming because we make so many big plays on offense and as a defense, we try to make those big plays and the fans are always into it. So having that energy is always fun and it's always amazing."
(On playing in front of the home fans at Hard Rock Stadium) – "So far it's been great playing at home. The fans have been great, the energy in the stadium has been awesome so it's been a lot of fun. There is just another added element when you don't have to travel. You're just in your environment, you have your routine and things like that, so that's always nice to be able to play at home and to be able to have two weeks back-to-back at home. I'm just excited to put on a show anytime we go into that stadium."