The Miami Dolphins started the 2023 season with a thrilling come-from-behind 36-34 victory over the Los Angeles Chargers as quarterback Tua Tagovailoa and the Dolphins put up 536 yards of offense in the win.
But now, a new challenge lies ahead as the team gets set to travel to New England for its first divisional showdown of the season on Sunday Night Football.
Here's what Head Coach Mike McDaniel, Tagovailoa, wide receiver Tyreek Hill and several other players had to say this week as the team prepares to hit the road once again:
Reflecting on Week 1 and Preparing for New England
(On the team effort that led to the Week 1 win) – "It was a good team win. That's how I look at it. That's how I always look at it. Without the guys up front blocking, without the guys outside catching, without our run game, none of that for me was possible. And without the defense getting that stop against a good offense, I don't think we'd all be here talking about the win that we had and the accomplishments that everyone on our side of the ball had."
(On the team's excitement to play the Patriots) – "A division game on the road this early in the season doesn't need much motivation. Especially it's Sunday night. Trying to find other things to think about, there's plenty to think about with that. Division games early in the season are very important to us so that's all we've really needed to focus on is the Patriots and that's been enough."
(On what the team needs to do to produce another strong offensive performance) – "At the end of the day, we've just got to do what we've got to do. We know our abilities. Bill Belichick is one of the best to ever do it in the entire league across the NFL. He knows situational ball. He knows what he has to get done and he's been running this same defense for quite some time now. It's a dynasty-type of defense. There's two-gap and he's trying to shed blocks and fall off and make the tackle on the run game. Even in the pass game, you want to set the edges. We've just got to control the line of scrimmage as best as possible and just make plays."
(On what he expects from Miami's first divisional game of the 2023 season) – "It's definitely going to be fast. Guys are going to be flying around hitting hard. That's what football is to me. Hard-nosed games, so I'm looking forward to it."
(On the team's focus heading into Week 2) – "Well, New England's a different defense, and they got us last year at the end of the year. We've got to come in with a new mindset that we're going to attack them and we're going to bring the fight to them. I think that's what's important starting in our room with the guys that we have. The leadership with Tyreek (Hill) and Jaylen (Waddle), those guys are hard to stop and when you have good compliments off that, it's good ball."
Staying Ready for Their Opportunity
(On overcoming countless cuts throughout his NFL journey) – "I've had a dream to play in the NFL my whole life and I'm not going to let somebody that's telling me no, stop me. I'm not going to let that be the last straw. I have been cut a lot and I've always felt like it shouldn't have happened. I like that to be my mindset because I know that I belong out there. When you get chances to prove it, you want to take advantage and prove people wrong and prove people right that believe in you."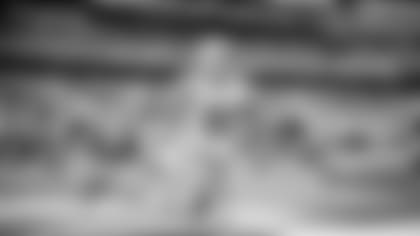 (On playing an important role in both the run game and the pass game) - "Like I've said over the last couple years, I just like to contribute in any way. And obviously, there's different roles every year. A lot of these last few years, I've been more involved in the run game than anything else. And I'm happy to do that. But in a week-by-week basis, if things call for me to have to make a play in the passing game, that's always fun. Obviously, when you have receivers like we do on the edges, they'll draw a lot of attention. So that gives opportunities for guys on the inside. So it's always a week-by-week basis."
Connecting with the Community
(On his surprise visit to a local neighborhood in Miami) – "It's a blessing for me, and also the Dolphins to give back because to be able to change somebody's life man, you never know what outcome that could be for a person. I'm very grateful the little kid – Franco – had on my jersey and I'm very grateful I was able to a part of that experience."
(On the joy it brought to the kids) – "Oh yeah, man. It was awesome, it was awesome. The kid definitely had a good time, and I had a good time too though. I didn't know that they were going to slime me so that was dope."