With back-to-back road wins against quality opponents, the Miami Dolphins are off to a strong 2-0 start in 2023.
Now, they're looking for win number three and their first at Hard Rock Stadium.
Here's what Head Coach Mike McDaniel, his coaching staff, and several players said throughout the week as the team prepares for its home opener this Sunday against the Denver Broncos:
(On coaching against his hometown team) – "It was the team that I found my love for football with. Their jerseys were orange at the time for the most part. Also a couple of the biggest influences that I've had from the game of football in terms of Mike Shanahan and by extension Kyle Shanahan and Gary Kubiak. It's a great franchise. I have played them before, but not as a head coach. What's weird in the journey is once you get in the business, the teams don't feel the same. So I guess it's like how you don't treat bosses the same. Technically, the organization is my boss, so it's just like, 'Aright.' It kind of loses its fandom so to speak. But a tremendous organization and I wouldn't be here without it."
(On LB Bradley Chubb) – "I think there hasn't been a day that has gone by since we were able to acquire him that I haven't been thankful. I think what's unique about Bradley and one of the reasons why we chose to acquire him, and we chose to pay him, is because he is a difference maker that is also selfless."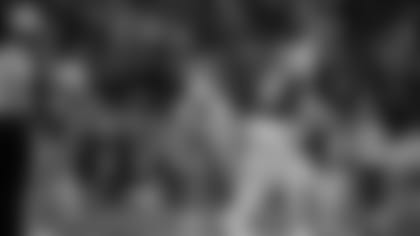 (On S DeShon Elliott) – "Right now, I think DeShon played the best game he had for us last week. Now, you'd say we've only had two games, but he played in the preseason a pretty good amount. Hopefully he'll be able to build on that."
(On what he's seen this season from OL Coach Butch Barry) – "I was fortunate enough to work directly with Butch in San Francisco for my last season there. The in's and out's of a season, especially the one we had there where people were speaking on next year in the middle of the season, then we went on a run and found a way to galvanize and got to the NFC Championship Game. That relationship, there's no hiding. You kind of know what you're going to get. And after really digesting the whole 2022 season, I thought he was just what the doctor ordered. I think if you ask the players, they would say the same thing. And it's not because of anything but his commitment to the task at hand, his commitment to the players, and his integrity of his position. He's relentless. I mean, he's sweating in a sun hat every day. He brings the juice and takes it very, very serious."
(On RB Raheem Mostert's play in Week 2) – "He's a unique individual that currently has either the first or second fastest ball-carrier time recorded since 2016 – 23-something (miles per hour), and he was 29 years old (at the time). To look at him through the same lens as every other back I think would be a mistake. Just watching the nuances of his game, he's developed confidence, conviction, his vision is better, he's more decisive. As you guys could see last night, and it was very evident at the end of the season last year, he is a hard tackle. Pound for pound he might be one of, if not the strongest person on the team. He's just unique in that way. I try to very much acknowledge when people live outside the curve. I'd rather be the person that was like, 'yeah, see? I knew it.' Because you just watch what he does on daily basis and know how hungry he is and how much he wants to do what he does best, which is run the football."
(On his performance last Sunday) – "It felt great. Especially the fact that it was a team win, we're 2-0 and we're looking forward to Denver now. We're trying to get to 3-0."
(On what he finds pride in when he's on the field) – "The pride that I get is from winning, from my teammates being happy that I had a good game. The yards per carry, they'll take care of itself. I know that I am up there in the league in NFL history, but I try not to look at those things. I just try to solely focus on the game itself."
Back Home at Hard Rock Stadium
(On making his 2023 home debut) – "I think we're all excited. It will be cool to finally get to play in front of our hometown crowd, so I'm sure it'll be packed and I'm sure those guys are really excited to see us go out there and play."
(On running out of the tunnel on Sunday and hearing the roar of the crowd) – "That moment is going to be special. Anytime I would say any of us are able to go back out there, this is not something that we take for granted. This game comes and goes and nothing's ever promised. Anytime that we get to run out there and play for our families, play for each other, and play for the fans, it's a blessing. It'll be cool."
(On being back on the home sideline at Hard Rock Stadium for his first regular season game since playing at the University of Miami) - "It's home. Home has a whole new meaning. I'm beyond excited. Obviously, we had a home game during the preseason, but it's nothing like a regular season game. The stadium is so familiar. Everything about it is so familiar. I'll have a ton of family there and people in the stands that will throw up "The U" at me while I'm out there I'm out there. Truly, it's a dream come true and I'm really looking forward to it."