After a successful offseason program and an extended time away from the team facility, Miami Dolphins players are back together again for the start of the team's 2023 Training Camp. Running back Raheem Mostert and cornerbacks Xavien Howard and Jalen Ramsey spoke with media members Tuesday ahead of their return to the practice field. Here are some of their top quotes:
(On the growth he's seen this offseason from QB Tua Tagovailoa) – "The growth and leadership standpoint, he's natural at that. But now he's starting to take on that role of truly getting everybody in the right position, doing what he has to do. I was throwing with him a couple of weeks ago, with a lot of different guys. He was just on point, just the way he tried to have everybody aligned and made sure that 'Hey, look, Raheem, I know you don't play this position all that much wide out, but you have to be right here at this point so that way, when you break in or have an in-breaking route, then I can throw you the ball right on time.' Just to see the maturity in a guy like Tua man, he knows that he wants to be on point. He knows that he wants to be a great quarterback in this league. And he's doing everything in his in his power to do that and make it happen."
(On his relationship with Head Coach Mike McDaniel and his approach heading into year two with the Dolphins) – "With Mike, the beautiful thing about him is he's going to look back at the season from last year. He knows everything that he did that was not his best work, and he's going to readjust and do everything he possibly can to not make that same mistake twice. That's the saying that he uses a lot. 'I don't want to make the same mistake twice.' So in year two, being a head coach, I think that you're going to see a lot of a lot of different changes with him, more so dialing in on different aspects of the game. He's very intelligent, as you could tell. He understands the game a lot and he's going to be working his tail off to make sure that he gets all the guys in the right position to win. I know that from firsthand and seeing it, when we were in San Fran together, to now. He's going to make those corrections and he's going to get on the same page with everybody."
(On what makes a great defense) – "I feel like the little things. I feel like we've got a great group of guys on the defense this year and a lot of playmakers on this side. So I feel like with our defensive coordinator (Vic Fangio), he's going to put us in a great position to make plays, get a lot of turnovers and continue to thrive on defense."
(On being the longest tenured Dolphin and the vibe inside the building heading into the 2023 season) – "Yeah, I feel like you feel an energy though when you come into this locker room. I feel like guys are walking around here like they've got to get stuff done. I don't feel like anybody's comfortable being here or being in a position they're in right now and I feel like you've got to have that. Especially being here, you know."
(On his ability to be a leader on defense given his familiarity with Defensive Coordinator Vic Fangio's system) – "Yeah, I don't force it though. If they need my help or guidance or if I see something that can help them or guide them, then I'll give them my input, but everybody can kind of figure it out on their own and people like figuring things out on their own. And that's what OTAs are for and that's what training camp is for, to kind of figure some things out. You can't micromanage or baby grown men through stuff. We're going to get it. We're going to put the work in."
(On Training Camp and how the team can build a foundation to become a great defense) – "You've got to have the pieces. That's of course, right? You've got to have the talent which I believe we have, but then you got to – I just keep saying it – we've got to put the work in. It's a crazy amount of work that we've got to put in, but it'll all pay off and then we've just got to play as one. We've got to have unity as a defense and as a team. So those are all things that we'll for sure work on during this training camp."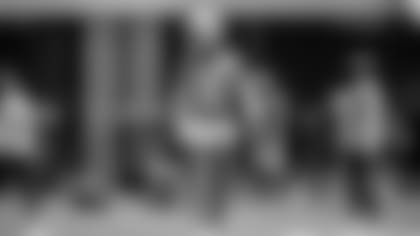 The team will hold 10 practices open to fans at the Baptist Health Training Complex in Miami Gardens, beginning July 30. Attendance is free for all practices, but guests must show a mobile ticket for entry. Get tickets here.