The Miami Dolphins added a versatile veteran up front who can play multiple spots in offensive lineman Dan Feeney. But since 2020, he's kept the same hairdo.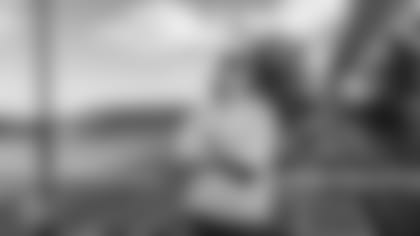 Here are five things to know about new Dolphins offensive lineman, Dan Feeney.
Feeney joins the Dolphins after spending two seasons with the Jets (2021-22) and his first four seasons with the Chargers (2017-20). In six seasons, Feeney has played 96 games with 64 starts. In those 64 starts, Feeney has shown versatility with starts at left guard, center, right guard and as an extra offensive lineman.
The tale of Feeney's eye-catching hairdo began during his time with the Los Angeles Chargers. Feeney took notice of kicker Michael Badgley's mullet during 2019 training camp and was inspired. He decided to grow his own for the start of 2020 training camp as "a little camaraderie thing" only to find he was sporting it solo.
"I come in and I see Michael Badgley doesn't have a mullet," Feeney recalled. "I'm like, 'Wow, this kid is scared, right off the bat, of my mullet and said I don't even want to compete with you.'"
Since then, his mullet has endeared Feeney to the Internet and inspired nicknames like "Bud Heavy."
An Orland Park, Illinois native, Feeney played four seasons at Indiana and was a two-time captain. He became just the fourth player in Hoosier history to earn First-Team All-American honors twice. He started 46 games between 2012-16 and in 3,355 snaps, Feeney allowed only two sacks.
In 2016, he was the team's Anthony Thompson Most Valuable Player and also earned the team's Chris Dal Sasso Award for the most outstanding lineman. He earned First-Team All-Big Ten honors in his junior and senior seasons and honorable mention All-Big Ten as a freshman and redshirt sophomore.
4. Mike Pouncey Leadership
During his time with the Chargers (2017-20), Feeney overlapped with Dolphins legend Mike Pouncey, who played for the Chargers in 2018-19. Feeney said he learned and hoped to adopt Pouncey's ability to manage conflict and hold teammates accountable as qualities in his own leadership.
"(Pouncey) is an incredible leader," Feeney said. "You can learn a lot from him. He's been around (a lot) of big-name guys, (and) he's been around people with a bunch of different styles, so he can incorporate and teach me who he relates to."
Feeney learned his work ethic early on as he helped his father, a pipefitter by trade, install AC units and boilers. It was under the supervision of Tony Feeney that the future NFL offensive lineman learned the value of literal heavy lifting.